Web Proactif / Global Brain
Demo / 42goals. A press-up (British English) or push-up (American English) is a common calisthenics exercise performed in a prone position by lowering the body using the arms.Press-ups develop the pectoral muscles and triceps, with ancillary benefits to the deltoids, serratus anterior, coracobrachialis and the midsection as a whole.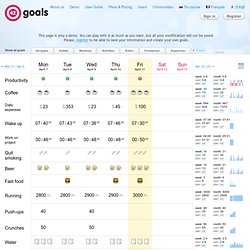 In the "full press-up", the back and legs are straight and off the floor. There are several variations besides the common press-up. These include bringing the thumbs and index fingers of both hands together (a "diamond pressup") as well as having the elbows pointed towards the knees. These two variations are intended to put greater emphasis on the triceps rather than the shoulder and chest muscles. When both hands are unbalanced or on uneven surfaces, this exercise works the body core. L'ère du Web Proactif : le Web Intelligent et les services intelligents sonnent à nos portes ! | The Transcendent Man's Blog. Tout juste âgé de 22 ans (Naissance du Web par Tim Berneers Lee en 89), le Web ou World Wide Web est occupé de vivre une nouvelle étape majeure de son cycle de vie, cette étape qui sera très certainement marquée par l'arrivée de nouveaux usages, nouvelles attentes et nouveaux besoins qui seront rapidement manifestés par ses utilisateurs.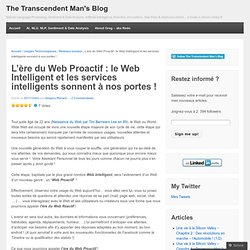 Une nouvelle génération du Web à vous couper le souffle, une génération qui ira au-delà de vos attentes, de vos demandes, qui vous connaitra mieux que quiconque pour encore mieux vous servir ! Votre Assistant Personnel de tous les jours comme chacun ne pourra plus s'en passer après y avoir gouté ! Cette étape, baptisée par le plus grand nombre Web Intelligent, sera l'avènement d'un Web d'un nouveau genre : un "Web Proactif" ! Le "Quantified Self" : doit-on compter sur soi ? Propos recueillis par Stéphane Gigandet.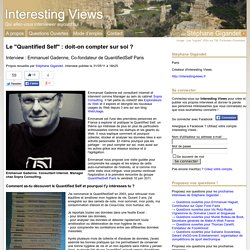 Interview publiée le 31/05/11 à 16h25. Emmanuel Gadenne. Consultant Internet. Manager chez Sopra Consulting. Emmanuel Gadenne est consultant Internet et intervient comme Manager au sein du cabinet Sopra Consulting. Direct Interfaces into the Global Brain. Memetics.