Arts
RAW:natural born artists - RAW:Cleveland presents SOLSTICE. Photography Tips & Tutorials. 23 Vintage Ads That Would be Banned Today. EmailEmail Today's advertisements are far away from being in conformity with high moral standards, but after looking back to some offensive, racist and sexist vintage ads – today's ads are as good as gold.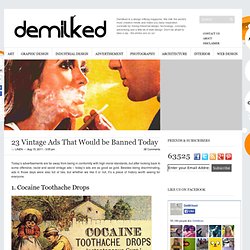 Besides being discriminating, ads in those days were also full of lies, but whether we like it or not, it's a piece of history worth seeing for everyone. 1. Cocaine Toothache Drops. Liquid Particles - spielzeugz.de canvas experiment. Ball Pool. Lines go all over the place. GRAPHIC DESIGN. Design. Tutorials.
A softer world: 703. Emily As I said a few days ago, I participated in Longshot Magazine on the weekend.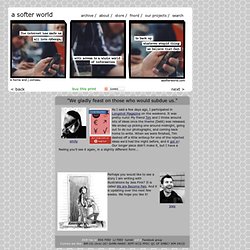 It was pretty nuts! Abe Lincoln Quote Coral/Aqua by MaryKateMcDevitt. Good words to remember throughout your day spoken by the one and only Abraham Lincoln. 11" x 17"2 color print This poster was suggested by a customer and I was so happy with the result I'd like to share it with everyone!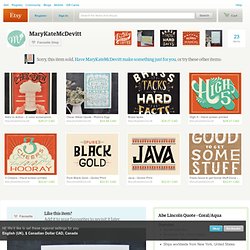 If you have an idea for a poster or illustration I would be happy to work with you. This hand pulled screen print was designed and illustrated by Mary Kate McDevitt.
---