Twitter
5 Twitter tips & tricks to keep your followers engaged in 2013 | Blog | TwitterCounter. It's a new year!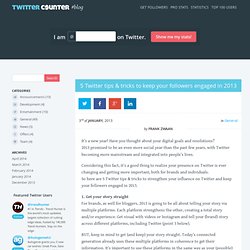 Have you thought about your digital goals and resolutions? 2013 promised to be an even more social year than the past few years, with Twitter becoming more mainstream and integrated into people's lives. Considering this fact, it's a good thing to realize your presence on Twitter is ever changing and getting more important, both for brands and individuals. Twitter now has more than 200 million active monthly users. Twitter has just announced that it hit the 200 million user milestone — that's active users on the service on a monthly basis.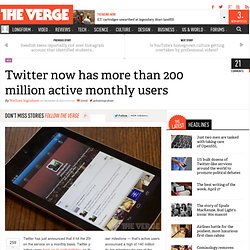 Twitter previously announced a high of 140 million active users back on its sixth birthday, so this is a pretty big milestone for one of the dominant players in social media (though it's still significantly trailing the one billion user Facebook juggernaut). This milestone caps a huge year for the microblogging service — its recent look back at 2012 showed Twitter playing a major role in a wide variety of world events, but it wasn't all good news.
The recent spat with Instagram has dampened some of the positivity surrounding both companies, and its addition of photo filters felt like the service missed the point on what drove users to Instagram in the first place. Twitter : Une application pour imiter les filtres photo d'Instagram. Twitter travaillerait sur la mise en place de filtres pour les photos.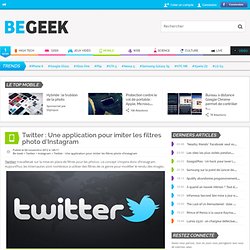 Le concept s'inspire donc d'Instagram. Aujourd'hui, les internautes sont nombreux à utiliser des filtres de ce genre pour modifier le rendu des images. Twitter serait sur le point de mettre au point une solution pour proposer à ses abonnés des filtres. C'est le New York Times qui relaye cette information. Il serait donc possible d'utiliser des filtres via l'application mobile. New York City's Hurricane Sandy images go viral on Instagram, Twitter. Since many of us living along the path of Hurricane Sandy were ordered to stay put in our homes yesterday, plenty took to Instagram and Twitter to share updates of what they saw happening in their neighborhoods.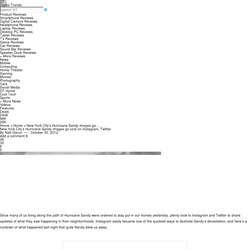 Instagram easily became one of the quickest ways to illustrate Sandy's devastation, and here's a rundown of what happened last night that quite literaly blew us away. nature's wrathMon, Oct 29 2012 19:20:26Even before Hurricane Sandy made landfall in the tri-state area, residents reported flooding all over downtown New York and Brooklyn. Une étude exhaustive de Twitter. Le succès du réseau social Twitter n'est plus à prouver.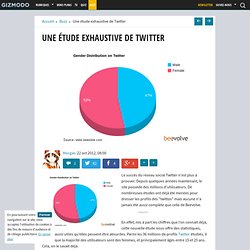 Depuis quelques années maintenant, le site possède des millions d'utilisateurs. De nombreuses études ont déjà été menées pour dresser les profils des "twittos" mais aucune n'a jamais été aussi complète que celle de Beevolve. En effet, mis à part les chiffres que l'on connaît déjà, cette nouvelle étude nous offre des statistiques, parfois aussi utiles qu'elles peuvent être absurdes. Parmi les 36 millions de profils Twitter étudiés, il ressort que la majorité des utilisateurs sont des femmes, et principalement âgés entre 15 et 25 ans. Cela, on le savait déjà. Photo by onzyme. A Visual History of Twitter [INFOGRAPHIC] The Social Media Infographics Series is supported by Vocus' Social Media Strategy Tool, a free, six-step online tool that lets you build a custom social media framework tailored to your organization's goals.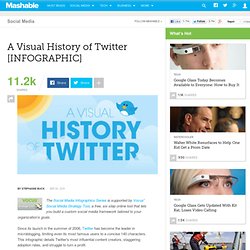 Since its launch in the summer of 2006, Twitter has become the leader in microblogging, limiting even its most famous users to a concise 140 characters. This infographic details Twitter's most influential content creators, staggering adoption rates, and struggle to turn a profit. Curious about The Biebs' first tweet? Wondering which event caused the latest tweets-per-second record? Why Tweet? "Why should I be on Twitter?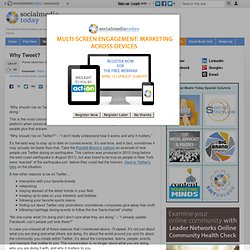 No one cares what I'm doing and I don't care what they are doing." This is the most common answer for people who aren't currently using the social media platform when asked about it. That's the easy answer, but let's dig a little deeper into why people give that answer. Twitter Has 100 Million Active Users. Twitter has 100 million active users logging in at least once a month and 50 million active users every day, CEO Dick Costolo revealed Thursday.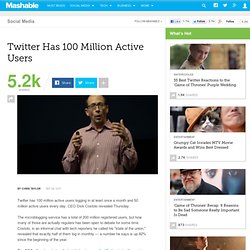 The microblogging service has a total of 200 million registered users, but how many of those are actually regulars has been open to debate for some time. Costolo, in an informal chat with tech reporters he called his "state of the union," revealed that exactly half of them log in monthly — a number he says is up 82% since the beginning of the year. Twitter & Bing Show Their Love for Each Other..via Twitter. When Did You Join Twitter? How Twitter Helps Network Solutions Manage Its Reputation. In this video I interview Shashi Bellamkonda , social media swami at Network Solutions .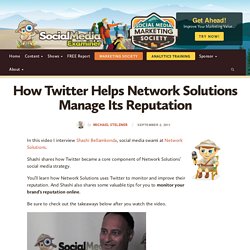 Shashi shares how Twitter became a core component of Network Solutions' social media strategy. You'll learn how Network Solutions uses Twitter to monitor and improve their reputation. And Shashi also shares some valuable tips for you to . Be sure to check out the takeaways below after you watch the video. Here are some of the things you'll learn in this video: Les dernières statistiques de Twitter. Kl7w8ehj Shared by onzyme. Subjot: A Twitter alternative that lets you curate content - TNW Apps. Do we really need more social networks?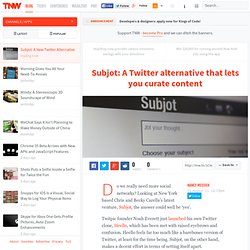 Looking at New York based Chris and Becky Carella's latest venture, Subjot, the answer could well be 'yes'. Twitpic founder Noah Everett just launched his own Twitter clone, Heello, which has been met with raised eyebrows and confusion. Heello feels far too much like a barebones version of Twitter, at least for the time being. Twitterfeed Acquired by Bitly. Dashboard - Your Tweets.
---