Jewellery Crafts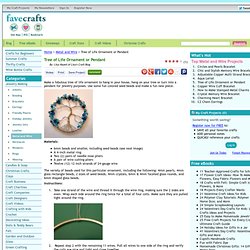 [ Close Privacy Policy ] Privacy Policy / Your California Privacy Rights Revised and posted as of August 8, 2012 (Please note this version of the Privacy and Security Policy does not substantively change the way Prime Publishing LLC treats personally identifiable information compared to the previous version of the Privacy and Security Policy .)
Tree of Life Ornament or Pendant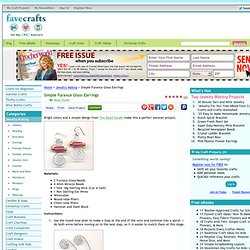 Simple Furance Glass Earrings
[ Close Privacy Policy ] Privacy Policy / Your California Privacy Rights Revised and posted as of August 8, 2012 (Please note this version of the Privacy and Security Policy does not substantively change the way Prime Publishing LLC treats personally identifiable information compared to the previous version of the Privacy and Security Policy .) Prime Publishing, LLC ("Company," "we" or "us") reserves the right to revise this Privacy Policy at any time simply by posting such revision, so we encourage you to review it periodically.
Googely Eye Bracelet
I saw this on Martha and knew it would be perfect for our Monster's Inc themed costumes (assuming we actually wore them this year). It's just google eyes glued on a bracelet. I bought the plastic bracelet at Wal-Mart for $4 then raided the kid's craft cupboard for their dollar store google eyes. Easy, quick, cute and cheap. I wore it all Halloween weekend and even to church on Sunday with black and white.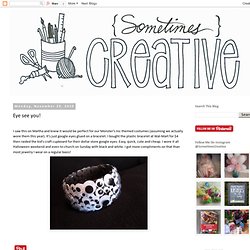 By Kate on September 13, 2011 This bracelet has been inspired by this really wonderful "Braided Hex-nut Bracelet" tutorial which I pinned on Pinterest a while back. Two things I absolutely love about this project are: 1) It's cheap as chips: I already had string in the cupboard and the brass hexnuts were 3p each from the hardware shop. 2) It's my kind of jewellery: I'm not really a girly girl IYKWIM! The bracelet I made is a bit different to the 'braided hex-nut bracelet' and uses macrame instead, which is great, because I promised some tutorials a while back and felt a bit bad that I hadn't written any yet! Full instructions after the jump!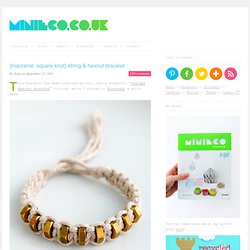 If you grew up in the 80's, like I did, you're probably already familiar with the awesomeness that is Shrinky Dinks...but did you know that you can still buy Shrinky Dinks? Yep, they're still out there - in craft stores, hobby shops, and even on Amazon. But you don't have to buy a Shrinky Dink kit to have all the fun.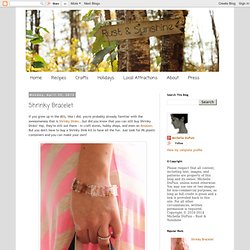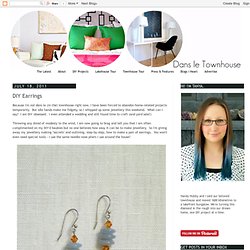 Because I'm not dans le (in the) townhouse right now, I have been forced to abandon home-related projects temporarily. But idle hands make me fidgety, so I whipped up some jewellery this weekend. What can I say?
DIY Earrings
28 Jun As a girl, I spent a lot of summer days lounging around making friendship bracelets of one form or another. It started simply with trios of embroidery thread and eventually evolved into more intricate creations involving beads and other such adornments.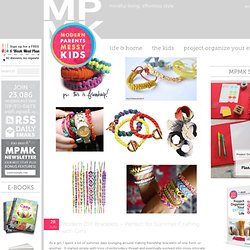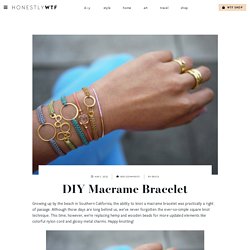 Growing up by the beach in Southern California, the ability to knot a macrame bracelet was practically a right of passage. Although those days are long behind us, we've never forgotten the ever-so-simple square knot technique. This time, however, we're replacing hemp and wooden beads for more updated elements like colorful nylon cord and glossy metal charms. Happy knotting!
DIY Ring Base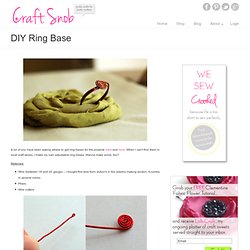 A lot of you have been asking where to get ring bases for the projects here and here. When I can't find them in local craft stores, I make my own adjustable ring bases. Wanna make some, too? Materials:
One time I was seriously considering buying a pair of sandals because they were offering a free bonus paper bead necklace. I really liked the sandals, but I the paper bead necklace. What you'll need: -magazines, colored paper, tissue paper, toilet paper (ok, maybe not) but really. Just get yourself some paper. -Elmer's glue, Modge podge, and some kind of varnish.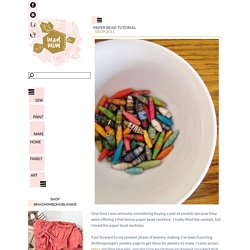 Note from Design Mom: I asked Kate of Mini Eco to create a Back to School themed project for us to try. I think making beads out of colored pencils is brilliant! Wouldn't these beads be fun for your elementary school-ers to string for a class project? It would also be a fun activity at an art-themed birthday party.