Screenplays
www.focusawards2011.com/workspace/hanna-screenplay.pdf
Avatar Script at IMSDb.
Edit Storyline Hanna (Ronan) is a teenage girl. Uniquely, she has the strength, the stamina, and the smarts of a soldier; these come from being raised by her father (Bana), an ex-CIA man, in the wilds of Finland. Living a life unlike any other teenager, her upbringing and training have been one and the same, all geared to making her the perfect assassin. The turning point in her adolescence is a sharp one; sent into the world by her father on a mission, Hanna journeys stealthily across Europe while eluding agents dispatched after her by a ruthless intelligence operative with secrets of her own (Blanchett).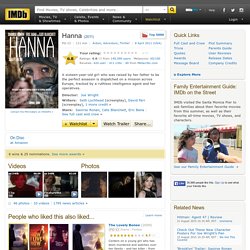 Hanna (2011
Hanna Script at IMSDb.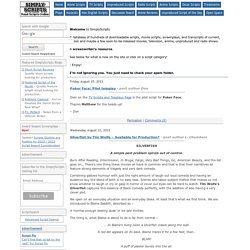 When young Harry needs money to buy a gift, he learns that crime does pay, but in an unexpected way. There's something about scripts involving school boy crushes, and first loves. Then again – who doesn't like stories about disreputable (yet somehow charming) con men? If you nodded to both of those statements, then Trick of the Trade is right for you. Because this is a script that actually incorporates both of these elements into one package. Little Harry Cartwright is a simple rural kid, growing up in Depression era Oklahoma.
SimplyScripts - Movie Scripts and Screenplays