Olve
olve
Léopold Lambert / Architecte D.E.S.A.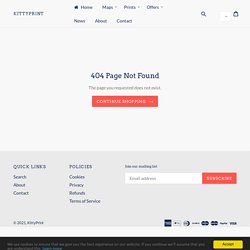 Antique architecture prints
There's nothing more elegant than an antique print of an architectural masterpiece. Whether you fancy a print of a castle, manor house, stately home, bridge, church or cathedral, you can be sure it will make an interesting and sophisticated decoration. Alternatively, There are many antique prints which show architectural details and views of ancient ruins. An Englishman's home is his castle. How about a print of a castle IN his home?
William James Sidis
William James Sidis ( / ˈ s aɪ d ɪ s / ; April 1, 1898 – July 17, 1944) was a Jewish Ukrainian-American child prodigy with exceptional mathematical and linguistic abilities. During his life, his ratio IQ was estimated to be between 250 and 300, making it one of the highest ever recorded but the testing was different from standard IQ tests. [ 1 ] He entered Harvard at age 11 and, as an adult, was claimed to be conversant in over forty languages and dialects. It was later acknowledged, however, that some of the claims made were exaggerations, with a researcher stating "I have been researching the veracity of primary sources of various subjects for about twenty-eight years, and never before have I found a topic so satiated with lies, myths, half-truths, exaggerations, and other forms of misinformation as is in the history behind William Sidis". [ 2 ] Sidis became famous first for his precocity and later for his eccentricity and withdrawal from public life.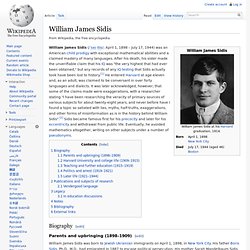 Books Catalog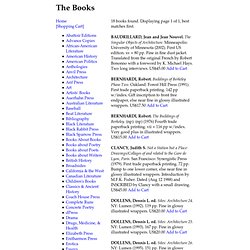 23 books found. Displaying page 1 of 2, best matches first. ARDALAN, Nader and Laleh Bakhtiar.
Site Surveys 3
Quick Links 5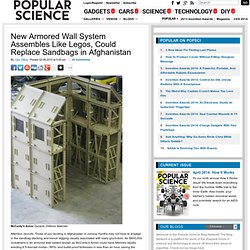 McCurdy's Armor Dynamic Defense Materials Attention recruits. Those of you landing in Afghanistan in coming months may not have to engage in the sandbag stacking and trench digging usually associated with lowly grunt-dom. An $800,000 investment in an armored wall system known as McCurdy's Armor could have Marines rapidly erecting 6.5-foot-tall mortar-, RPG- and bullet proof fortresses in less than an hour, saving the days it can take to fortify an area by conventional means and making forward-operating units more nimble. Named for Ryan S. McCurdy—a Marine killed in Iraq in 2006 while hauling a wounded comrade to safety—the system is designed to offer troops increased protection and mobility when setting up outposts in hostile areas.
New Armored Wall System Assembles Like Legos, Could Replace Sand
H & I gifted each other fiction this Summer. Brian Dillon's Sanctuary (Sternberg Press, 2011) is a short novel of sculpted prose which details the evolving ruin of a modernist building through the research of an architectural historian and his scotoma afflicted lover. There are overlaps, as much in sensibility, formal execution, as in subject, with the work of Alain Robbe-Grillet, George Oppen, Andrei Tarkovsky or Patrick Keiller. Dillon's uncompromising materialism, his observational faculty and precision of language, proves an antidote to the gratuitous ruinporn that's been spreading of late.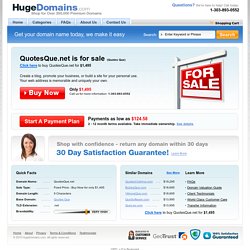 anil bawa cavia
Martin Heidegger ( German: [ˈmaɐ̯tiːn ˈhaɪdɛɡɐ] ; September 26, 1889 – May 26, 1976) was a German philosopher known for his existential and phenomenological explorations of the "question of Being ". [ 4 ] His best known book, Being and Time , is considered one of the most important philosophical works of the 20th century. [ 5 ] In it and later works, Heidegger maintained that our way of questioning defines our nature. But philosophy, Western Civilization's chief way of questioning, had in the process of philosophizing lost sight of the being it sought. Finding ourselves "always already" fallen in a world of presuppositions, we lose touch with what being was before its truth became "muddled". [ 6 ] As a solution to this condition, Heidegger advocated a return to the practical being in the world, allowing it to reveal, or "unconceal" itself as concealment. [ 7 ]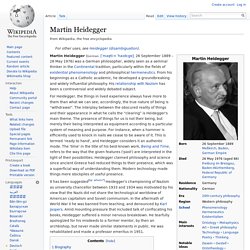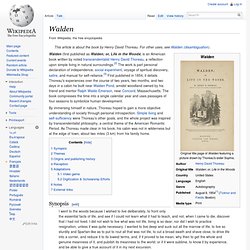 Walden (first published as Walden; or, Life in the Woods ) is an American book written by noted transcendentalist Henry David Thoreau . The work is part personal declaration of independence, social experiment , voyage of spiritual discovery, satire, and manual for self-reliance. [ 2 ] Published in 1854, it details Thoreau's experiences over the course of two years in a cabin he built near Walden Pond , amidst woodland owned by his friend and mentor Ralph Waldo Emerson , near Concord , Massachusetts. By immersing himself in nature, Thoreau hoped to gain a more objective understanding of society through personal introspection. Simple living and self-sufficiency were Thoreau's other goals, and the whole project was inspired by transcendentalist philosophy, a central theme of the American Romantic Period. As Thoreau made clear in his book, his cabin was not in wilderness but at the edge of town, about two miles (3 km) from his family home.
Walden
Gaston Bachelard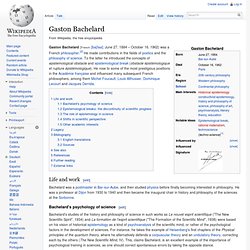 Gaston Bachelard ( French: [baʃlaʁ] ; June 27, 1884 – October 16, 1962) was a French philosopher . [ 3 ] He made contributions in the fields of poetics and the philosophy of science . To the latter he introduced the concepts of epistemological obstacle and epistemological break ( obstacle épistémologique et rupture épistémologique ). He rose to some of the most prestigious positions in the Académie française and influenced many subsequent French philosophers, among them Michel Foucault , Louis Althusser , Dominique Lecourt , and Jacques Derrida . [ edit ] Life and work Bachelard was a postmaster in Bar-sur-Aube , and then studied physics before finally becoming interested in philosophy. He was a professor at Dijon from 1930 to 1940 and then became the inaugural chair in history and philosophy of the sciences at the Sorbonne .
À rebours ( French pronunciation: ​ [a ʁə.buʁ] ; translated Against Nature or Against the Grain ) ( 1884 ) is a novel by the French writer Joris-Karl Huysmans . Its narrative concentrates almost entirely on its principal character and is mostly a catalogue of the tastes and inner life of Jean Des Esseintes, an eccentric, reclusive aesthete and antihero who loathes 19th-century bourgeois society and tries to retreat into an ideal artistic world of his own creation. À rebours contains many themes that became associated with the Symbolist aesthetic. In doing so, it broke from Naturalism and became the ultimate example of " decadent " literature. [ edit ] Background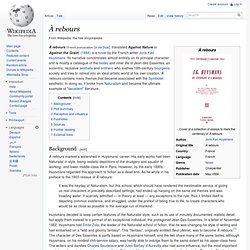 À rebours
Edison's black Maria: - America's first movie studio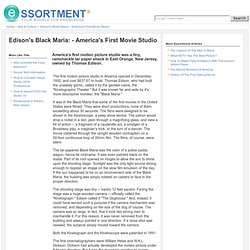 The first motion picture studio in America opened in December, 1892, and cost $637.67 to build. Thomas Edison, who had built the unwieldy gizmo, called it by the genteel name, the "Kinetographic Theater." But it was known far and wide by it's more descriptive moniker, the "Black Maria." It was in the Black Maria that some of the first movies in the United States were filmed.
Goncourt brothers
Edmond (left) with his brother Jules. Photographed by Félix Nadar The Goncourt brothers (pronounced [ɡɔ̃kuːʁ] ) were Edmond de Goncourt ( [ɛdmɔ̃] , 1822–96) and Jules de Goncourt ( [ʒyl] , 1830–70), both French naturalism writers who as collaborative sibling authors, were inseparable in life. [ edit ] Partnership They formed a partnership that "is possibly unique in literary history. Not only did they write all their books together, they did not spend more than a day apart in their adult lives, until they were finally parted by Jules's death in 1870." [ 1 ] They are known for their literary work and for their diaries, which offer an intimate view into the French literary society of the later 19th century.
tavola 39
Arrival Of A Train At La Ciotat Station was again shot two years later in 1897 but did not cause as much of a stir than it did in 1895. Today, a director wouldn't think twice about angling the camera within feet of the tracks as a train entered into the frame. We see it all the time.
The History of The Discovery of Cinematography - 1895 - 1900
Joseph Gandy
Joseph Gandy, Soane's Bank of England as a ruin, 1830, Soane Museum London Joseph Michael Gandy (1771 – 1843) was an English artist, visionary architect and architectural theorist, most noted for his imaginative paintings depicting Sir John Soane's architectural designs. He worked extensively with Soane both as draughtsman and creative partner from 1798 until 1809 when he (ultimately unsuccessfully) set up his own practice. Gandy built little in his career, having a reputation as a difficult individual to deal with.