Social enterprise ideas
The Network Of Mobile Bicycle Mechanics By Martin Wilkins: Starting a mobile bicycle repair business. Thinking of starting your own mobile bicycle repair business?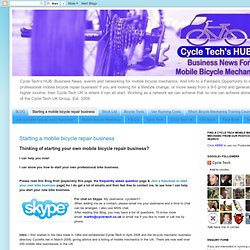 I can help you now! I can show you how to start your own professional bike business.Please read this Blog first! How to raise capital for your social enterprise | Guardian Social Enterprise Network. Raising capital for your social enterprise is never easy.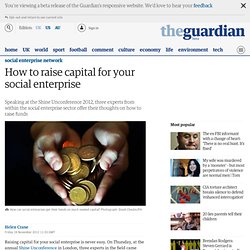 On Thursday, at the annual Shine Unconference in London, three experts in the field came together to give advice on how social enterprises can secure the investment they need to grow their business. They were Tom Storey, director of REDS10, a social enterprise supporting local authorities, developers and contractors in meeting local labour and apprenticeship targets on construction projects; investor Richard Flaye, a media entrepreneur and portfolio director who has several non-executive directorships, and was introduced to REDS10 through the Big Venture Challenge; and Simon Evill, social business manager of ClearlySo, which provides services to help social enterprises raise capital. Here's their advice for social enterprises: Cargo cyclists replace truck drivers on European city streets. Bikes Boost Economic Opportunities in Your Town. "Biking is definitely part of our strategy to attract and retain businesses in order to compete in a mobile world," says Minneapolis Mayor R.T.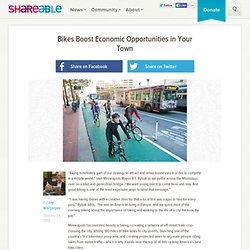 Rybak as we pedal across the Mississippi river on a bike-and-pedestrian bridge. "We want young talent to come here and stay. Unltd.org.uk/wp-content/uploads/2012/09/UnLtd_Research_Findings5_PlanningtoScale.pdf. Renovating a house? Eco retrofit it. Below are the latest resources to be added to the SuperHomes resource library.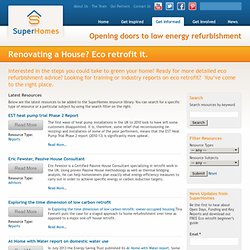 You can search for a specific type of resource or a particular subject by using the search filter on the right. EST heat pump trial Phase 2 Report The first wave of heat pump installations in the UK to 2010 look to have left some customers disappointed. It is, therefore, some relief that recomissioning (ie. resizing) and installation of some of the poor performers, means that the EST Heat Pump Trial Phase 2 report (2010-13) is significantly more upbeat. PV potential estimation utility. Diffusing practical initiatives in response to climate change and peak oil | www.localunited.net. This site uses cookies to store information on your computer.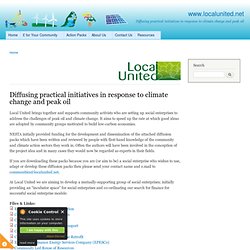 Some cookies on this site are essential, and the site won't work as expected without them. These cookies are set when you submit a form, login or interact with the site by doing something that goes beyond clicking on simple links. We also use some non-essential cookies to anonymously track visitors or enhance your experience of the site. Small business marketing advice, tools and resources | Marketing Donut. Business support, information and advice. Build a Bamboo Bicycle - Uk Bamboo Bicycle Club Bamboo Bicycle Club – Uk Bamboo Bicycle Building.
Becoming a Cycle Instructor | Bikeability. Becoming a Cycle Instructor Whether you'd like to make delivering Bikeability your full-time job or you just want to pass on some skills at your local school or youth club, undertaking the National Standard Instructor training is the first step to getting involved with delivering Bikeability.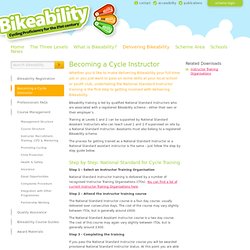 Bikeability training is led by qualified National Standard Instructors who are associated with a registered Bikeability scheme – either their own or their employer's. Training at Levels 1 and 2 can be supported by National Standard Assistant Instructors who can teach Level 1 and 2 if supervised on site by a National Standard Instructor. Assistants must also belong to a registered Bikeability scheme. UnLtd || Welcome to UnLtd. London Pedicabs. Welcome to the house of the only truly environmental friendly transport in London, aim is to share our passion for zero emissions transport system.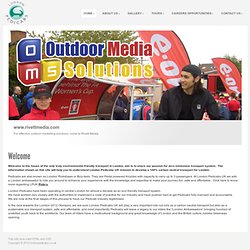 The information shown on this site will help you to understand London Pedicabs UK mission to develop a 100% carbon neutral transport for London. Pedicabs are also known as London Rickshaws or Bicy-taxis. They are Pedal powered tricycles with capacity to carry up to 3 passengers. At London Pedicabs UK we add a London ambassador to ride you around to enhance your experience with the knowledge and expertise to make your journey fun, safe and affordable.
Click here to know more regarding LPUK Riders. Electric bicycles, ebikes, electric rickshaws made in Latvia, electric scooters. Maxpro Pedicabs - manufacturer of professional pedicabs, rickshaws and cargo trikes. Professional Mechanic Training - Page 2. Crowdfunding, UK fundraising platform for creative & social projects | Crowdfunder. Seedrs | Invest In Startups. Brixton Cycles- workers co-op South London. Surly, commuter, mountain bike, road bike. Social Enterprise UK. Elmhurst Energy Systems Home. The Renewable Energy Daily. Green Deal advisor training. REconomy. Welcome to Local United | www.localunited.net. Can the new Social Value Act help communities?
UK / Community 27 May 2012 Peter Holbrook Photo © Social Enterprise UK Positive News: How will the act help communities?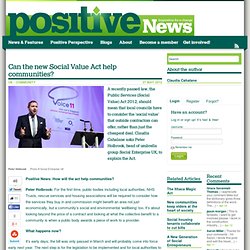 Peter Holbrook: For the first time, public bodies including local authorities, NHS Trusts, rescue services and housing associations will be required to consider how the services they buy in and commission might benefit an area not just economically, but a community's social and environmental 'wellbeing' too. It's about looking beyond the price of a contract and looking at what the collective benefit to a community is when a public body awards a piece of work to a provider. Business support, information and advice. How can sustainability communicators establish a social media voice? | Guardian Sustainable Business. I was running a workshop earlier this week teaching a group of professionals how to "think like editors" and by doing so, start creating stories and content that have value and are useful to social media audiences.
It's a course I've run many times and, as with anything you do a lot, it's easy to become a bit complacent. So, when it came to the part of the workshop where I try to demystify the new buzzword platforms and networks that are springing up, I felt pretty calm answering everyone's questions until someone asked: "So I've been hearing a lot about Pinterest. That's just about images, right? " "Oh, yes, just images," I said with the confidence of a man who had spent the previous evening engaged in some hardcore "pinning". Wrong. Low Carbon Heat Plans Revealed. 26 March 2012 £25m for second phase of household voucher scheme Cost control plans set out for non-domestic renewable heat Timetable revealed for longer term support on household renewable heat A second phase of the Renewable Heat Premium Payment (RHPP) scheme, which gives money off renewable technologies like biomass boilers, air and ground source heat pumps and solar thermal panels, will be launched on 2nd April this year and will be worth £10m more than the existing scheme.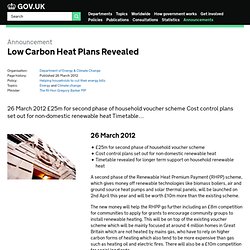 The new money will help the RHPP go further including an £8m competition for communities to apply for grants to encourage community groups to install renewable heating. This will be on top of the existing voucher scheme which will be mainly focused at around 4 million homes in Great Britain which are not heated by mains gas, who have to rely on higher carbon forms of heating which also tend to be more expensive than gas such as heating oil and electric fires. Installer. People Fund - People Fund. Anti-Apathy.
---