Software
CloudCompare - Open Source. RiSCAN PRO. RiSCAN PRO is the companion software for RIEGL Terrestrial 3D Laser Scanner Systems.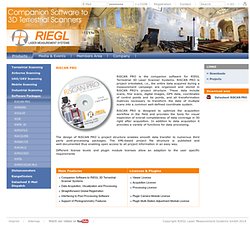 RiSCAN PRO is project orientated, i.e., the entire data acquired during a measurement campaign are organized and stored in RiSCAN PRO's project structure. These data include scans, fine scans, digital images, GPS data, coordinates of control points and tie points, and all transformation matrices necessary to transform the data of multiple scans into a common well-defined coordinate system. RiSCAN PRO is designed to optimize the acquisition workflow in the field and provides the tools for visual inspection of overall completeness of data coverage in 3D right after acquisition. In addition to data acquisition it provides a variety of functions for data processing. PointCloud CAD. For the surveyor requiring software capable of handling point cloud / LIDAR data, MicroSurvey has two excellent options.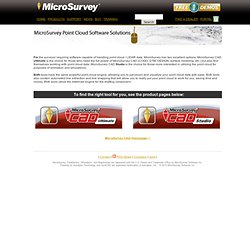 MicroSurvey CAD Ultimate is the choice for those who need the full power of MicroSurvey CAD (COGO, DTM, DESIGN, surface modeling, etc.) but also find themselves working with point cloud data. MicroSurvey CAD Studio is the choice for those more interested in utilizing the point cloud for purposes of animation and simulations. Pointools. Polyworks. RapidForm. MeshLab. JRC 3D Reconstructor. Geomagic. Leica HDS Software.
---