Cloud storage synchro
9Giga. Utilisation des données personnelles Envoi d'e-mailings personnalisés SFR peut utiliser vos informations personnelles pour vous proposer des offres adaptées, directement sur le site SFR.fr ou lors de communications par e-mails.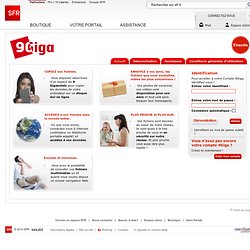 Dans ce cadre, au clic sur un des liens de ces e-mails, SFR vous permet d'être reconnu sur l'intégralité du site SFR.fr, avec un accès à des offres spécifiques. Windows Live SkyDrive. SugarSync. A verification email has been sent to .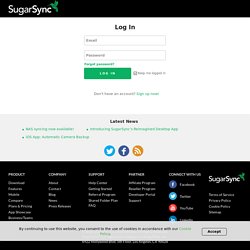 If you don't receive the email, check your Spam / Bulk folder. Verify your email address Before you can login, you must verify your email address. A verification email was sent to null. Dropbox. The Top 10 Best Dropbox Services, Addons and Hacks - TNW Apps. Everyone from heavy Dropbox users to those who are wondering just what the fuss is all about with this cloud syncing business should be able to find something useful to them in this list.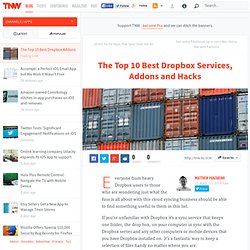 If you're unfamiliar with Dropbox it's a sync service that keeps one folder, the drop box, on your computer in sync with the Dropbox server and any other computers or mobile devices that you have Dropbox installed on. It's a fantastic way to keep a selection of files handy no matter where you are. This is a collection of 10 of the most useful Dropbox services, apps and hacks that take Dropbox beyond convenient and into the realm of necessity. Note that this list focuses specifically on addons and tweaks rather than applications that feature Dropbox integration. Dropbox Forms: Receive files from your web site to your dropbox!
Just follow the instructions below.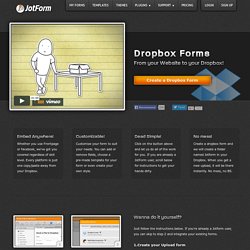 If you're already a Jotform user, you can skip to step 2 and integrate your existing forms. 1.Create your Upload form Go to Jotform Form Builder and drag a File Upload field from the Form Tools menu to your workspace. If you wish to collect any other type of information, add the relevant fields from the tools menu. 2.Setup your Dropbox. Dropbox Folder Sync addon [Official Page] Dropbox Folder Sync is a simple app for Dropbox that allows you to seamlessly sync folders outside the Dropbox folder.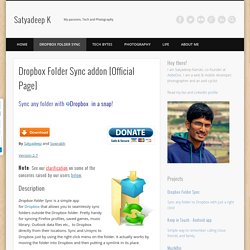 Pretty handy for syncing Firefox profiles, saved games, music library, Outlook data files etc., to Dropbox directly from their locations. Sync and Unsync to Dropbox just by using the right click menu on the folder. DROPitTOme - Securely receive files from anyone to your Dropbox. AirDropper makes Dropbox more useful. Request files from anyone. TNW Quick Hit AirDropper lets you request a file from anyone, and has them put it in your Dropbox.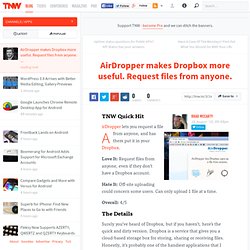 Love It: Request files from anyone, even if they don't have a Dropbox account. 4shared.com - 2Gb.
---