Approche générationnelle en entreprise : Intérets / limites
Publié le 19/01/2007 Attention, cet article a été publié le 19/01/2007. Ce dispositif d'archives vous donne accès à l'ensemble des publications du site FocusRH. Assurez-vous de lire les dernières dépèches et dossiers publiés en utilisant notre moteur de recherche
La révolution Y !
Management Générationnel | Génération Y | Ressources | Styles de management
The conventional wisdom about generational differences in the workplace is mostly wrong, according to a new book by Jennifer J. Deal, a research scientist with the Center for Creative Leadership. The shorthand used to describe the four generations that now make up our nation's workforce goes something like this:
The Myth of Generational Differences in the Workplace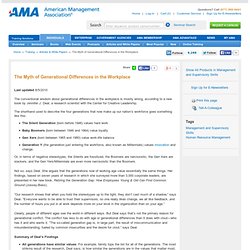 Approche générationnelle et MANAGEMENT
Approche générationnelle et GRH
Approche générationnelle et FORMATION
Géneration Y & Entrepreneuriat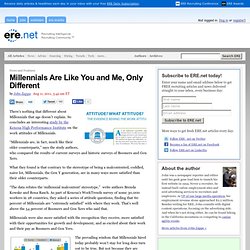 There's nothing that different about Millennials that age doesn't explain. So concludes an interesting study by the Kenexa High Performance Institute on the work attitudes of Millennials. "Millennials are, in fact, much like their older counterparts," says the study authors, who compared the results of current surveys and historic surveys of Boomers and Gen Xers. What they found is that contrary to the stereotype of being a malcontented, coddled, naive lot, Millennials, the Gen Y generation, are in many ways more satisfied than their older counterparts. "The data refutes the 'millennial malcontent' stereotype," write authors Brenda Kowske and Rena Rasch. As part of Kenexa's WorkTrends survey of some 30,000 workers in 28 countries, they asked a series of attitude questions, finding that 60 percent of Millennials are "extremely satisfied" with where they work.
Millennials Are Like You and Me, Only Different
Knowledge management >> "Partager l'information ? : Un salarié sur deux craint un retour de bâton" | Styles de management
Influenceurs, blogs dédiés, formations
Aspects sociologiques théorisés