UNESCO
L'usage de l'internet mobile explose en Afrique | ReadWriteWeb France
Haïti map coverage in Openstreetmap following 2010 earthquake
mobile afrique
The Oligarch to the dying press : "Nasdarovie!"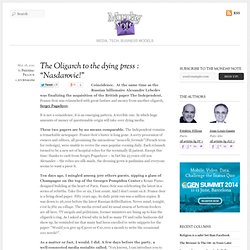 Coincidence. At the same time as the Russian billionaire Alexandre Lebedev was finalizing the acquisition of the British paper The Independent, France-Soir was relaunched with great fanfare and money from another oligarch, Sergey Pugachyov .
Maker Faire Africa
Portal : Sommaire
Le blog de villesdafrique
Les données culturelles resteront-elles moins libres que les aut
La question de la réutilisation des données publiques fait boule de neige en ce moment, au point de devenir l'un des sujets les plus chauds du web.