Joomla
Fabrik - The Joomla Application Builder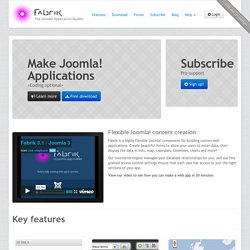 Fabrik is a highly Flexible Joomla! component for building custom web applications. Create beautiful forms to allow your users to enter data, then display the data in lists, map, calendars, timelines, charts and more! Our innovative engine manages your database relationships for you, and our fine grained access control settings ensure that each user has access to just the right sections of your app.
GRR est un système de Gestion et de Réservations de Ressources. GRR est adapté à : la gestion et la réservation de salles, la gestion et la réservation de matériels,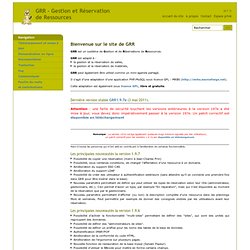 DOCman 2.0 is a document and download management solution for Joomla. DOCman makes offering downloadable documents on your Joomla site a breeze. Manage documents across infinite nested categories, give users permission to upload, download or edit documents, store documents locally or remotely, and prevent direct linking using the built-in anti-leech system.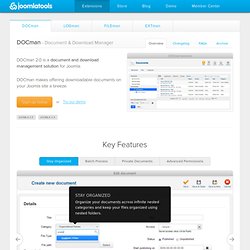 DOCman - Document & Download Manager
JoomDOC 3/4 is available in 3 editions differing in features - Standard, Pro & Enterprise. Each of them is further offered with different support levels - with / without guaranteed support reply times. You can learn more and compare using the table bellow.
JoomDOC Editions Comparison - ARTIO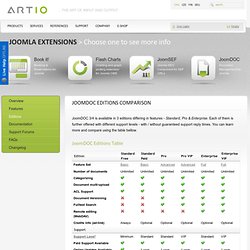 Découvrir Watchful
plus d'info. Watchful expliqué en 60 secondes Mise à jour de vos sites Joomla!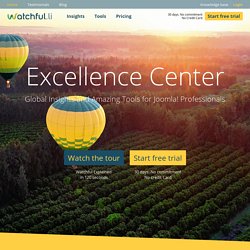 Last Modified: 13-April-2014 Latest and previous versions of the tool can be found at this page. Refer to Getting Started with Version 2 for installation instructions. All extensions are licensed under the GNU General Public License version 2 or later; see the included LICENSE.txt found in any of the downloads for further details. Version: 2.0.1.16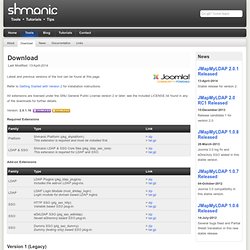 JMapMyLDAP - Download
SSO - LDAP joomla 2.5
JMapMyLDAP - Download
[Problème] Joomla 2.5 et Webmail OWA via SSO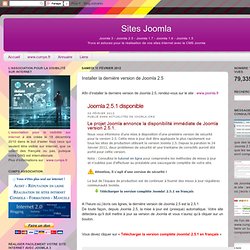 Installer la dernière version de Joomla 2.5
Afin d'installer la dernière version de Joomla 2.5, rendez-vous sur le site : www.joomla.fr A l'heure où j'écris ces lignes, la dernière version de Joomla 2.5 est la 2.5.1 De toute façon, depuis Joomla 2.5, la mise à jour est (presque) automatique. Votre site détectera qu'il doit mettre à jour sa version de Joomla et vous n'aurez qu'à cliquer sur un bouton.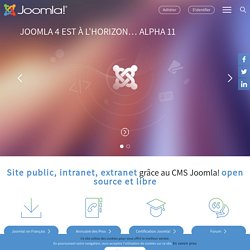 24 Décembre 2013 Posted in Vie de l'association L'AFUJ vous souhaites de très bonnes fêtes de Noël pour vous et tous vos proches. Que le gentil Papa Nawel vous comble de bonheur, que vos petits souliers soient remplis de tous vos souhaits...
Vous souhaitez développer des sites web de qualité et à moindre coût. Le puissant cms joomla vous apporte la solution. Il permet de créer des sites professionnels même si on n'a pas les compétences d'un informaticien chevronné. Un débutant pourra vite apprendre joomla, créer un site et le publier sur internet très facilement. Cependant, vous devez consacrer le temps nécessaire et suivre nos conseils pour profiter pleinement de cette formation en ligne. Que vous soyez débutant ou à la recherche d'un emploi de webmaster ou webdesigner, vous souhaitez prendre en main le puissant cms joomla pour créer des sites web de qualité professionnelle et pouvoir maitriser le design de vos pages web en créant vos propres templates (les modèles) ou en choisissant un template professionnel préparé pour vous. joomlaPack - securite
web:joomla:article [Prolibre Wiki]
Put a background image or color on an article You can place a background image or color in an article by following these steps: 1.