Joomla
Fabrik - The Joomla Application Builder.
PlugIn & Modules. Templates. GRR - Gestion et Réservation de Ressources. DOCman - Document & Download Manager. JoomDOC Editions Comparison. JoomDOC 3/4 is available in 3 editions differing in features - Standard, Pro & Enterprise.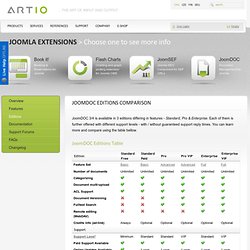 Each of them is further offered with different support levels - with / without guaranteed support reply times. You can learn more and compare using the table bellow. Découvrir Watchful. Plus d'info.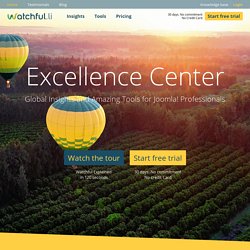 Watchful expliqué en 60 secondes Mise à jour de vos sites Joomla! JMapMyLDAP - Download. Last Modified: 13-April-2014 Latest and previous versions of the tool can be found at this page.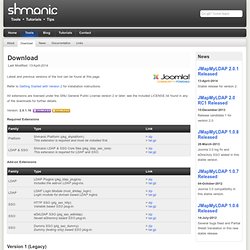 Refer to Getting Started with Version 2 for installation instructions. All extensions are licensed under the GNU General Public License version 2 or later; see the included LICENSE.txt found in any of the downloads for further details. Version: 2.0.1.16. SSO - LDAP joomla 2.5. JMapMyLDAP - Download. [Problème] Joomla 2.5 et Webmail OWA via SSO. Installer la dernière version de Joomla 2.5. Afin d'installer la dernière version de Joomla 2.5, rendez-vous sur le site : www.joomla.fr A l'heure où j'écris ces lignes, la dernière version de Joomla 2.5 est la 2.5.1 De toute façon, depuis Joomla 2.5, la mise à jour est (presque) automatique.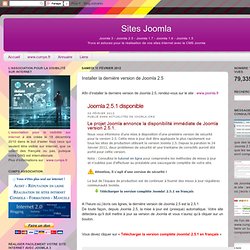 Votre site détectera qu'il doit mettre à jour sa version de Joomla et vous n'aurez qu'à cliquer sur un bouton. Joomla.fr. Tutoriels module, composant et template joomla 1.7, 1.6 et 1.5. Joomla! JoomlaPack - securite. Web:joomla:article [Prolibre Wiki] Put a background image or color on an article You can place a background image or color in an article by following these steps: 1.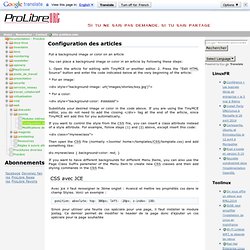 ---