Backup & Ghost
Reflect Backup and Hard Disk Imaging for Windows 7, Vista, XP and Server 2003/2008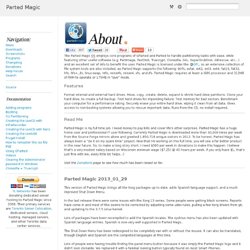 The Parted Magic OS employs core programs of GParted and Parted to handle partitioning tasks with ease, while featuring other useful software (e.g. Partimage, TestDisk, Truecrypt, Clonezilla, G4L, SuperGrubDisk, ddrescue, etc…) and an excellent set of info to benefit the user. Parted Magic is licensed under the GPL , so an extensive collection of file system tools are also included, as Parted Magic supports the following: btrfs, exfat, ext2, ext3, ext4, fat16, fat32, hfs, hfs+, jfs, linux-swap, ntfs, reiserfs, reiser4, xfs, and zfs. Parted Magic requires at least a i686 processor and 312MB of RAM to operate or 175MB in "Live" mode.
Sauvegarde de donnee, Gobackup assure sauvegarde de donnee en ligne
Wbadmin.info - the definitive resource center for Windows Server 2008 Backup
Partclone
SyncToy 2.1 - Microsoft Download Center - Download Details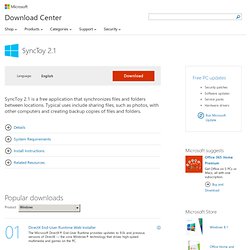 Overview Overview There are files from all kinds of sources that we want to store and manage. Files are created by our digital cameras, e-mail, cell phones, portable media players, camcorders, PDAs, and laptops.
Bears on the Loose first product is TimeTraveler™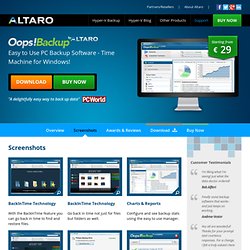 Contact Support | Partners / Resellers | Windows Server 2012 & Hyper-V Blog all features free for 30 days Customer Testimonials
Oops!Backup Screenshots
Genie Timeline Pro | Buy | Time Machine Backup Software for Windows and Continuous Backup
FS BackUp - Le logiciel automatisé de sauvegarde et de restauration de données le plus simple
A New Way of Cloning the Windows System Disk
SyncBackSE
Pro Order, Free File Synchronization, Backup, Data Replication, PC Sync Software, Freeware, File Sync, Data Synchronization Software
Partition Saving: point d'entrée | entry point
Partition Logic | Home
Backup Software - File Recovery | Norton Ghost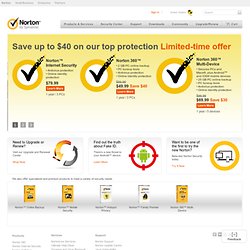 Since it was introduced in 1998, Norton Ghost has provided professional-grade imaging and backup for PCs like yours. Thank you for helping make Norton Ghost such a success.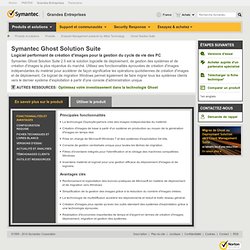 Ghost Solution Suite | Système de migration vers Vista
Symantec Ghost Solution Suite 2.5 est la solution logicielle de déploiement, de gestion des systèmes et de création d'images la plus répandue du marché. Utilisez ses fonctionnalités éprouvées de création d'images indépendantes du matériel pour accélérer de façon significative les opérations quotidiennes de création d'images et de déploiement.
Backup your entire PC to a single compressed image file.
Personal - Macrium Software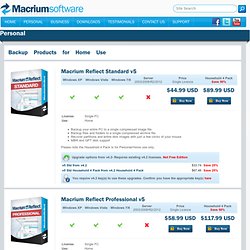 Software - HDClone - Hard disk copy, hard disk backup, hard disk rescue!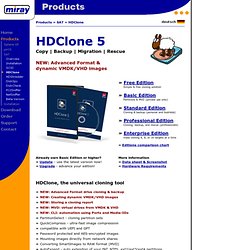 Copy | Backup | Migration | Rescue NEW: PartitionSelect & QuickCompress HDClone, the universal cloning tool
Logiciels de sauvegarde pour serveurs, des systemes locaux et des bases de donnees
sauvergarder windows en cas de soucis comment faire ?
Drive Snapshot - Disk Image Backup for Windows NT/2000/XP/2003/X64
DriveImage XML English (1.78MB) Image and Backup logical Drives and Partitions File Size :1.78 MB Price: Private Edition Free - Commercial Edition - Buy Now System Requirements: Pentium Processor - 256 MB RAM Windows XP, 2003, Vista, Windows 7, or Windows 8 Image and Backup logical Drives and Partitions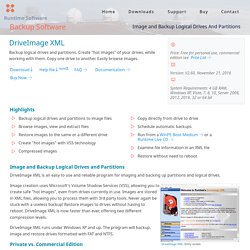 Technologies IT management Software and Solutions
Backup en ligne - Testez gratuitement la solution de backup en ligne de BlueBackUp