Hobby
Gästebuch - Sipai-Kanzerovka
Kaya Yanar Live - Made in Germany - Teil 1 - Kaya Yanar - TV Shows - Shows - MySpass.de
sylvester stallone over the top deutsch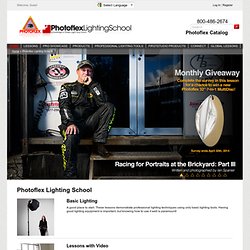 Basic Lighting A good place to start. These lessons demonstrate professional lighting techniques using only basic lighting tools.
Willkommen bei Ruthe.de | Home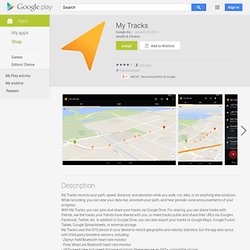 L'application Mes parcours enregistre votre parcours, votre vitesse, la distance parcourue et le dénivelé au cours de vos marches, vos courses à pied, vos trajets en vélo ou toute autre activité extérieure. Pendant l'enregistrement, vous pouvez consulter toutes ces données en direct, ajouter des annotations à votre parcours et entendre, de façon périodique, des annonces vocales en fonction de votre progression. L'application Mes parcours vous permet d'exporter vos parcours vers un périphérique de stockage externe ou de les enregistrer sur Google Drive, sur Google Maps, dans Google Fusion Tables ou dans des feuilles de calcul Google. Google Drive vous permet de synchroniser vos parcours, de les partager avec vos amis et de consulter ceux qui ont été partagés avec vous. Google Maps vous permet de partager l'URL d'une carte avec vos amis via Google+, Facebook, Twitter, etc.
Notice_Boitier_rSAP_HFP_000051473F.pdf (application/pdf-Objekt)
Tot aber lustig - Neues Jahr
Der Marauder – ein feuchter Männertraum - SUV, Hummer, BBC, Top Gear - Lustige Videos, Fun Movies, Witzige Filme, Lustige Werbespots - CARTOONLAND
Universität Osnabrück - Fachbereich Physik - Material und Angebote
Einstellungen in neuem figure. .:. goMatlab - Mein MATLAB Forum
DuckTales S02E19 - Der Plan fällt ins Wasser (2/2)
Kreis Paderborn - Geodatenportal / Karten
Easy 7 Step Syma S107 Battery Replacement Instructions | http://www.micro-helicopters.net/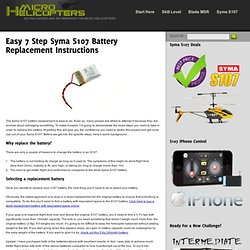 The Syma S107 battery replacement is easy to do. Even so, many people are afraid to attempt it because they are worried about damaging something. To make it easier, I'm going to demonstrate the exact steps you need to take in order to replace the battery. Hopefully this will give you the confidence you need to tackle this project and get more use out of your Syma S107.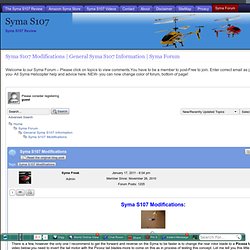 There is a few, however the only one I recommend to get the forward and reverse on the Syma to be faster is to change the rear rotor blade to a Picooz tail rotor blade . I found this video below-you need to invert the tail motor with the Picooz tail blades-more to come on this as in process of testing this concept. Let me tell you this little bird is really ok without any mods-but If you are like me you will eventually want more speed.
Syma S107 Modifications