Science2.0 2
|HOME|Economic Analysis and Policy (EAP), a journal with online downloadable articles and a fast review process|
Cet article du dernier numéro de D-Lib mérite lecture. William Y. Arms, Manuel Calimlim, Lucia Walle, EScience in Practice, Lessons from the Cornell Web Lab, D-Lib Magazine, May/June 2009, Volume 15, Number 5/6. ici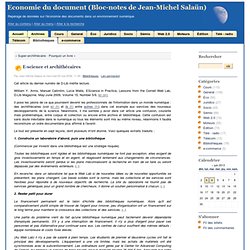 E-science et archithécaires
What is data science? - O'Reilly Radar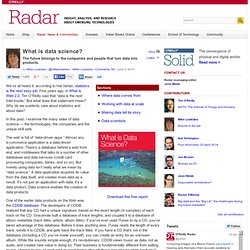 We've all heard it: according to Hal Varian, statistics is the next sexy job .
p31-special-sw-section-5.pdf (Objet application/pdf)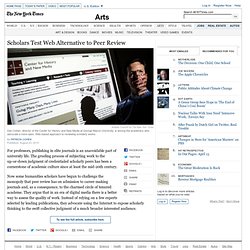 Now some humanities scholars have begun to challenge the monopoly that peer review has on admission to career-making journals and, as a consequence, to the charmed circle of tenured academe. They argue that in an era of digital media there is a better way to assess the quality of work. Instead of relying on a few experts selected by leading publications, they advocate using the Internet to expose scholarly thinking to the swift collective judgment of a much broader interested audience.
For Scholars, Web Changes Sacred Rite of Peer Review
RECHERCHE • Big Brother au service des sciences sociales
Toutes les informations que nous fournissons sur les réseaux sociaux ou par le biais des téléphones portables constituent des bases de données inespérées pour les chercheurs qui étudient le comportement humain.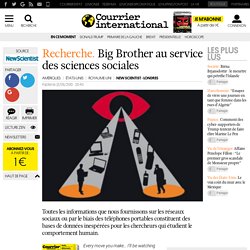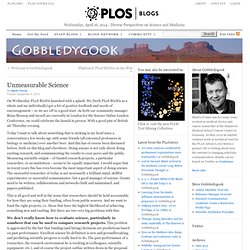 Unmeasurable Science | Gobbledygook
On Wednesday PLoS BLOGs launched with a splash.
By Felicia LeClere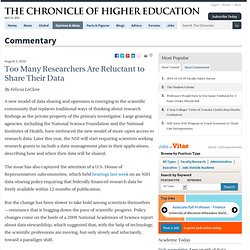 Too Many Researchers Are Reluctant to Share Their Data - Commentary
ChemSpider - Database of Chemical Structures and Property Predictions
Valoriser et diffuser l'information scientifique sur le web
E-science , e-recherche, e-research, cyberinfrastructure ...
PostGutenberg Peer Review
Joseph Esposito [JE] asks, in liblicense-l: JE: "What happens when the number of author-pays open access sites grows and these various services have to compete with one another to get the finest articles deposited in their respositories?" Green OA mandates require deposit in each author's own institutional repository.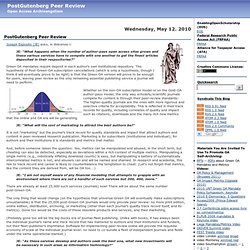 Credit: lorenzodom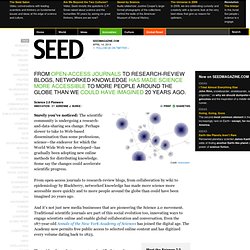 Science 2.0 Pioneers
There has been tens, if not hundreds, of attempts to launch social networks for scientists and for researchers over the last 3 years.
Croyez-vous au Réseaux Sociaux Pour Chercheurs ?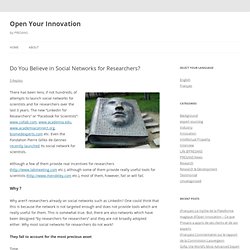 BioTorrents: A File Sharing Service for Scientific Data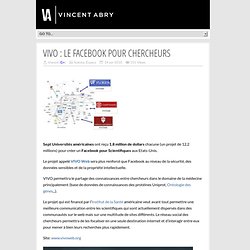 VIVO : le Facebook pour Chercheurs
Sept Universités américaines ont reçu 1.8 million de dollars chacune (un projet de 12.2 millions) pour créer un Facebook pour Scientifiques aux Etats-Unis. Le projet appelé VIVO Web sera plus renforcé que Facebook au niveau de la sécurité, des données sensibles et de la propriété intellectuelle.
100330 Pmlpa Science 20 New
Recherche scientifique et blogosphère peuvent faire bon ménage pour le bonheur des internautes curieux, des amateurs de science et même celui des chercheurs.
La science revue par les blogueurs : Le blog des blogs
(Agence Science-Presse) Où en est la réflexion sur la science 2.0?
Science 2.0
digitalresearchtools / FrontPage
Tim Gowers | World Association of Young Scientists
Warning: Table './ways_ways/cache_page' is marked as crashed and should be repaired query: SELECT data, created, headers, expire, serialized FROM cache_page WHERE cid = 'http://www.ways.org/fr/topics/tim_gowers' in /home/ways/public_html/includes/database.mysql.inc on line 128 Warning: Cannot modify header information - headers already sent by (output started at /home/ways/public_html/includes/database.mysql.inc:128) in /home/ways/public_html/includes/bootstrap.inc on line 636
Sociologically.net | towards an international sociological community
606540_41.pdf (Objet application/pdf)
Tom Roud sur France inter - Association C@fetiers des sciences
Un article de Wiki URFIST. [modifier] ouverture : l'affaire #arseniclife [modifier] Science 2.0
Science 2.0
Librarians still have vital role in the Web 2.0 era - SCIENCE INTELLIGENCE
Parallel Archive
Parallel Archive - The Project
Scicasts™ -- Science and Technology Newsletters: Science 2.0 - Time to Move Forward
Science 2.0: Communicating Science in a Web 2.0 World
Byte Size Biology » Science 2.0: things that work and things that don't
Science 2.0
Shotton_Semantic_publishing_evaluation.pdf (Objet application/pdf)
Innovate: The Chemistry of Facebook: Using Social Networking to Create an Online Community for the Organic Chemistry Laboratory
Ce que le blog apporte à la recherche - Enro, scientifique et citoyen
WebCite
Science Commons