Jewish Women in History
Gates To Hell - The Nazi Death Camps. History Makers - Beatrice Alexander - Overview. "You need to believe in people's dreams, especially women's.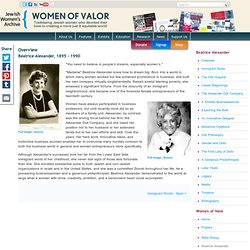 " "Madame" Beatrice Alexander knew how to dream big. Born into a world in which many women worked but few achieved prominence in business, she built her own company virtually singlehandedly. Raised amidst teeming poverty, she amassed a significant fortune. From the obscurity of an immigrant neighborhood, she became one of the foremost female entrepreneurs of the twentieth century. Women of Valor: How American Jewish Women Made Contributions to Jewry and the World. By Blu Greenberg (March 12, 2004) When 23 Jews arrived on these shores from Recife, Brazil in 1654, Governor Peter Stuyvesant immediately wrote to his Dutch West India Company bosses requesting permission to ship back to their point of origin these "members of a deceitful race" who threatened to "infect and trouble this new colony.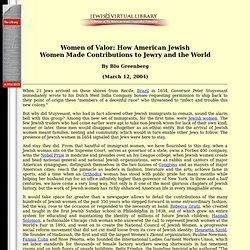 " But why did Stuyvesant, who had in fact allowed other Jewish immigrants to remain, sound the alarm bell with this group? Jewish Heroes in America. Florida Atlantic University Libraries Jewish Heroes and Heroines of America A Judaica Collection Exhibit.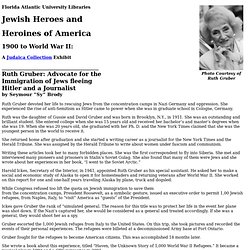 Jewish Heroes in America. Florida Atlantic University Libraries from Colonial Times to 1900: Emma Lazarus: A Poetess And Helper Of lmmigrants by Seymour "Sy" Brody Give me your tired, your poor, your huddled masses...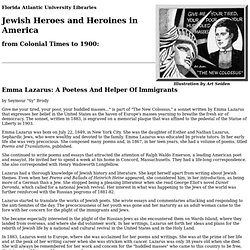 " is part of "The New Colossus," a sonnet written by Emma Lazarus that expresses her belief in the United States as the haven of Europe's masses yearning to breathe the fresh air of democracy. The sonnet, written in 1883, is engraved on a memorial plaque that was affixed to the pedestal of the Statue of Liberty in 1903. Edith Stein. Dates: October 12, 1891 - 1942 Occupation: philosopher; Roman Catholic saint; Jewish convert to Roman Catholicism; Carmelite nun Known for: Holocaust victim; controversy over her beatification and canonization.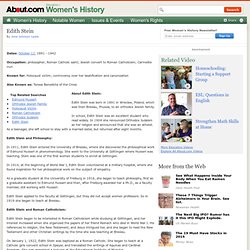 ---