Snacks
Cinnamon-Sugar Cream Cheese Roll-Ups | Nummy Num Num. As I spent my Easter Sunday watching 12 hours of deliciously ridiculous docudrama programming about William & Kate (thanks Lifetime!)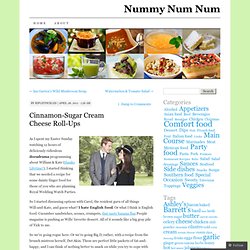 , I started thinking that we needed a recipe for some dainty finger food for those of you who are planning Royal Wedding Watch Parties. So I started discussing options with Carol, the resident guru of all things Will-and-Kate, and guess what? I hate English food. Or what I think is English food. Macaroni and Cheese Cupcakes. Okay, so ever since I made those French Toast Muffins a little ways back, I've been strangely obsessed with things I can make in my muffin pan.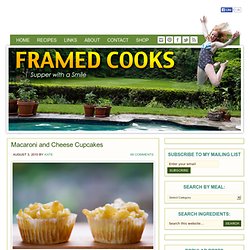 I don't know if it is the whole portability thing, or just the fact that anything with the word "cupcake" or "muffin" in the title automatically makes my stomach growl. You could probably show me a recipe for Brussel Sprout Cupcakes and I would get hungry. Donut Chips. Here's how it all happened.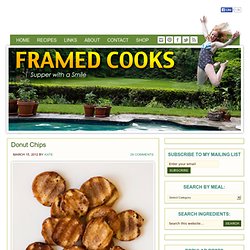 We were driving by the local Dunkin Donuts, and the car somehow turned into the parking lot, and I somehow got out and somehow bought a 25 pack of glazed Dunkin Donuts munchkins. You know…the soft, squishy kind with the shiny sugar coating on the outside. The next thing I knew, I was in my kitchen cutting them in half and sprinkling the cut side with a healthy dose of cinnamon sugar. Then before I knew it, I was heating my panini press up to 375 degrees (about medium on the heat setting) and very carefully placing the donut halves cut side up on the press. Then I put the lid down and toasted them for exactly 40 seconds. Naan Bread Pizza. Fusion foods are some of the best: taking the best bits of one food culture and merging it with another.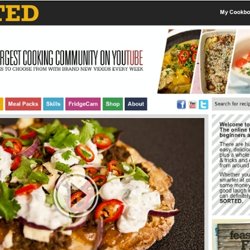 In this recipe designed for fitness guru Omar Isuf , SORTED takes a homemade naan bread recipe and then uses that as a base to make an awesome pizza. It's healthier than a normal pizza and combine the flavours of spiced lamb, paneer cheese and mango chutney with a serving of homemade raita. Tailgate Heros: Bacon Wrapped Tater Tots - StumbleUpon. Be forewarned.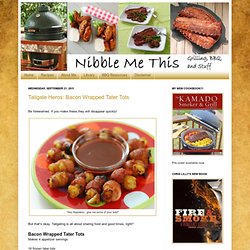 If you make these,they will disappear quickly! But that's okay. Tailgating is all about sharing food and good times, right? Bacon Wrapped Tater Tots Makes 4 appetizer servings. Pepperoni Pizza Muffins Recipe — Simply Being Mommy - StumbleUpon. When I'm online looking for dinner inspiration, I often search for recipes that take something my family loves and make it into something new.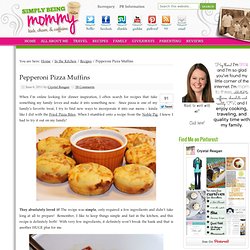 Since pizza is one of my family's favorite treat, I try to find new ways to incorporate it into our menu – kinda like I did with the Fried Pizza Bites. When I stumbled onto a recipe from the Noble Pig, I knew I had to try it out on my family! They absolutely loved it! Homemade Crispy Potato Tots (Tater Tots)
Homemade Crispy Potato Tots (Tater Tots) I went to a Sonic Drive In for the first time a few weeks ago and was surprised to see that they served tater tots.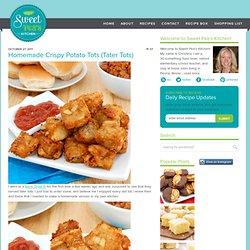 I just had to order some, and believe me I enjoyed every last tot. I knew then and there that I needed to make a homemade version in my own kitchen. Fried Mozzarella Cheese Sticks Recipe. Fried Dough Mozzarella Bites - The Food in my Beard - StumbleUpon. These weren't as crazy amazing(cramazing?)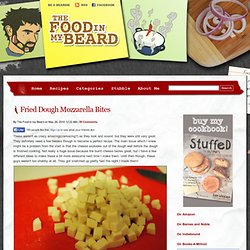 As they look and sound, but they were still very good. They definitely need a few tweaks though to become a perfect recipe. The main issue which I knew might be a problem from the start is that the cheese explodes out of the dough well before the dough is finished cooking. Prosciutto Wrapped Asparagus Bundles with Sage Infused Sour Cream | The... See, I do eat vegetables.
(Granted, they're almost always wrapped in some kind of pork product, but still.) Asparagus, even! Some folks would say it's not possible. When I was a kid, I hated asparagus so much that I used to hide it behind the couch. True story. Pretzel Bread. Baking bread, whether as an occupation or as a hobby, is extremely satisfying.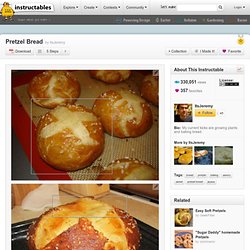 Bakers have almost complete control over their bread, requiring little more than some very simple ingredients, time and the willingness to get his or her hands a little messy. Pretzel bread is not quite a simple as flat bread or dinner rolls, but the loaves come out of the oven with a deep, brown pretzel crust and a slightly sweet, tender center. This particular recipe should be treated as a base to which other ingredients may be added. Cinnamon and extra brown sugar can create a sweet pretzel, or garlic and other spices can create a more savory pretzel. Pizza Monkey Bread Recipe. Recipe for Cheesy Roasted Garlic Potato Balls at Life. I think I have discovered the ultimate way to use up leftover mashed potatoes and the perfect appetizer for New Year's Eve cocktail parties.
First you mix left over potatoes with fresh roasted garlic and shredded Gruyere cheese. Next they are coated in a mixture of regular and panko bread crumbs. Finally you take the cheesy roasted garlic potato balls and fry them until they are perfectly golden brown.
---