Seo
This article covers general web Sitemaps, which are appropriate for most sites. Google does support some extensions for special Sitemap types. See the list below for specific instructions on how to create these special Sitemaps. To create a Sitemap based on the Sitemap protocol:
Manually creating a Sitemap - Webmasters/Site owners Help
Webmaster Tools - Dashboard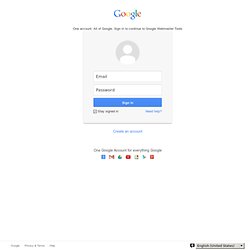 Google Webmaster Tools provides you with detailed reports about your pages' visibility on Google. To get started, simply add and verify your site and you'll start to see information right away. Learn more »
Creating a Sitemap - Webmasters/Site owners Help
Search Engine Features For Webmasters - Search Engine Watch (SEW
Voting results for best SEO info. I decided to poll a number of experts and find out what they believe is the best way to get the best SEO information. Here are the results. Please let me know if other experts should be included in this vote and who are not experts. Thanks.