Bootcamp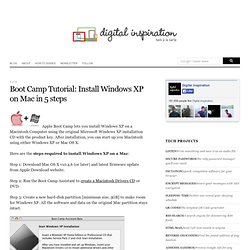 Install Windows XP on Mac in 5 steps - Digital Inspiration
Apple Boot Camp lets you install Windows XP on a Macintosh Computer using the original Microsoft Windows XP installation CD with the product key. After installation, you can start up you Macintosh using either Windows XP or Mac OS X. Here are the steps required to install Windows XP on a Mac : Step 1: Download Mac OS X v10.4.6 (or later) and latest firmware update from Apple Download website. Step 2: Run the Boot Camp Assistant to create a Macintosh Drivers CD or DVD. Step 3: Create a new hard-disk partition [minimum size, 5GB] to make room for Windows XP.
Update to my situation. I got Xp to work on my 20" Imac finnaly. I Started doing a alot of reasearch on DOS so i could manuually repair or replace the corrupt file.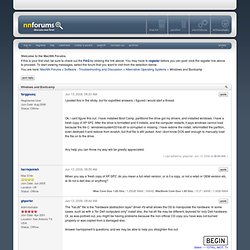 Windows and Bootcamp
WinXP and OSX dual boot in MacBook Pro - Nirlog.com - Technology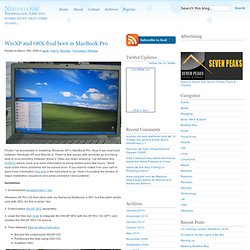 Posted on March 18th, 2006 in Apple , HowTo , Reviews , Technology , Windows Finally I've succeeded in installing Windows XP in MacBook Pro. Now it can dual boot between Windows XP and MacOS X. There're few issues with windows xp but being able to boot smoothly between these 2 OSes are really amazing. I've followed this HOWTO where more and more information is being added every few hours.
This article lists firmware updates that were released for Intel-based Macs. They update the firmware that originally shipped from the factory. If your computer does not appear on this list, an update from the factory firmware is not necessary. Some firmware updates for Intel-based Macs may not be displayed automatically using Software Update . If they do not appear in Software Update, they must be manually downloaded from the Apple Downloads site. If you are unsure whether your computer needs a particular update, simply download and open the update installer.
EFI and SMC firmware updates for Intel-based Macs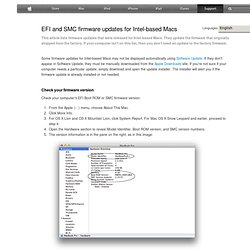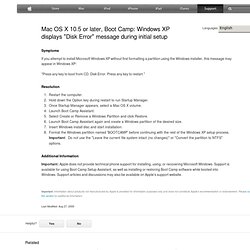 Symptoms If you attempt to install Microsoft Windows XP without first formatting a partition using the Windows installer, this message may appear in Windows XP: "Press any key to boot from CD.
Mac OS X 10.5 or later, Boot Camp: Windows XP displays "Dis
Boot Camp Disk Error Press any key to restart - Page 2 - MacNN F
I have XP pro SP2, full, retail, straight out of a factory sealed box. Installing it on an empty 250 gig drive with a fresh from scratch install of leopard on a separate 500 gig drive. Software and firmware all fully updated. XP installs fine on the full 250 gig drive using NTFS