Quotes
picc - StumbleUpon
Oct 16, 2010 Khwaja Samsu d-Din Muhammad Hafez-e Sirazi, known by his pen name Hafez (1325/26–1389/90) was a Persian lyric poet. His collected works (Divan) are to be found in the homes of most Iranians, who learn his poems by heart and use them as proverbs and sayings to this day. His life and poems have been the subject of much analysis, commentary and interpretation, and have influenced post-Fourteenth Century Persian writing more than anything else has.
Picture of the Day - Simply Sublime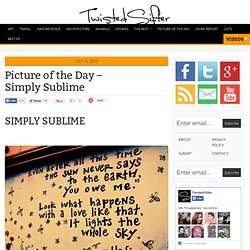 Reporting an entry If this image belongs to you or is your intellectual property, please submit a copyright notification instead of reporting it. We encourage users to report abusive images and help us moderate the content on We Heart It. But please keep in mind that reporting images that are not abusive is against our terms of service and can get your account blocked.