Pics/Vids
Come_Back_To_Me_1600x1050_by_Dmaghar.jpg (JPEG Image, 800x525 pixels) I_might_scrap_this_too_____by_clockblock.jpg (JPEG Image, 900x720 pixels) - Scaled (73. M.A.T. - Mat Air Together Picnic Mat by Ko Ha-Rim, Moon Jun-Young, Nam Hyeong-Taek & Seong Yeon-Woo. Configure Your Picnic Mat M.A.T. or Mat Air Together offers different permutations and combinations to the humble picnic mat, just to make your ground level seating a bit more comfy.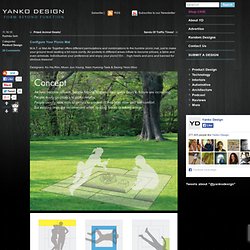 Air pockets in different areas inflate to become pillows, a table and even armrests. Individualize your preference and enjoy your picnic! Err… high-heels and pins and banned for obvious reasons! Holophonic Sounds - Tricking Your Mind To See Alternate Realities. Nature by Numbers. Fan video proves that every anime show has the same opening credits.
@transitnap: The difference being that the intro of an american show is maybe 40 seconds, tops.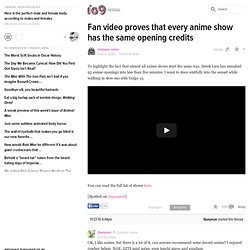 Animes drag this formulaic self-indulgent nonsense on for at least a minute and a half before the actual show starts, often a lot longer. @MisterFoo: I don't think it's self-indulgent so much as it's just convention, the opening sequences probably last as long as the theme song does (which, for many fans, is an important part of an anime, so much so that it often changes through seasons).
For live-action shows, the convention is to generally use clips from the actual show set in a montage, which can also be seen as self-indulgent and formulaic. 1.jpg (JPEG Image, 580x3354 pixels)
---