e-learning
Get flash to fully experience Pearltrees
As an e-Learning consultant I was always a fan of open source software. Why? The answer is simple.
Retour sur une vision d' onlignment qui, sur son très bon blog (en anglais), expose 4 stratégies à mixer et à doser judicieusement dans vos dispositifs de formation. 1.
E-learning is hot. And for good reason.
Rapid elearning can mean many things. For some it means easy tools that let you build elearning courses without special programming skills .
Thanks to broadband and some excellent screencasting applications, you don't need to limit yourself to mere static images when you're trying to show someone how to do something on your computer. Record video, audio, and do even more with these screencasting tools. Photo by ToastyKen .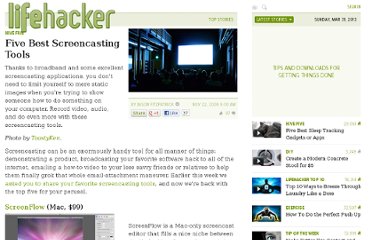 The State of Learning in the Workplace Today
Having a video on your website can vastly improve your conversion rate. Whether the goal is for users to sign up for your web application or simply to get users to contact you via a web form, a video improves the likelihood of this happening. You need only go to the home page of any new Internet-based startup, and you'll see an embedded video with a very large call to action beckoning you to play its two- or three-minute video introduction.
The Learning Management System has been with us for just 10 years or so, and yet for many it is now seen as the core system required for delivering e-learning in an organisation.
« Quand on évoque l'e-learning, il y a tout de suite une levée de boucliers des doyens de facultés, qui déclarent ne pas vouloir proposer de formation à distance », remarquait Mireille Bétrancourt lors des Journées numériques 2010 organisées par l'université Paris Descartes. Une manière pour la directrice de Tecfa (Technologies pour la formation et l'apprentissage), vice-doyenne de la faculté de Psychologie et des Sciences de l'éducation de l'université de Genève, et docteur en Sciences cognitives, d'indiquer combien la notion d'e-learning reste aujourd'hui largement associée à la formation à distance, et l'utilité pédagogique des nouvelles technologies dans le cadre d'un enseignement en présentiel peu explorée.