Crafts
Bath products. Sewing. Craftster.org - A Community for Crafts and DIY Projects with Fre. Browsing Artisan Crafts on deviantART. TUTORIAL: Paper Stars by `RainCookie on deviantART. Plushies.
Art. Beadwork. Supplies. Tutorials On How To Make, DIY Dollhouse Or Dolls House Miniature. ForumsContact Us CDHM Miniature Tutorials 1.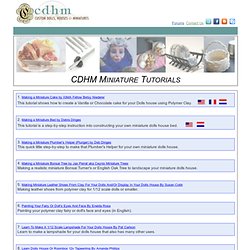 Making a Miniature Cake by IGMA Fellow Betsy Niederer This tutorial shows how to create a Vanilla or Chocolate cake for your Dolls house using Polymer Clay. 2. Making a Miniature Bed by Debra Dinges This tutorial is a step-by-step instruction into constructing your own miniature dolls house bed. CAT'S 美工坊littlecatwhitewhite.com. Polymer Clay Tutorials Canes. Steampunk Clothing, Corsets, Costumes, Jewelry, Dresses, Hats &.
---