Finances
The Institute of International Finance, Inc. Achat et Vente d'Or - Rachat d'Or - Cours et Prix de l'Or en ligne. European Banks Need Bigger Greek-Bond Writedowns, IASB Says. Some European banks haven't sufficiently written down the value of Greek government bonds and other "distressed sovereign debt" they own, the organization that sets accounting rules in the region said.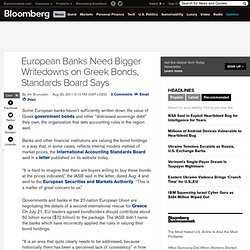 Banks and other financial institutions are valuing the bond holdings in a way that, in some cases, reflects internal models instead of market prices, the International Accounting Standards Board said in a letter published on its website today. "It is hard to imagine that there are buyers willing to buy these bonds at the prices indicated," the IASB said in the letter, dated Aug. 4 and sent to the European Securities and Markets Authority. "This is a matter of great concern to us." Governments and banks in the 27-nation European Union are negotiating the details of a second international rescue for Greece. Bank for International Settlements. OSEO - Soutient l'innovation et la croissance des PME. Le Cercle des Epargnants. OEE | Observatoire de l'Epargne Européenne. FSI - Fond Stratégique d'Investissement.
Crédit, Épargne et Banque : informations, actualités et simulations - cBanque.
---