Artistes
Svetlin Roussev, violinist. French touch : MATTRACH Website. Stromae – √ S H K P N K. SKIP THE USE. Filter Stream Select the types of content you would like to see.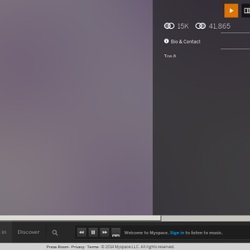 Bio & Contact Top 8 Top Tracks / View All Top Fans / View All. Camille - Site Officiel. The best. King Crimson - DGM Live! Jeff Beck - Tokyo Full Concert (1999) Frank Zappa in Hungary 1991 june 28-30., Budapest, Tabán (concert) Frank Zappa - Interview Ardisson - 1988. Jazz. Kenny Burrell guitariste, discographie, biographie, CD, vidéo. Bill Frisell, panoramique. – Laybell. By Calame Je m'arrête ici sur l'un des derniers albums du guitariste américain Bill Frisell intitulé « Beautiful dreamer », sorti à la fin de l'été 2010 chez Savoy Jazz, et qui ne proposera rien de véritablement novateur aux oreilles d'un mélomane déjà averti de l'existence du sus-nommé Bill.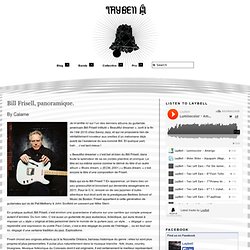 Et quelque part, bah… c'est tant mieux ! « Beautiful dreamer » c'est bel et bien du Bill Frisell, dans toute la splendeur de sa six cordes plaintive et onirique. Le titre en lui-même sonne comme le dérivé du titre d'un autre album « Blues dream. » (ECM, 2001.) « Blues dream. » c'est encore le titre d'une composition de Frisell. Yaron Herman. Violon. Home | Jean Luc Ponty Official Website. Batterie. Bill Bruford. Biography[edit] Early years[edit] Bruford was born in 1949, in Sevenoaks, Kent, the third child of Betty and John Bruford, a veterinary surgeon.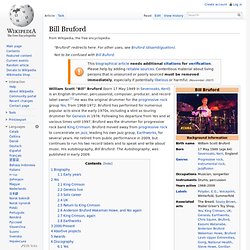 He was educated at Tonbridge School. Bill Bruford. Bill Bruford grew up with jazz.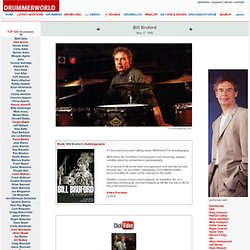 As an amateur drummer in the 1960s, and after a handful of lessons from Lou Pocock of the Royal Philharmonic Orchestra, he began his professional career in 1968. He was a guiding light in the so-called British "Art Rock" movement, touring internationally with Yes and King Crimson from 1968-74. There then followed several years spent observing and participating in the music making processes of, among others, Gong, National Health, Genesis and U.K., until Bill felt ready to write and perform his own music with his own band Bruford, recording four albums from 1977-80. It was, however, the reconstituted King Crimson of 1980-84 that provided the vehicle for his revolutionary use of electronics in developing the melodic side of percussion.
Trompette. Erik Truffaz Quartet. Jarasum Jazz Jazz Radio - Live à Méribel A Better Heart ft.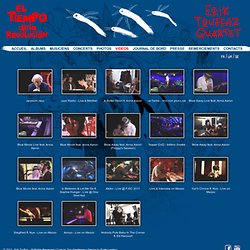 Maurice Andre, une vie pour la trompette - Maurice Andre, a life for the trumpet. Maurice Andre - Haydn trumpet concerto allegro. Folk - Pop. Donovan (musicien) Un article de Wikipédia, l'encyclopédie libre.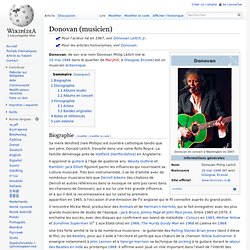 Pour les articles homonymes, voir Donovan. Donovan Donovan en concert à Washington en 2007. Donovan, de son vrai nom Donovan Philip Leitch (né le dans le quartier de Maryhill, à Glasgow, Écosse) est un musicien britannique. Il apprend la guitare à l'âge de quatorze ans. Donovan. Gotye - Somebody That I Used To Know (feat. Kimbra) - official video. Graeme Allwright. Un article de Wikipédia, l'encyclopédie libre.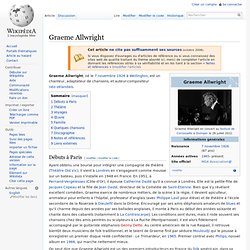 Graeme Allwright, né le 7 novembre 1926 à Wellington, est un chanteur, adaptateur de chansons, et auteur-compositeur néo-zélandais. Débuts à Paris[modifier | modifier le code] Graeme Allwright : «L'impact positif d'une chanson peut être extraordinaire» La Croix : Vos concerts débutent toujours avec votre « Marseillaise » réécrite avec un texte plus pacifique que l'original.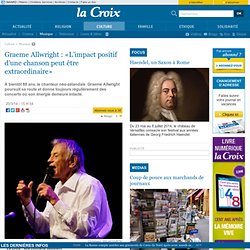 Qu'est-ce qui vous y a incité ? Graeme Allwright : Je suis né à Wellington, en Nouvelle-Zélande, huit ans après l'Armistice de novembre 1918. Mon père était soldat en France cette année-là, il est revenu vivant de ce conflit car il était dans l'intendance et non au front. Mon frère n'a pas eu cette chance pendant la Seconde Guerre mondiale, alors qu'il servait dans l'aviation. Il avait trois ans de plus que moi et a été tué en Italie.
Blues. Paul Rose - English Blues & Rock virtuoso. Scott Whigham | Dallas Guitar Player. A écouter. Surprises. Maria Aragon - Born This Way (Cover) by Lady Gaga. Jose del Rio's Songs | Stream Online Music Songs | Listen Free on Myspace. Nicolas GARCIA's Albums | Stream Online Music Albums | Listen Free on Myspace. Luc Arbogast site officiel. Jouer tout Fjall d'Yr Vinur Daté de 2002, Fjall d'yr vinur est le premier album de Luc Arbogast, bercé d'une forte identité animiste, ce premier jet est une ode à la nature et à la poésie antique. un album fragile, mais d'une immense profondeur.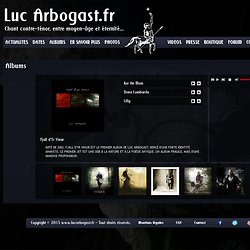 Ker An Mom Jouer Ajouter à la playlist Ker An Mom medias/music/fjall/01 Ker an mom.mp3 medias/music/fjall/01 Ker an mom.ogg.
---