Graphism & Crea - Parts 1
Tuto, tutorial, vidéo, Photoshop, After Effects, Flash et blog. Pour faire simple, nous pouvons dire que cette nouvelle formation "50 trucs et astuces* workflow pour Photoshop" répond globalement aux mêmes objectifs que la précédente formation After Effects ; à quelques nuances, parenthèses et points d'exclamation près, toutefois.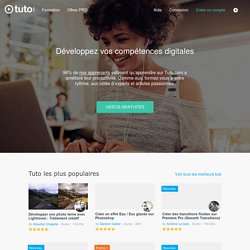 A savoir : plus qu'un patron, faire de vous un véritable magicien de la retouche d'image et du webdesign, vous gausser des limites techniques, comme des limites même de la réalité, vous faire (par une sorte de ressort rhétorique et capitaliste (parce ce que, comme on a pu l'entendre à une époque (une époque où le temps, justement, ne nous faisait pas autant défaut (c'est pour dire..) ; le temps, et bien, c'est de l'argent !))) : gagner de l'argent ! Lovely Package® . The leading source for the very best that pack. Logos. Ads. Design Spartan : actu, inspiration, tutoriels et ressources sur.
Online Tips for Tech Users, Designers and Bloggers. Free Web Resources – Web Resources Depot. Untitled. LogoMoose - Logo design inspiration gallery and showcase. Web Design Tutorials | Creating a Website | Learn Adobe Flash, P.
Business Cards.
---