N America
El deterioro de la actividad económica se acelera. Y lo hace a ritmos desconocidos desde los años más duros de la crisis. Los datos de la Encuesta de Población Activa (EPA) correspondientes al tercer trimestre reflejan, en concreto, que en sólo en tres meses -entre julio y septiembre- la economía española ha destruido nada menos que 146.800 puestos de trabajo.
Economía revela 5.095.200 parados en términos desestacionalizados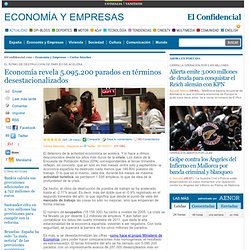 It kinda depends on how you define "occupy". Todays military bases in both Japan and Germany are offshoots of the original occupation. Widespread occupation in both cases remained at least a year or so after the cessation of hostilities and gradualy coalesced into military bases as the respective governments became able to maintain peace on their own. We still maintain a large number of bases in both countries. There was no specific "turn over the reins and leave" point as some want to occur currently in Iraq.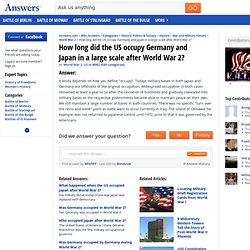 How long did the US occupy Germany and Japan in a large scale after World War 2
Bank of America Trying To Stick Taxpayers With A $74 Trillion Bill By Moving Derivatives Into FDIC-Insured Accounts
Think Occupy Wall St. is a phase? You don't get it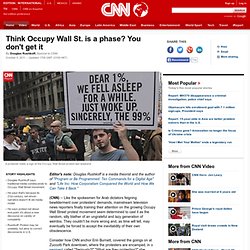 A protester holds a sign at the Occupy Wall Street protest last weekend Douglas Rushkoff says traditional media condescends to Occupy Wall Street movementHe says that's because its 21st-century, net-driven narrative doesn't fit old media modelHe says protest not about end-point, it's about a new discourse on variety of complaintsRushkoff: Protest may be unwieldy, but aims to correct disconnects in U.S. Editor's note: Douglas Rushkoff is a media theorist and the author of "Program or Be Programmed: Ten Commands for a Digital Age" and "Life Inc: How Corporatism Conquered the World and How We Can Take it Back." (CNN) -- Like the spokesmen for Arab dictators feigning bewilderment over protesters' demands, mainstream television news reporters finally training their attention on the growing Occupy Wall Street protest movement seem determined to cast it as the random, silly blather of an ungrateful and lazy generation of weirdos.
(NaturalNews) If an American talks about using marijuana or other drugs in countries where such activity is perfectly legal, or even just discusses the hypothetical idea of such an activity with a friend or family member, he or she will be committing a felony crime under a heinous new bill recently passed by the US House Judiciary Committee. Sponsored by Rep. Lamar Smith (R-Texas), the Drug Trafficking Safe Harbor Elimination Act of 2011 essentially applies US policies in the "War on Drugs" on the entire world, and makes it a crime for Americans to engage in, or even just talk about, activities that are legal abroad, but illegal back at home.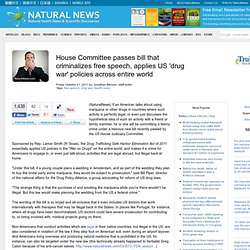 House Committee passes bill that criminalizes free speech, applies US 'drug war' policies across entire world
Federal prosecutors said a grand jury indicted a Maryland teenager believed to be the youngest person ever accused of a terrorism offense in the U.S. The suspect was only 15 years old when, prosecutors alleged, he began conspiring online with a woman known as "Jihad Jane'' to help others carry out terror attacks. Mohammad Hassan Khalid, who turned 18 last month, allegedly conspired to provide material support to terrorists. He is...
Teen Charged in Terrorism Plot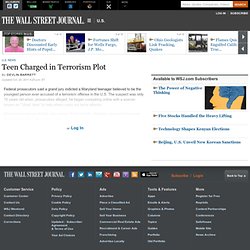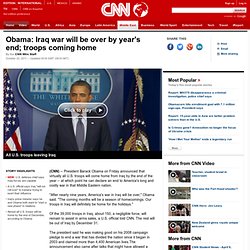 NEW: U.S. defense chief says Iraqi forces are capableA U.S. official says Iraq "will not roll over" to Iranians trying to exert their influenceIraq's prime minister says he and Obama both want to "start a new phase" in relationsAlmost all U.S. troops will be home by the end of December, according to Obama (CNN) -- President Barack Obama on Friday announced that virtually all U.S. troops will come home from Iraq by the end of the year -- at which point he can declare an end to America's long and costly war in that Middle Eastern nation. "After nearly nine years, America's war in Iraq will be over," Obama said. "The coming months will be a season of homecomings. Our troops in Iraq will definitely be home for the holidays."
Obama: Iraq war will be over by year's end; troops coming home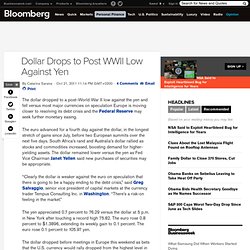 The dollar dropped to a post-World War II low against the yen and fell versus most major currencies on speculation Europe is moving closer to resolving its debt crisis and the Federal Reserve may seek further monetary easing. The euro advanced for a fourth day against the dollar, in the longest stretch of gains since July, before two European summits over the next five days. South Africa's rand and Australia's dollar rallied as stocks and commodities increased, boosting demand for higher-yielding assets. The dollar remained lower versus the yen as Fed Vice Chairman Janet Yellen said new purchases of securities may be appropriate. "Clearly the dollar is weaker against the euro on speculation that there is going to be a happy ending to the debt crisis," said Greg Salvaggio, senior vice president of capital markets at the currency trader Tempus Consulting Inc. in Washington. "There's a risk-on feeling in the market."
Dollar Drops to Post WWII Low Against Yen
The U.S. Prison System is a Modern Day Gulag System
Bank of America Trying To Stick Taxpayers With A $74 Trillion Bill By Moving Derivatives Into FDIC-Insured Accounts