Main Stream Media
Occupy EARTH: REAL IMPACT
Easily 400 people attended OCCUPY EARTH worldwide, a 24 hour online music and poetry festival; Occupiers raised enough funding to keep over 200 hands warm this winter at Occupy Wall Streets all over America and the World.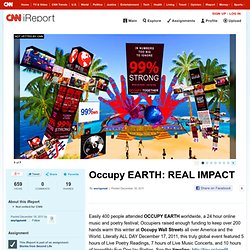 Welcome To The United Police States of America, Sponsored By Twitter
Imagine my surprise this morning when, without warning, my shiny new Twitter account (@d_seaman) was suspended and taken offline.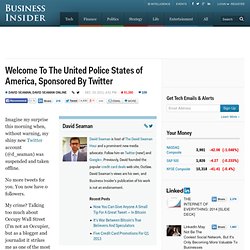 A Sign Occupy Wall Street Is Having Political Impact | Matt Taibbi | Rolling Stone
Thomas von der Dunk − 10/11/11, 13:38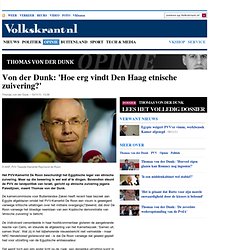 Von der Dunk: 'Hoe erg vindt Den Haag etnische zuivering?' - Thomas von der Dunk
'US war veterans key to OWS movement' Sat Nov 12, 2011 3:8PM Interview with American activist, Kathy McConaghi.
US war veterans key to OWS movement'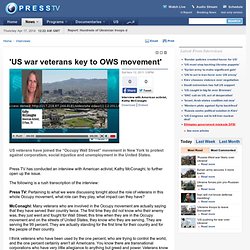 Poll Results - Who Should Be TIME's Person of the Year 2011?
UC cops' use of batons on Occupy camp questioned
A debate over the use of police force has reignited at the UC Berkeley campus after videos surfaced showing officers repeatedly shoving and jabbing screaming students who tried to keep officers from dismantling a nascent Occupy encampment. The videos taken by protesters, journalists and casual observers show UC Berkeley police and Alameda County sheriff's deputies in riot gear ordering students with linked arms to leave a grassy area outside the campus administration building Wednesday. When the students didn't move, police lowered their face shields and began hitting the protesters with batons. University police say the students, who chanted "You're beating students" during the incident, were not innocent bystanders, and that the human fence they tried to build around seven tents amounted to a violent stance against police.
But what's the meaning of the eurodebacle? As always happens when disaster strikes, there's a rush by ideologues to claim that the disaster vindicates their views. So it's time to start debunking.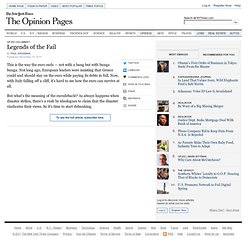 Legends of the Fail
By DAVID BAUDER, The Associated Press NEW YORK — The sound of insistent drumming bounces off the sides of nearby office towers announcing the location of the Occupy Wall Street home base long before its inhabitants are otherwise seen or heard. Turn a corner in Zuccotti Park and you're likely to run into a drum circle or find someone strumming a guitar.
Occupy Wall Street: Music Central To Protest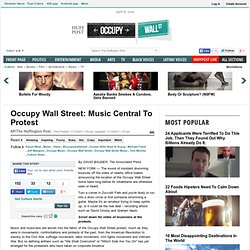 Plastic bullets available to police for Wednesday's student protests | UK news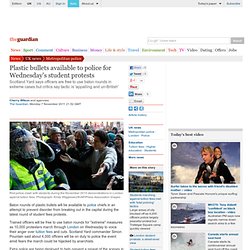 Riot police clash with students during the November 2010 demonstrations in London against tuition fees. Photograph: Kirsty Wigglesworth/AP/Press Association Images Baton rounds of plastic bullets will be available to police chiefs in an attempt to prevent disorder from breaking out in the capital during the latest round of student fees protests. Trained officers will be free to use baton rounds for "extreme" measures as 10,000 protesters march through London on Wednesday to voice their anger over tuition fees and cuts. Scotland Yard commander Simon Pountain said about 4,000 officers will be on duty to police the event amid fears the march could be hijacked by anarchists. Extra police are being deployed to help prevent a repeat of the scenes in November and December last year, when hundreds of arrests were made during protests over student fees.
From the Middle East to the streets of London and cities across the US there is a discontent with the status quo. Whether it is with the iron grip of entrenched governments or the widening economic divide between the rich and those struggling to get by. But where are those so hungry for change heading?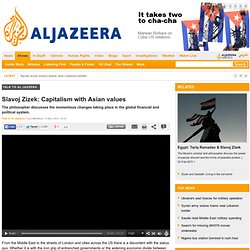 Slavoj Zizek: 'Now the field is open' - Talk to Al Jazeera
It has been called the 'fifth dimension of warfare'.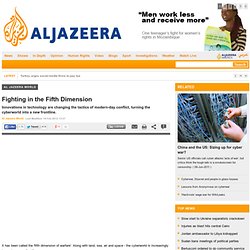 Fighting in the Fifth Dimension - Al Jazeera World
Live News Video on 7online
Occupy Wall Street Protest Reaches a Crossroads
Seven weeks in, the protest has become a fact of life in New York City, a tourist draw to rival ground zero, and a teachable moment for parents.
Lone protester camps at Taunton church
4 November 2011Last updated at 11:30 ET Mr Watkins said he felt compelled to do something after he saw the protests outside St Paul's Cathedral in London A lone protester against "capitalism spiralling out of control" has set up camp in a Somerset churchyard.
Mayor Michael Bloomberg is talking tough again, darkly hinting that he may have to take action to shut down Occupy Wall Street.
The latest crackdown threat to hit 'Occupy'
WASHINGTON -- Occupy Wall Street is finding a louder voice in Congress as lawmakers invoked its rhetoric repeatedly Wednesday in attempts to crack down on speculation, punish dangerous mine operators and pass a jobs bill. Sen. Tom Harkin (D-Iowa) and Rep.
Occupy Wall Street's Message Gains Momentum In Congress
Occupy Oakland: police to be investigated over Scott Olsen injury | World news
People power versus the global economy - Inside Story
Occupy Oakland general strike – live | World news
'Occupy' demonstrators battle wind and cold as storm moves in