Gastronomia internacional
World's 50 most delicious foods: Readers' picks. What are the world's best foods?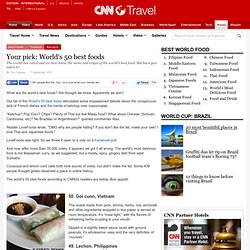 We thought we knew. Apparently we don't. Our list of the World's 50 best foods stimulated some impassioned debate about the conspicuous lack of French dishes and the merits of ketchup over mayonnaise. "Ketchup? Pop Corn? Slow Food International - Good, Clean and Fair food.
Marruecos
Africa. Egipto. Cuba y Caribe. EEUU. Brasil. Argentina. Perú. México. Japón. Korea. Tailandia. China. Paises de Oriente Medio. Turquía. Italia. Países bajos. Rusia. Países Nórdicos. Saveurs du monde. Technoresto Europe de l'Ouest. Technoresto Europe du Sud. Technoresto Europe centrale et du Nord. Alemania. Paises bálticos. Portugal. Grecia. Francia. India.
---