Conseils
Headed by Patrick Artus, the Economic Research Department is an independent, client-driven centre of multi-disciplinary expertise. Some 50 of the key countries in the global economy are covered, including the main emerging countries. The range of research spans monitoring of the economic environment, economic and financial forecasts, analysis of interest rates, forex and equity markets, country analyses and investment strategies. The research team also takes part in regular client meetings and major events organised for clients in conjunction with Natixis' sales teams. Diverse range of publications Through a highly diversified and well-targeted range of publications, the research team provides relevant and directly useable information for clients to guide their investment strategies.
Espace Institutions Financières - Natixis - Recherche Economique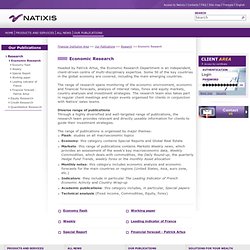 dernières publications d'Accenture France
agence d'informations spécialisées - Éco-Emballages lance une chaire sur le recyclage avec les écoles Centrale Lyon et EM Lyon
Established in 1998 in Bonn, Germany, IZA is a private independent economic research institute focused on the analysis of global labor markets. It operates an international network of about 1,200 economists and researchers spanning across more than 45 countries. Based on academic excellence and an ambitious publication strategy, IZA serves as a place of communication between academic science and political practice.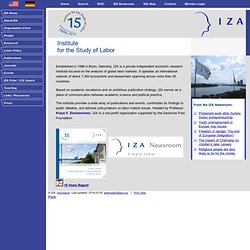 Institute for the Study of Labor
Insights
"Make IT Faster, Better, Cheaper" IT Industrialization as a Performance Booster IT units have always been under pressure, but in recent years the bar has been raised even higher. The business imperative to reduce costs, expedite time to market and increase service quality at the same time are particularly a challenge for IT organizations with heterogeneously grown environments and a resulting variety of operated infrastructure. [...]
Arthur D. Little - Publications: Viewpoints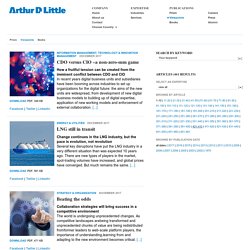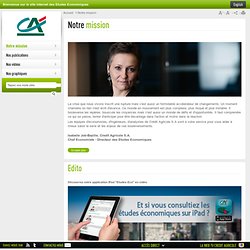 En savoir plus
Direction des études économiques du Crédit Agricole
BNP Paribas - Etudes Economiques -
Home Page
EIU Media Directory
Boostzone Institute
Insights
We're sorry, the page you requested can't be found on www.accenture.com .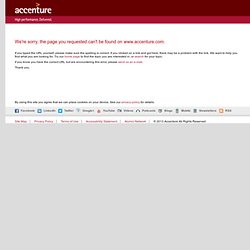 Research & Insights
Home | Strategy Consultants