Conseils
Espace Institutions Financières - Natixis - Recherche Economique. Dernières publications d'Accenture France. Consulting. Outsourcing. Investments. Agence d'informations spécialisées - Éco-Emballages lance une chaire sur le recyclage avec les écoles Centrale Lyon et EM Lyon. Institute for the Study of Labor. Established in 1998 in Bonn, Germany, IZA is a private independent economic research institute focused on the analysis of global labor markets.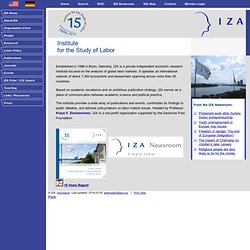 It operates an international network of about 1,300 economists and researchers spanning across more than 45 countries. Based on academic excellence and an ambitious publication strategy, IZA serves as a place of communication between academic science and political practice. Insights. The World Economic Forum | World Economic Forum-The World Economic Forum. Arthur D. Little - Publications: Viewpoints. By The Boston Consulting Group. Direction des études économiques du Crédit Agricole. La crise que nous vivons inscrit une rupture mais c'est aussi un formidable accélérateur de changements.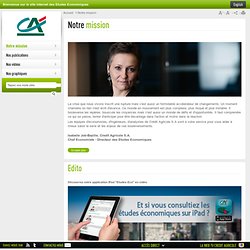 Un moment charnière où rien n'est écrit d'avance. Ce monde en mouvement est plus complexe, plus risqué et plus instable. Il bouleverse les repères, bouscule les croyances mais c'est aussi un monde de défis et d'opportunités. Home Page. EIU Media Directory. Boostzone Institute. Articles by McKinsey Quarterly: Online Business Journal of McKinsey & Company. Business Management Strategy - Corporate Strategy - Global Business Strategy.
Insights. PricewaterhouseCoopers en France. Research & Insights. BCG - The world's leading advisor on business strategy. Sociétés d'études. Home | Strategy Consultants.
---