Elgg
Group Tools. Protovis integration - JS data visualization framework. Basic integration of Protovis JS visualization library + network and resume visualization Last updated 1024 days ago This plugin is mainly an integration of Stanford JS visualization library :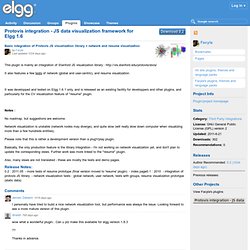 Draft - Developper Sur Elgg. How to Build Your Own Social Network with Elgg? Réseaux sociaux - Elgg - créer un réseau social avec Elgg. Elgg se pose aujourd'hui comme un des outils de gestion de Réseau Social les plus aboutis.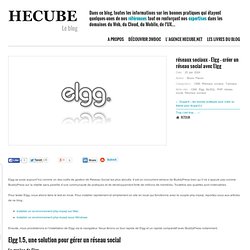 Il est un concurrent sérieux de BuddyPress bien qu'il ne s'appuie pas comme BuddyPress sur la vitalité sans pareille d'une communauté de pratiques et de développement forte de millions de membres. Toutefois ses qualités sont indéniables. Pour tester Elgg, nous allons faire le test en local. Pour installer rapidement et simplement un site en local qui fonctionne avec le couple php-mysql, reportez-vous aux articles de ce blog : Ensuite, nous procéderons à l'installation de Elgg via le navigateur. Elgg - Open Source Social Networking Engine.
Group Moderate. Last updated 1467 days ago This plugin allows to moderate group creations, so that, every user is allowed to create groups, and groups entities are indeed created though they immediately turn disabled.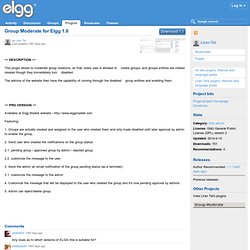 The admins of the website then have the capability of running through the disabled group entities and enabling them. Google Tools. Piwik - Open Source Analytics. ELGG communauté francophone.
---