just joy
Get flash to fully experience Pearltrees
August 1, 2008 3:17 AM In the water gun arms race, Super Soaker was always the high-tech bruiser with powerful air compression technology and a Raytheon -like reputation to match. Its guns are still fearsome--but today they face tough competition.
At the start of this year, we decided to come up with a list of Flash casual games with a philosophical bent. To be honest, we struggled. After days of research, we could only find a handful of games that had the thought-provoking depth we were looking for. Our list (which you can view by clicking here ) was therefore only five games long. Fast forward to now, and it is remarkable how much difference a few months can make. Thanks to the work of pioneers like Daniel Benmergui , Gregory Weir and PixelAnte , there is now an abundance of clever arty Flash games to pique our intellects, and as a result creating this follow-up list of games that make you think has been a doddle.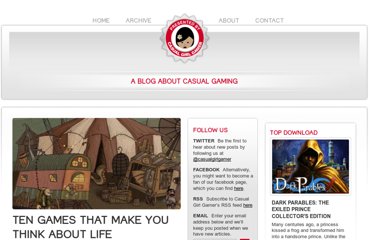 Do you ever get that feeling, when playing games, that you really should be doing something more edifying with your life. I do, usually at about three in the morning after a marathon session of slaughtering undead in Sacred 2 . It is a sad fact that most the computer games I play are about as intellectually stimulating as a fart.
Far too entertaining games
While hunting through Deviantart.com I found a very clever body paint artist, Viridis-Somnio . She has been extremely creative with her lipstick application and painted her lips to resemble some animals in a very unique way. It certainly doesn't hurt that she has a killer set of lips to work with and her attention to detail is nothing to stick your tongue out at.