Jewelry
Wire Crafts. Beaded Toe Ring Tutorial - Creativity in Pieces | Creativity in Pieces. Hello everyone, This beaded toe ring tutorial will teach you how to make a wire ring!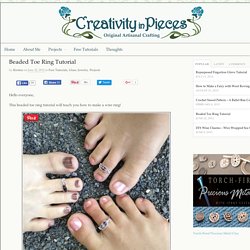 This weekend I had the pleasure of attending my cousin's wedding in Chicago. I am from a large, close, fun loving family. Shrink plastic ring tutorial. Thank you to everyone who requested a shrinkydinks ring tutorial!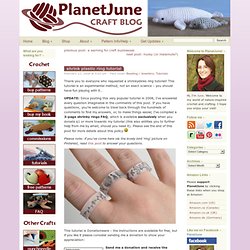 This tutorial is an experimental method, not an exact science – you should have fun playing with it… UPDATE: Since posting this very popular tutorial in 2008, I've answered every question imaginable in the comments of this post. If you have questions, you're welcome to trawl back through the hundreds of comments to find my answers, or, to make things easier, I've compiled a 3-page shrinky rings FAQ, which is available exclusively when you donate $1 or more towards my tutorial (this also entitles you to further help from me by email, should you need it).
DIY Woven Chain Bracelet. Chain link bracelets, with colorful threads woven through them, have been popping up here and there.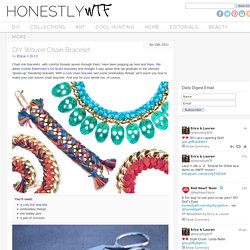 We adore Aurèlie Bidermann's Do Brazil bracelets and thought it was about time we graduate to the ultimate "grown-up" friendship bracelet. With a curb chain bracelet and some embroidery thread, we'll teach you how to make your own woven chain bracelet. And one for your bestie too, of course. You'll need:a curb link braceletembroidery threadtwo bobby pinsa pair of scissors. 1181-1340220830-6.jpg (JPEG Image, 500 × 1221 pixels) - Scaled (53. Happy Friday! What the Hex? I'm not a crafty person... but occasionally I pretend to be.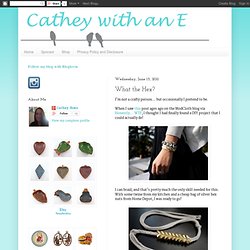 When I saw this post ages ago on the ModCloth blog via Honestly... WTF, I thought I had finally found a DIY project that I could actually do! Home. Handcrafted Pendants | ~Lady With The Red Rocker~ Would you believe what these are made of???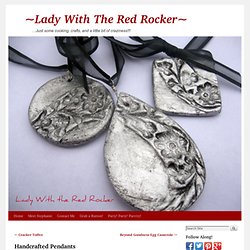 Well, of course you would, 'cause your smart!!! Salt Dough! Family Tree Pendant | ~Lady With The Red Rocker~ Great news!
If you don't have time to make one for yourself, I sell these in my Etsy store !!! I just love these pendants. I've seen several on Penterest, like this one from Play At Home Mom , (Although, I could not find the original post on the blog.) and this one at Lisa's Craft Blog . DIY Braided Bead Bracelet. It's been awhile since our last bracelet DIY.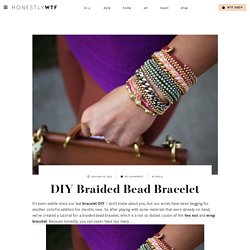 I don't know about you, but our wrists have been begging for another colorful addition for months now. So after playing with some materials that were already on hand, we've created a tutorial for a braided bead bracelet, which is a not so distant cousin of the hex nut and wrap bracelet. Because honestly, you can never have too many . . . You'll need:
Picture Frame Earring Holder. For years I had kept my earrings in this little, lined metal box.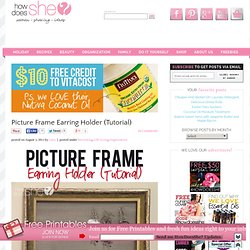 They would get tangled and I would get frustrated. I tried the earring holders that stood on the dresser, but I would always tip it over. DIY Chan Luu-Style Wrap Bracelet.
---