World and Society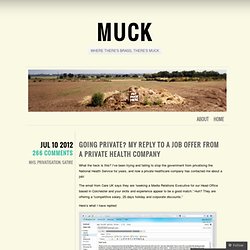 Going private? My reply to a job offer from a private health company « MUCK
What the heck is this? I've been trying and failing to stop the government from privatising the National Health Service for years, and now a private healthcare company has contacted me about a job! The email from Care UK says they are "seeking a Media Relations Executive for our Head Office based in Colchester and your skills and experience appear to be a good match." Huh? They are offering a "competitive salary, 25 days holiday and corporate discounts."
The Watson Institute presents Mark Blyth on Austerity on Vimeo
The Man Booker Prize & 44 Years Of Institutionalised Anti-Scottish Racism «
As the Man Booker Prize longlist is announced Kevin Williamson asks a question that seems to have eluded the mainstream media: Is the most influential prize in literature tainted with an institutionalised anti-Scottish bias that borders on racism? Kevin Williamson also throws down a challenge to Peter Stothard, chair of the Man Booker Prize judges, and editor of the Times Literary Supplement, to come to Scotland and publicly debate the stench of prejudice that could yet engulf this year's award ceremony. When the Man Booker Prize longlist was announced yesterday squeals of excitement could be heard all across England.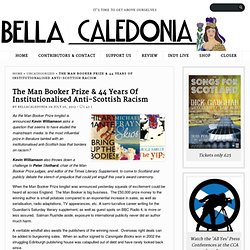 Alison Moore — author of The Lighthouse, long listed for the Man Booker Prize 2012. Yesterday was a hot day in the office, the second hot day we've had in this dismal English summer, and the tide, no, the tsunami of book admin had reached its peak. Jen and I had been working flat out on production since 4 a.m. We had made progress and were about to start work reading entries for our annual literary prizes and working on the second proofs of The Best British Poetry 2012.
Among the Many Astonishments « blog.saltpublishing.com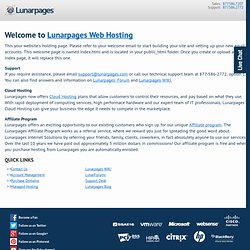 johngapper : Barclay's new marketing ca
A makeup tutorial gone wrong…
Antynwa : David Cameron Corrupt and
Welcome to the 1% Recovery » New Deal 2.0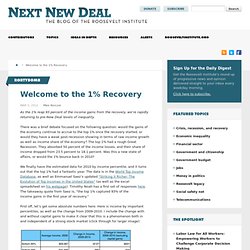 As the 1% reap 93 percent of the income gains from the recovery, we're rapidly returning to pre-New Deal levels of inequality. There was a brief debate focused on the following question: would the gains of the economy continue to accrue to the top 1% once the recovery started, or would they have a weak post-recession showing in terms of raw income growth as well as income share of the economy? The top 1% had a rough Great Recession. They absorbed 50 percent of the income losses, and their share of income dropped from 23.5 percent to 18.1 percent. Was this a new state of affairs, or would the 1% bounce back in 2010?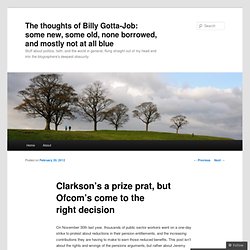 On November 30th last year, thousands of public sector workers went on a one-day strike to protest about reductions in their pension entitlements, and the increasing contributions they are having to make to earn those reduced benefits. This post isn't about the rights and wrongs of the pensions arguments, but rather about Jeremy Clarkson's contribution to The One Show on that day. In parenthesis one might note that Clarkson's most damaging contribution consisted not in what he said, but rather that pretty much the only thing that was talked about on the day, or that anyone can now remember about it, was Jeremy Clarkson rather than public sector pensions. But let that pass. The furore was all about Mr Clarkson's suggestion that the strikers should be "taken out and shot in front of their families".
Clarkson's a prize prat, but Ofcom's come to the right decision | The thoughts of Billy Gotta-Job: some new, some old, none borrowed, and mostly not at all blue
Google, what were you thinking? ← Mocality Kenya
Mocality has achieved some incredible things over the last four years, and has touched the lives of many people in Africa, but alas, all good things must come to an end. All of the Mocality Kenya and Mocality Nigeria operations will be closed as of 28 February 2013. If you would like to add your business or product you can now do it on OLX , its FREE. Looking for a Business, Service or Product let OLX help you find it.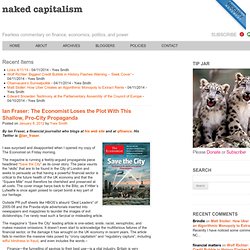 Ian Fraser: The Economist Loses the Plot With This Shallow, Pro-City Propaganda
By Ian Fraser, a financial journalist who blogs at his web site and at qfinance. His Twitter is @ian_fraser. I was surprised and disappointed when I opened my copy of The Economist on Friday morning. The magazine is running a feebly-argued propaganda piece headlined "Save the City" as its cover story.
Barclays stockpiles 'losses' to soften tax obligations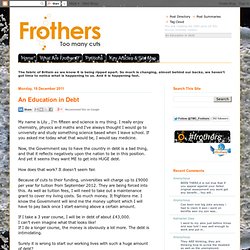 An Education in Debt
My name is Lily , I'm fifteen and science is my thing. I really enjoy chemistry, physics and maths and I've always thought I would go to university and study something science based when I leave school.
The Government is trying to save money in the public sector; that's fine - indeed, that's a big part of what I voted for. However, I'm not in favor of unfair, symbolic, ideological cuts. Why are cuts to teacher's pensions unfair, ideological & symbolic?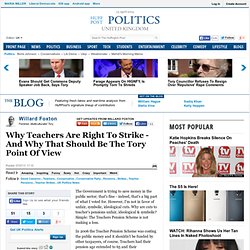 Willard Foxton: Why Teachers Are Right To Strike - And Why That Should Be The Tory Point Of View
Some Truths |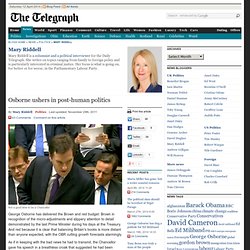 Not a good time to be a Chancellor George Osborne has delivered the Brown and red budget: Brown in recognition of the micro-adjustments and slippery attention to detail demonstrated by the last Prime Minister during his days at the Treasury.
Osborne ushers in post-human politics
George Osborne's every blow falls on those with less not more | Polly Toynbee | Comment is free
Class war, generation war, war against women, war between the regions: George Osborne's autumn statement blatantly declares itself for the few against the many. Gloves are off and gauntlets down, and the nasty party bares its teeth. Here is the re-toxified Tory party, the final curtain on David Cameron's electoral charade. No more crocodile tears for the poor, no more cant about social mobility or "the most family-friendly government" or "we're all in this together". Forget "vote blue go green", with this mockery of husky-hugging.
Blog
We can't go on like this. I'm cutting the NHS, not the deficit
Man-made super-flu could kill half humanity
Is pizza a vegetable? Well, Congress says so | Lizz Winstead | Comment is free
Hey, America! The GOP is, yet again, looking out for you. This week, Congress took a break from voting to make sure none of your tax dollars will go to all those abortion clinics NPR wants to open in our national parks, to pass a federal law that only the nation that invented Febreze would tolerate. They have affirmed that pizza is a vegetable. Yes, the tomato sauce on pizza is enough for American politicians to define it and allow it to be served as a vegetable in school lunch programs across the US.
Who Are The 1%? Vote on it now.
{*style:<b> </b>*}
Bauman on inequality and the logic of capital
Scottish Unique ID for all citizens #EDUScotICT
Nation's Students To Give American Education System Yet Another Chance
Executive greed is still a besetting sin | Nick Cohen | Comment is free | The Observer
Executive pay soars while the young poor face freefall. Where is Labour? | Polly Toynbee | Comment is free
Cameron seeks independence referendum clarity
Neal Stephenson: Innovation Starvation | Epicenter 
Think it's #timeforplanb ? Rt this pic on Twitpic
Nicolas Sarkozy tells David Cameron: shut up over the euro | World news
Densely-linked cluster of 147 companies control 40% of world's total wealth – Boing Boing