Craftree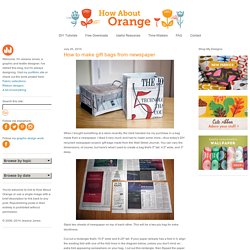 When I bought something at a store recently, the clerk handed me my purchase in a bag made from a newspaper. I liked it very much and had to make some more—thus today's DIY recycled newspaper project: gift bags made from the Wall Street Journal. You can vary the dimensions, of course, but here's what I used to create a bag that's 5" tall, 4.5" wide, and 3" deep.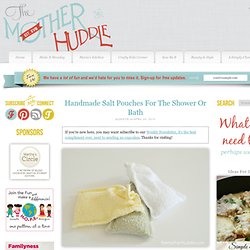 I love salt scrubs, especially this time of year when I want to slough off the dead skin from winter, and I equally love bath salts for the skin softening ingredients in them – but more often than not I find myself in the shower. These pouches are perfect for combining both bath salt and salt scrub into an exfoliating pouch I can bring into the shower, and they are simple to make. You can go a few different routes when making these so play around with your recipes and find your favorite.
food + words | recipes. stories. life, from scratch. » homemade lemon & thyme salt scrub.
lemon & thyme salt scrub. Happy Friday, darlings! The weekend is upon us once again, and no doubt you've got some fabulous plans, right? A hot date? Painting the down red?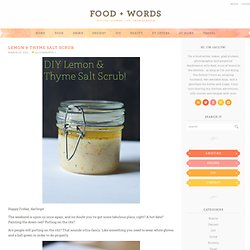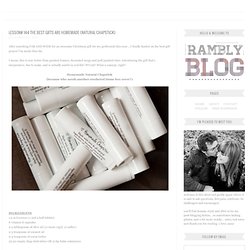 After searching FAR AND WIDE for an awesome Christmas gift for my girlfriends this year... I finally landed on the best gift project I'm made thus far. I mean, this is way better than painted frames, decorated mugs and puff painted totes. Introducing the gift that's inexpensive, fun to make, and is actually useful in real life! WOAH! What a concept, right?
It's time to review our very first Garden Therapy Book Club book, A Green Guide to Natural Beauty: 35 step-by-step projects for homemade beauty by Karen Gilbert. There are many different types of books we will be looking at in Book Club, but when the book is DIY or project-based, then the best way to test it out is to give the projects a try. As the title suggests, A Green Guide to Natural Beauty boasts 35 different natural beauty projects, which made it very appealing given that I've been aiming to make as many of my bath and body products as I can.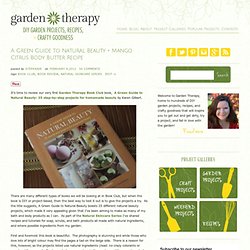 Photo Rag Quilt - Made with Printed Treasures Printable Fabric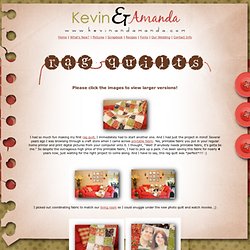 Home | What's New? | Pictures | Scrapbook | Recipes | Fonts | Our Wedding | Contact Info Please click the images to view larger versions! I had so much fun making my first rag quilt, I immediately had to start another one. And I had just the project in mind!
Creative and Cool Ways to Reuse Old Stuff.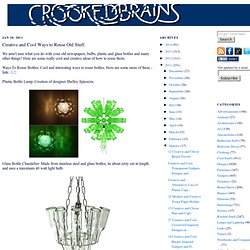 We aren't sure what you do with your old newspapers, bulbs, plastic and glass bottles and many other things? Here are some really cool and creative ideas of how to reuse them. Ways To Reuse Bottles: Cool and interesting ways to reuse bottles. Here are some more of these - link: 1| 2. Plastic Bottle Lamp: Creation of designer Shelley Spicuzza.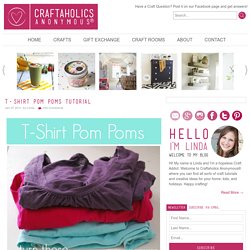 Learn how to turn old t-shirts into pom poms! T-shirt Pom Poms are so much more durable than tissue paper ones. And I think they look loads better!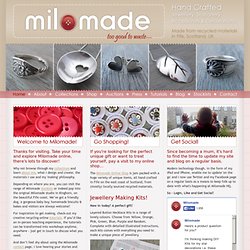 Welcome to the wonderful world of creative recycling...Milomade gives discarded, unwanted items a new lease of life.
Why not browse through my collections and learn about me, what I design and create, the materials I use and my 'making' philosophy. Depending on where you are, you can visit the range of Milomade stockists or indeed pop into the original Milomade studio in Kinghorn, on the beautiful Fife coast. We've got a friendly dog, a gorgeous baby boy, homemade biscuits & bakes and visitors are always welcome! For inspiration to get making, check-out my creative recycling online tutorials. If you'd like an in-person teaching experience, the tutorials can be transformed into workshops anytime, anywhere - just get in touch to discuss what you need.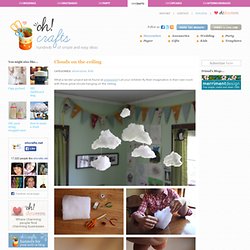 What a tender project we've found at ohdeedoh! Let your children fly their imagination in their own room with these great clouds hanging on the ceiling. You will only need cotton or polyester batting to shape the cloud you'd like to create, pinching and pulling it until get the desired cloud; next, form a spiral with a wire along a pencil and wherein one end you will create a circle (with the help of pliers) to tie the fishing line.
Living Crafts | Home
Wendy Knits - StumbleUpon
First things first, the winner of a copy of Happy Feet by Cathy Carron is Jamie, who has been emailed. Thanks to everyone who left a comment to enter the contest and of course to the always-generous Sixth and Spring Books for supplying the books for review and giveaway. It escaped my notice last week that my blog had a birthday. At the beginning of this month, my blog turned 12 years old. My original blog was part of my wendyjohnson.net domain and the very oldest entries are still over there. Here is my first week of blogging.