Nunoe's Pearltree
Slimmer werken en leven - tips
GettingThingsDone - MineZone Wiki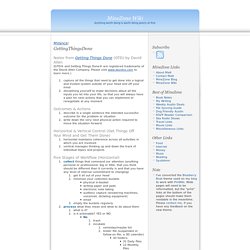 Notes from Getting Things Done (GTD) by David Allen (GTD® and Getting Things Done® are registered trademarks of the David Allen Company. Please visit www.davidco.com to learn more.)
A simple tickler file may use any number of folders. A tickler file is a collection of date-labeled file folders organized in a way that allows time-sensitive documents to be filed according to the future date on which each document needs action. Documents within the folders of a tickler file can be to-do lists, pending bills, unpaid invoices, travel tickets, hotel reservations, meeting information, birthday reminders, coupons, claim tickets, call-back notes, follow-up reminders, maintenance reminders, or any other papers that require future action. Each day, the folder having the current date is retrieved from the tickler file so that any documents within it may be acted on. Essentially, a tickler file provides a way to send a reminder to oneself in the future—"tickling" one's memory.
Tickler file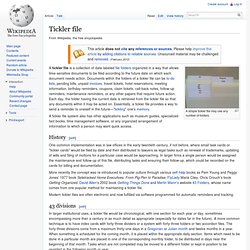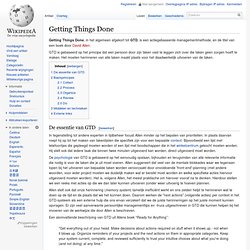 Getting Things Done
Getting Things Done, in het algemeen afgekort tot GTD, is een actiegebaseerde managementmethode, en de titel van een boek door David Allen. GTD is gebaseerd op het principe dat een persoon door zijn taken vast te leggen zich over die taken geen zorgen hoeft te maken. Het moeten herinneren van alle taken maakt plaats voor het daadwerkelijk uitvoeren van de taken.
GTD Getting Things Done Review
Starten met Het Nieuwe Werken
Wat is Het Nieuwe Werken? Het Nieuwe Werken (HNW) is een visie waarbij recente ontwikkelingen in de informatietechnologie als aanjager gelden voor een betere inrichting en bestuur van het kenniswerk. Het gaat om vernieuwing van de fysieke werkplekken, de organisatiestructuur en -cultuur, de managementstijl en de mentaliteit van de kenniswerker en zijn manager. (Dik Bijl - Het Nieuwe Werken 2007).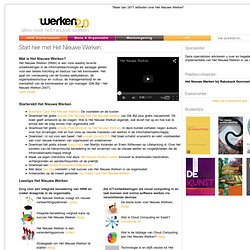 Improve your Brain Health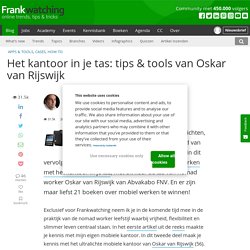 Waar vind je de meeste praktische tips, inzichten, tools, accessoires en gadgets op het gebied van Het Nieuwe Werken? Je vindt ze natuurlijk in dit vervolg van de Frankwatching serie over slimmer werken met het kantoor in je tas, met dit keer de tas van nomad worker Oskar van Rijswijk van Abvakabo FNV. En er zijn maar liefst 21 boeken over mobiel werken te winnen!
Het kantoor in je tas: tips & tools van Oskar van Rijswijk
www.mindtools.com/courses/lnV924x0/PersonalDevelopmentPlanning.pdf
GTD met Workflowy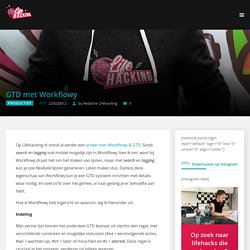 Op Lifehacking.nl stond al eerder een artikel over Workflowy & GTD. Sinds search en tagging ook mobiel mogelijk zijn in Workflowy, ben ik om: want bij Workflowy draait het om het maken van lijsten, maar met search en tagging kun je ook flexibele lijsten genereren. Láten maken dus.
Deze lichtgewicht A-Z sorteermap kun je gebruiken als een handig mobiel actiearchief waarover je kunt lezen in het boek 'Slimmer Werken met het Kantoor in je Tas'. Documenten, aantekeningen en ander papierwerk dat je op een later moment nodig hebt voor bepaalde acties en afspraken, geef je met deze sorteermap razendsnel een tijdelijke plaats. Deze handige sorteermap helpt je bij het creeren van overzicht en voorkomt chaos en zoeken naar documenten in je mobiele kantoor. Dit product kan tegen lage kosten bezorgd worden via brievenbuspost.
Lichtgewicht A-Z Sorteermap - voor A4 formaat
Getting Things Done 2.0 - Oskar van Rijswijk
» Beginner's Guide to GTD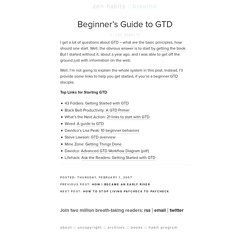 Post written by Leo Babauta. Follow me on Twitter. I get a lot of questions about GTD – what are the basic principles, how should one start. Well, the obvious answer is to start by getting the book.
Evernote is mijn digitale archief. Mijn eigen Evernote-adres is inmiddels mijn meest gebruikte e-mailadres. Ik bewaar webpagina's met de populaire webclipper.
Evernote en e-mail
Slimmer werken en leven - tips