Process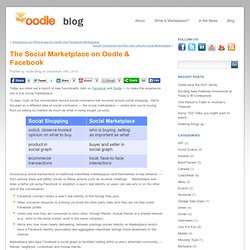 Blog » The Social Marketplace on Oodle & Facebook
Posted by Oodle Blog on December 15th, 2010 Today we rolled out a bunch of new functionality both on Facebook and Oodle — to make the experience into a true social marketplace. To date, most of the conversation around social commerce has revolved around social shopping. We're focused on a different area of social commerce — the social marketplace — where who you're buying from (or selling to) matters as much as what is being bought (or sold). Anonymous online transactions in traditional classifieds marketplaces lend themselves to bad behavior — from serious fraud and safety issues to flakey actions such as no-show meetings. Marketplace now does a better job using Facebook to establish a user's real identity so users can see who is on the other end of the conversation:
Work-Life Balance? Smartphones and Laptops Tip the Scale
Shift Happens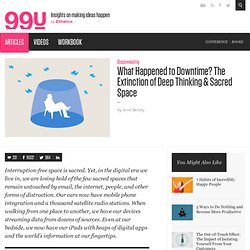 Interruption-free space is sacred. Yet, in the digital era we live in, we are losing hold of the few sacred spaces that remain untouched by email, the internet, people, and other forms of distraction.
Three Technologies That Changed Our Brains | Nicholas Carr
With rendition switcher Question: What are some technologies, prior to the Internet, that have radically reshaped the way our brains work? Nicholas Carr: I think that if you look across the entire world of tools and technologies, what you see is that there are different categories.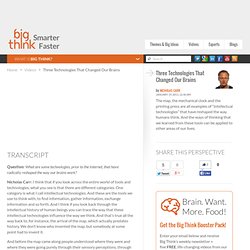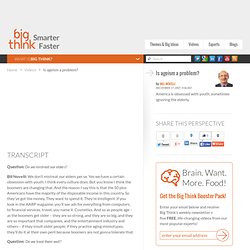 With rendition switcher
Time for a Technology Detox? | Ideafeed | January 12, 2011
A New Culture of Learning: An Interview with John Seely Brown and Douglas Thomas (Part Two)
Three Technologies That Changed Our Brains | Nicholas Carr
How Internet Junkies Will Save Television Slideshow - Harvard Business Review
Posting Guidelines We hope the conversations that take place on HBR.org will be energetic, constructive, and thought-provoking. To ensure the quality of the discussion, our moderating team will review all comments and may edit them for clarity, length, and relevance. Comments that are overly promotional, mean-spirited, or off-topic may be deleted per the moderators' judgment.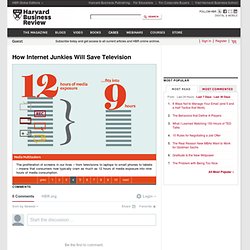 With rendition switcher Question: Will it be possible to transfer one's memory into a synthetic medium in our lifetime?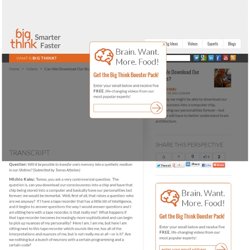 Can We Download Our Brains? | Dr. Kaku's Universe
Don't know someone's email address? No need to fret, Google is here. Confused? Don't be. Let's go back in time to a blog post titled, Is Google+ About To Make Facebook Frown?, from January 2012: "Google has the power (and ability) to make Google+ (and everything being shared within it) the underlying social platform within all of its many applications (Android, Gmail, Google Docs, Picasa, Google Maps, Google News, YouTube, etc...).