Nuff.said
Why guys are so cool...
Gandalf Europop Nod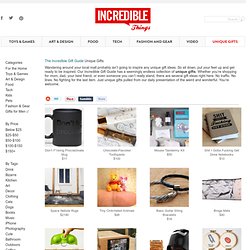 Wandering around your local mall probably isn't going to inspire any unique gift ideas. So sit down, put your feet up and get ready to be inspired. Our Incredible Gift Guide has a seemingly endless collection of unique gifts. Whether you're shopping for mom, dad, your best friend, or even someone you can't really stand, there are several gift ideas right here. No traffic. No lines.
Crystal Skull Pirate Shot Glass Drink Cocktail Beer Cup: Kitchen & Dining
Unique Inexpensive Gifts
How To Play Guaranteed By Eddie Vedder - Acoustic Guitar Tutorial
Avoid frustrating memory loss. Retain and recall more information.