Information Archtects
Responsive Web Design. The English architect Christopher Wren once quipped that his chosen field "aims for Eternity," and there's something appealing about that formula: Unlike the web, which often feels like aiming for next week, architecture is a discipline very much defined by its permanence.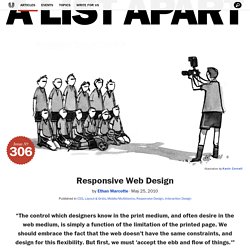 A building's foundation defines its footprint, which defines its frame, which shapes the facade. Each phase of the architectural process is more immutable, more unchanging than the last. Creative decisions quite literally shape a physical space, defining the way in which people move through its confines for decades or even centuries. Working on the web, however, is a wholly different matter. Www.asis.org/Bulletin/Aug-10/AugSep10_Brown.pdf. Information Architecture Institute > About Us. The Information Architecture Institute is a 501(c)6 professional organization, operated by a dedicated, multi-national group of people who are dedicated to promoting the concept, craft and community of information architecture.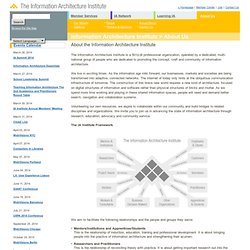 We live in exciting times. As the information age rolls forward, our businesses, markets and societies are being transformed into adaptive, connected networks. The Internet of today only hints at the ubiquitous communication infrastructure of tomorrow. The construction of this brave new world requires a new kind of architecture, focused on digital structures of information and software rather than physical structures of bricks and mortar. As we spend more time working and playing in these shared information spaces, people will need and demand better search, navigation and collaboration systems. Information Architects.
---