Information Archtects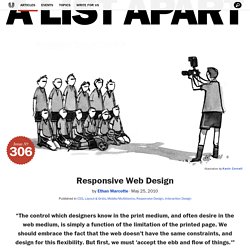 The English architect Christopher Wren once quipped that his chosen field "aims for Eternity," and there's something appealing about that formula: Unlike the web, which often feels like aiming for next week, architecture is a discipline very much defined by its permanence.
Web round up #11: The best responsive web design examples and resources This week's extended round up takes a look at some superb examples of responsive web design, as well as the best resources to find out more about this new way of designing for a flexible internet experience. This post was inspired by a colleague who asked for examples of high resolution designs that scaled down well to 1024 x 768 resolution.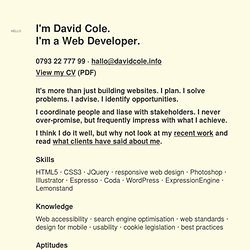 Web round up #11: The best responsive web design examples and resources | Mayfield Digital Blog
www.asis.org/Bulletin/Aug-10/AugSep10_Brown.pdf
Information Architecture Institute > About Us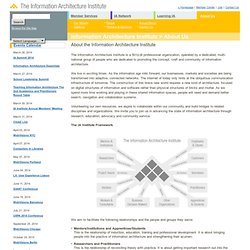 The Information Architecture Institute is a 501(c)6 professional organization, operated by a dedicated, multi-national group of people who are dedicated to promoting the concept, craft and community of information architecture. We live in exciting times. As the information age rolls forward, our businesses, markets and societies are being transformed into adaptive, connected networks. The Internet of today only hints at the ubiquitous communication infrastructure of tomorrow. The construction of this brave new world requires a new kind of architecture, focused on digital structures of information and software rather than physical structures of bricks and mortar. As we spend more time working and playing in these shared information spaces, people will need and demand better search, navigation and collaboration systems.