Freedom of Research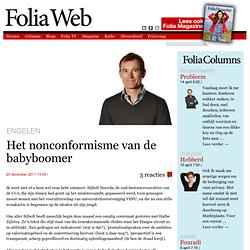 Het nonconformisme van de babyboomer
Ik weet niet of u hem wel eens hebt ontmoet: Sijbolt Noorda, de oud-bestuursvoorzitter van de UvA, die zijn zinnen had gezet op het ministersambt, gepasseerd werd, toen genoegen moest nemen met het voorzitterschap van universiteitenvereniging VSNU, en die nu een stille wraakactie is begonnen op de idealen uit zijn jeugd.
A gift too far? Questions are asked about donor's terms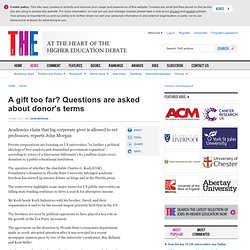 Academics claim that big corporate giver is allowed to vet professors, reports John Morgan
THE CORPORATION [17/23] Unsettling Accounts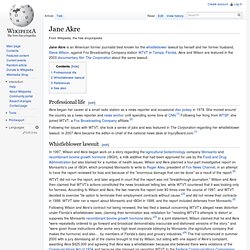 Jane Akre
Jane Akre is an American former journalist and current editor-in-chief of InjuryBoard.com. She is best known for the whistleblower lawsuit by herself and her former husband, Steve Wilson , against Fox Broadcasting Company station WTVT in Tampa, Florida .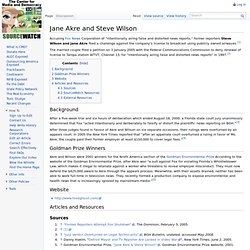 Jane Akre and Steve Wilson
Accusing Fox News Corporation of "intentionally airing false and distorted news reports," former reporters Steve Wilson and Jane Akre filed a challenge against the company's license to broadcast using publicly owned airwaves. [1]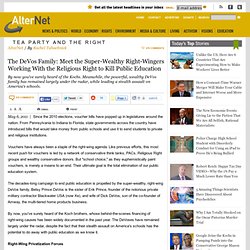 The DeVos Family: Meet the Super-Wealthy Right-Wingers Working With the Religious Right to Kill Public Education | Tea Party and the Right
Since the 2010 elections, voucher bills have popped up in legislatures around the nation. From Pennsylvania to Indiana to Florida, state governments across the country have introduced bills that would take money from public schools and use it to send students to private and religious institutions.
Koch and George Mason University
Right-wing billionaires purchasing own professors - War Room
Libertarians name North Dakota "most free" state Sorry, women! Your "freedoms" aren't as important as freedom from excessive taxation VIDEO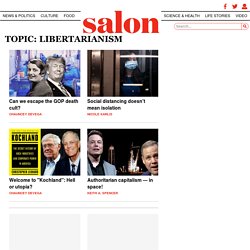 The real scandal around the endowment by the Koch brothers of two chairs at Florida State University is that state universities now have to seek such outside money and accept strings. The reason they have to do so is that many state legislatures have chosen not to have state universities any more. At many 'state universities' the state contribution to the general operating fund is less than 20 percent, falling toward 10 percent.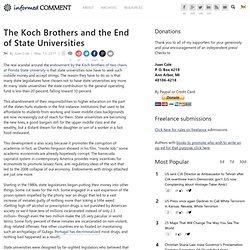 The Koch Brothers and the End of State Universities
A conservative billionaire who opposes government meddling in business has bought a rare commodity: the right to interfere in faculty hiring at a publicly funded university. A foundation bankrolled by Libertarian businessman Charles G.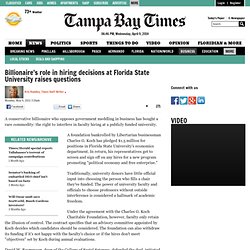 Billionaire's role in hiring decisions at Florida State University raises questions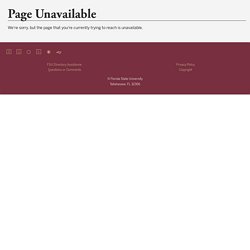 David W. Rasmussen | College of Social Sciences and Public Policy
Dean, College of Social Sciences & Public Policy
Koch Foundation
(pdf)de-wetenschap als-reclamebureau
World Congress for freedom of scientific research
Radder commodification of scientific research
Toegang tot onderzoeksdata
De ontwikkelingen van de technologie leiden tot nieuwe faciliteiten voor de opslag en het toegankelijk maken van onderzoeksdata.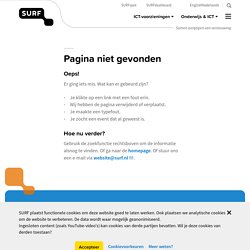 And this week, a new study found [4] that more than half of patients with stable heart disease who received angioplasty and stents didn't first receive medications, as scientific guidelines recommend.
Cardiac Society Draws Bulk of Funding From Stent Makers
Terwijl het onderzoek naar psychologe Roos Vonk nog bezig is, is er weer een ander spraakmakend onderzoek van de RU in het nieuws. Cognitief psychologe Natalie Sebanz heeft in samenwerking met drie collega's aangetoond dat een kolenbranderschildpad niet begint te gapen als een soortgenoot geeuwt.
RU heeft weer reden tot feest
May 15, 2011 Jon Krause for the Chronicle Review Enlarge Image
Should Scientists Take Military Money? - The Chronicle Review