FreeCooperUnion dec3,2012-->>
Between the Spreadsheets
Cooper Union Tuition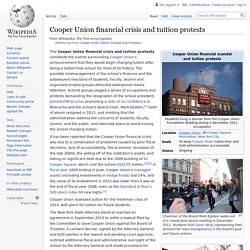 Cooper Union Tuition Scandal and Protests
The Cooper Union Tuition Scandal and Protests constitute the events surrounding Cooper Union's administrative announcement that they would begin charging tuition in what has otherwise been a free college since it's founding in 1859. The reactions of students, faculty, and organized protest groups has resulted in widespread media attention and activist groups have staged a series of occupations, protests, and projects demanding that the school president, Jamshed Bharucha resign, and promoting a vote of no confidence, and that the administration address the financial concerns of students and the public.
COOPER UNION FREE AS AIR AND WATER
youtube: Oprah Winfrey joins Cooper Union Board of Trustees
Welcome to the NEW Cooper Union website
CU $.O.$. Cooper Union Student Action to Save Our School
@FreeCooperUnion
FreeCooperUnion : If you haven't seen our list
Free Cooper Union
COOPER UNION DAY OF ACTION AND SUMMIT ON DEBT AND EDUCATION
CooperUnion SOS
transparency parade
Cooper Union Occupier: "We'll Stay As Long As It Takes"
@freecooperunion on Celly
Free Cooper Union If you missed press conference the recording is here: USTREAM: .
Cooper Union Task Force
Protest Organizers Explain the Cooper Union Occupation on Vimeo
Casey A. Gollan (CaseyG) sur Twitter
Tyler Paige (tcpnyc) sur Twitter
? @RachelAppel ?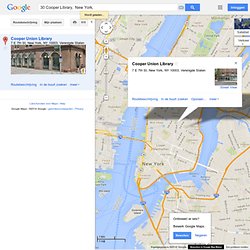 Gebruikers van schermlezers: klik hier voor eenvoudige HTML Account Options Inloggen Routebeschrijving Mijn plaatsen 1 km 1 mijl
30 Cooper Library, New York,
Which one is the satire?
_CJJones_ : The Cooper Union parody website
amstott1789 : Cooper Union continues to
FreeCooperUnion : Poster for the Monday's Day
HaysKali : @NSFreePress group photo of
HaysKali : @NSFreePress @FreeCooperUnion
Photo by eav11
HaysKali : @NSFreePress http://t.co/p1lADjsB
foebster : @CaseyG and the @FreeCooperUnion
essl : Students have taken over the
literaryanimal : Student Occupiers via Skype
Copy of Cooper union occupy
Receiving Notes by Balloon
studentactivism : Of 13 "free" colleges in the
FreeCooperUnion : Students For A Free Cooper
justinwedes : Here we come, @FreeCooperUnion...
Cooper Union: Messages On Balloons
Cooper Union students deliver a pizza on Vimeo
occupy_harvard : @FreeCooperUnion Solidarity
FreeCooperUnion : 79 YEARS after graduating,
ElizabethWu92 : Cooper Union alumni "Cooper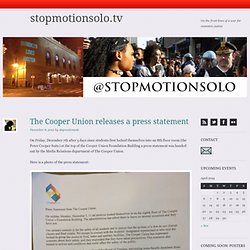 The Cooper Union releases a press statement | stopmotionsolo.tv
On Friday, December 7th after 5 days since students first locked themselves into an 8th floor room (the Peter Cooper Suite) at the top of the Cooper Union Foundation Building a press statement was handed out by the Media Relations department of The Cooper Union. Here is a photo of the press statement: Press release from The Cooper Union The first paragraph discusses the situation in abstract detail. The second paragraph discusses the concerns felt by the administration for the safety of the students who have locked themselves in the room as well as other concerns which are stated very vaguely.
BrownBattery : @FreeCooperUnion stay strong!
mmelion : @OccupyWallStNYC @FreeCooperUnion
Photo by zmccune
FreeCooperUnion : Dancing and chanting: NOT NOT
karuihiro : Protest for Cooper Union
OccupyRhetoric : "The Cooper Union" in the
alexisgoldstein : Students occupying clocktower
alexisgoldstein : Don't fuck w art & design
ChangeThruArt : Older alumnus & faculty
allinthered : Students and allies demand
ChangeThruArt : "What do u do when education
StopMotionsolo : En route to Cooper Union
ChangeThruArt : Nice sized crowd forming as
Photo by 2001films
andypressman : Free Cooper Union!
FreeCooperUnion : Holding our own classes in
Free Cooper Union · phiffer.org
VIDEO: Blockaded Cooper Union students drape beautiful red curtains out the front of the building. #FreeCooper http://twitter.yfrog.com/5vw6cmvivedpbsdzoymujqwsz
@FreeCooperUnion http://twitter.yfrog.com/0i70wjwozpijufslnvecubglz
Fullsize - http://twitter.yfrog.com/nzt00ppj
Occupy Cooper Union FYI Evil Real Estate Magnate
FreeCooperUnion : This is an injustice to be
Photos du journal
FreeCooperUnion : Cooper Alum Jesse Kreuzer:
ElizabethWu92 : Cooper Union at the turn of
StopMotionsolo : The Cooper Union campus...
Gregamell : Cooper Union's founder Peter
Cooper Union - Citywide Rally and March
Free Cooper Union March Crosses Astor Place
Free Cooper Union, NYC, Dec. 8, 2012
Free Cooper Union!!
Bruce High Quality "Dancing at the Revolution" at Cooper Union
Cooper Union Sit-Ins
Keep Cooper Free
Solidarity March for Locked In Students Arrives at Cooper Union
justinwedes : Why should students have to
NYT: Cooper Union Students End Occupation of Suite After a Week
FreeCooperUnion : Students for a Free @cooperunion
OccupyWallStNYC : Shhh, @FreeCooperUnion, don't
Cooper Union students' fight to preserve the college's century-plus tradition of free tuition is kicking into gear again, as administrative dithering and blackmail has thrown the new entering class into disarray. Two of the three schools that make up CU have submitted proposals for integrating tuition into their budgets going forward, but the third — the School of Art — has refused to do so, saying that they will not cooperate with "any solution to The Cooper Union's current financial crisis that depends, even in part, on tuition compromises and irreversibly damages the ideals of art, education, freedom, and citizenship." In retaliation for this act of defiance, Cooper Union president Jamshed Bharucha announced last week that the college would not honor the School of Art's decisions on its early admission applicants, and would instead inform those applicants that they would be considered as part of the general admissions process later in the spring.
student activism: Cooper Union «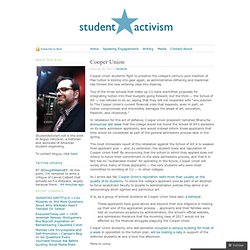 FreeCooperUnion : We are all Cooper Union!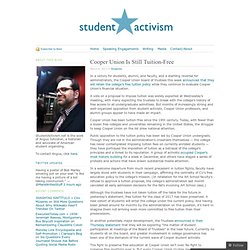 In a victory for students, alumni, and faculty, and a startling reversal for administrators, the Cooper Union board of trustees this week announced that they will retain the college's free tuition policy while they continue to evaluate Cooper Union's financial situation. A vote on a proposal to impose tuition was widely expected at Wednesday's meeting, with many expecting the trustees to break with the college's history of free access to all undergraduate admittees. But months of increasingly strong and well-organized opposition from student activists, Cooper Union professors, and alumni groups appear to have made an impact.
studentactivism: Cooper Union Is Still Tuition-Free |
Photos du journal - Free Cooper Union
proposal Rules of Conduct change