iPad
iPad Nuggets - Amazing ways to use an iPad in the Classroom. New iPad Act - Stockholm with Charlie Caper and Erik Rosales - from MIPIM in Cannes v 3. iPads, Keynote, and Edmodo Finally Work Together | Education, Tips and Tricks | Keynote Classroom. Apps for Early Years & Key Stage 1. This selection of apps for children in Early Years & Key Stage 1 is by no means an exhausted and I'll try to keep the list up to date on a regular basis.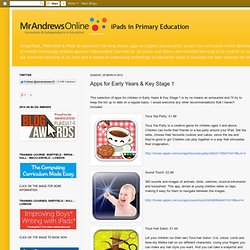 I would welcome any other recommendations that I haven't included. Toca Tea Party: £1.99Toca Tea Party is a creative game for children aged 3 and above. Children can invite their friends to a tea party around your iPad. How to Use Apple Configurator. 15 iPad Skills Every Teacher and Student should Have.
iPad has made such a radical change in education with more and more school districts adopting it as a learning tool inside the classroom.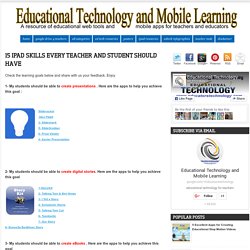 Educational Technology and Mobile Learning has been helping teachers all along the way with reviews and tutorials on how to get started using iPad in education. We have reviewed more than 500 apps and we are planning to do more reviews this year. Having accumulated a modest experience in dealing with educational iPad apps, we deem it important that we share with you some of the learning goals you should keep in mind when using iPad with your students. We have particularly associated sets of educational iPad apps with each learning goal to make it easier for you to achieve the targeted goal. iPad Acceptable Use Policy. iPad Aceptable Use Policy Although many schools have a good ICT Acceptable Use Policy, the introduction of iPads and other handheld devices is a great time to revisit your current policy.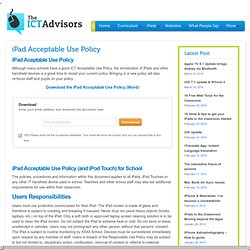 Bringing in a new policy will also re-focus staff and pupils on your policy. Download the iPad Acceptable Use Policy (Word) Download. Teaching Appz | A directory of educational apps that can be used in the classroom. iPad 1 to 1: Reflections on the first year | darrencoxon.net. Effective Pedagogy. Conclusions from the iPad Collaborative Project Introduction Effective use of iPads in the UK is in its infancy, particularly within secondary schools, with limited research into how they can be used to enhance teaching and learning.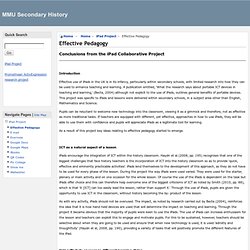 A publication entitled, 'What the research says about portable ICT devices in teaching and learning,' (Becta, 2004) although not explicit to the use of iPads, outlines general benefits of portable devices. 14 Smart Tips for Using iPads in Class. Digital Tools Flickr:Flickingerbrad By Matt Levinson.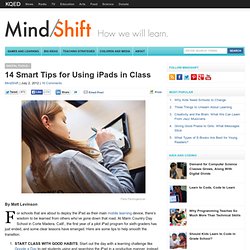 iStopMotion: Mac Stop Motion and Time Lapse Software. Remember how you watched, fascinated, when King Kong climbed the Empire State building?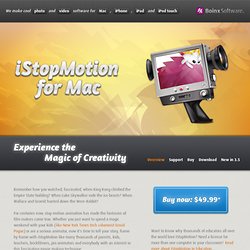 When Luke Skywalker rode the ice beasts? When Wallace and Gromit hunted down the Were-Rabbit? For centuries now, stop motion animation has made the fantasies of film makers come true. Whether you just want to spend a magic weekend with your kids (like New York Times tech columnist David Pogue) or are a serious animator, now it's time to tell your story, frame by frame with iStopMotion like many thousands of parents, kids, teachers, brickfilmers, pro animators and everybody with an interest in this fascinating movie making technique. iMovie for iPad – Storyboard help sheets for trailers | Tech-Info-Maths T.I.M.
iMovie for iPad – Storyboard help sheets for trailers Saturday, 30 June 2012 16:13 Written by Tim Jefferson CC Jonathan Kos-Read via Compfight I did a quick search, delving a few pages deep in the results, but couldn't find what I wanted.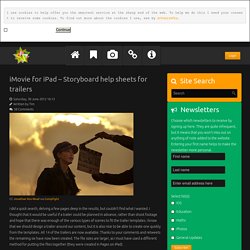 Teachers Guides on The Use of iPad in education. iPad is a cool versatile tool that has a huge potential in education.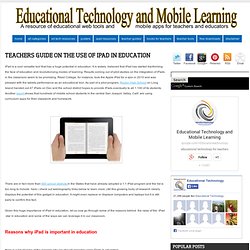 It is widely believed that iPad has started tranforming the face of education and revolutionizng modes of learning. Results coming out of pilot studies on the integration of iPads in the classroom seem to be promising. Reed College, for instance, took the Apple iPad for a spin in 2010 and was pleased with the tablets performance as an educational tool. As part of a pilot program, Roslyn High School on Long Island handed out 47 iPads on Dec and the school district hopes to provide iPads eventually to all 1.100 of its students. Another report shows that hundreds of middle school students in the central San Joaquin Valley, Calif, are using curriculum apps for their classwork and homework.
Vox Portable Sound Systems Blog: iPads in Education: 10 Interesting Uses of the iPad for the Classroom. iPad is changing education for a few reasons:Student Engagement.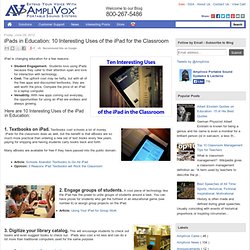 Students love using iPads because they cater to their attention span and love for interaction with technology.Cost. The upfront cost may be hefty, but with all of the free apps and discounted textbooks, they are well worth the price. Compare the price of an iPad to a laptop computer.Versatility. With new apps coming out everyday, the opportunities for using an iPad are endless and always growing. HOT Apps 4 TOTS. The Ultimate Guide to Using iPads in the Classroom.
There is no doubt to anyone who has used an iPad or any tablet for that matter that they show a clear alternative to teaching learning in the classroom beyond laptops, screens and monitors.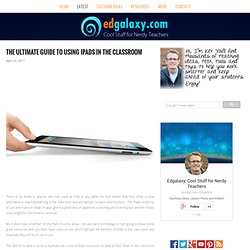 The iPads simplicity of use and massive range of apps give it a great deal of appeal as a teaching and learning tool and the future looks bright for this trend to continue. Yes it does have a number of shortfalls in some areas - like any early technology so I am going to share some great resources with you that I have come across which highlight the benefits of iPads in the class room and hopefully they will be of use to you. The DEECD located in Victoria Australia has some brilliant resources located at their iPads in the classroom trial website including. The 21 Steps to iPad success which is a document created to assist schools to smoothly implementing their iPads in the classroom, and have provided each school with some support materials. Deploying iPads in schools. So, what were our goals and what benefits did we expect? One of the big-ticket items for us was the iPad's instant-on capability. Not having to wait for computers to log in at the start of a class is a huge benefit.
Also, students can get through a full day without needing to find power. Apps, iBooks, fast internet access, the ability to quickly take notes, record audio and shoot photos – all of these can have a huge impact on classroom delivery. Apps for Children with Special Educational Needs. Speech ArtiKix - Full: £20.99 An engaging articulation app with flashcard and matching activities for children with speech sound delays. The highly requested group scoring feature is available for collecting scores in flashcards on up to 4 children at a time. A group of students can now collect data as they practice sounds in words and sentences with a speech-language pathologist, their parents, or independently. An iPad School – Top 10 Tips. There is no doubt that learning is central to thinking at ESSA Academy. A visit is based on talk of pedagogy and enhancing student life (iPad and Pedagogy). However, there are many lessons to be learned about the implementation of new technology in a school and ESSA, in particular Abdul Chohan, are very happy to help.
Technology must not be a barrier to learning – if the technology doesn't work for staff and students then it won't work to enhance learning.If technology works then its use must not be hampered by minority issues. The fact that the devices may get damaged or lost should not be a reason to ignore them.The 'moral imperative' to provide suitable education includes preparing students for the world we live in. An iPad School – Top 10 Tips. iPad open house – lessons learned. This is the slidedeck I recently presented to Northwest area educators and IT directors at Seattle's first iPad Open House, hosted by the Westside School. The topic was "10 months into a 1-to-1 iPad deployment: lessons learned."
Main take-aways: 3 things we did right Scaffold for teachers – devices into teacher hands early in the summer. Professional development early in the summer. iPad Academy - Learn How to Use the iPad | Tutorials, Tips & Training. 1-to-1 Learning | 21 Steps to iPad Success. iPads for Learning - 21 Steps to 1-to-1 Success. Google Docs and Explain Everything - Explain Everything. Air Transfer Automagically Transfers Files From Desktop To iDevice. How to organise Apps and manage restrictions for a Primary or Early Years iPad ... #ukedchat #ipaded #edtech - Enabling Environments. Think Share Teach: Teaching in the one-iPad Classroom.
Think Share Teach: Teaching in the one-iPad Classroom. SMART Notebook app for iPad coming soon! 50 resources for iPad use in the classroom. 14 Ways to Use Garageband in the Classroom. iPad_Intro. Google. iPad Apps for the Classroom (Presentation included) « Matt Britland. iPads in the Preschool and Kindergarten Classroom. 20 best iPhone and iPad apps for kids from April 2012 | Apps Playground. Six Examples of iPad Integration in the 1:1 Classroom. iPad/iPod Touch App Bloom's Taxonomy. How the iPad Is Changing Education. Creative ICT: iPads - The Basics. Look, I'm Learning! A Digital Story of Primary Students Using iPads 1:1! by @kleinerin.
25 Ways To Use iPads In The Classroom. The Challenge of iPad Pedagogy. 35 Great iPad Apps for Designers, Geeks and Creative Individuals - Creative Can Creative Can. Top 6 iPad apps for Geography. So you want to support Maths learning with an iPad? Teaching Appz | A directory of educational apps that can be used in the classroom. IPads In Education. What is 'Real Maths'? & iPad Mini-Projects | Staffroom HQ. Teacher's Trial by Tech – Staff Engagement Success? iPad2 in Education.
---