Offre existante
Food Trucks - Random Picks - The FoodTrucker
New York Street Food
Much like my love of ceviche, when I went to Hawaii, one of my missions was to find the best poke in the islands. Poke (pronounced po-kay), is the quintessential Hawaiian Roadfood treat. Using local ingredients and made by "local boyz", a good poke takes humble ingredients and makes a delicious bite of marine freshness.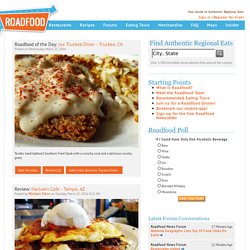 Thierry Marx Street Food
La cuisine nomade
From Akume in Togo to Pho in Vietnam, street food constitutes up to 40% of the daily diet of urban consumers in the developing world. The simple, yet, exotic flavours also make street food cuisine an increasingly popular dish in the West - with markets, recipe books and even restaurants specialising in dishes from the streets of Africa, Asia and Latin America. Yet, the rich cultural importance of street food is fragile. Globalisation and urban development threaten these age-old traditions and, despite street food's vital importance to local communities, there are serious health issues to contend with.
www.streetfood.org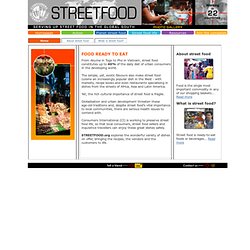 Street Food Mobile™
4 ans pour installer et régler le concept… 2005Création du concept. Première ouverture aux Galeries Lafayette et RATP, via l'Altomobile. 2006Les premières erreurs… 2008 Ouverture Londres. 2 ans pour déployer le concept…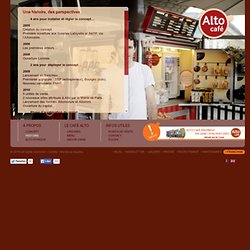 Une histoire, des perspectives | Alto café
Street Food : 3 enseignes s'associent pour créer le Mobile Food Court
argaiv1149 A partir de janvier, jusqu'au printemps, les Grands paniers de légumes(15 Euros) ne seront plus disponibles Le système de distribution de produits BIO et LOCAUX du bassin grenoblois La Charrette Bio, ce sont plus de 20 exploitations agricoles de l'isère produisant selon le cahier des charges de l'agriculture Biologique.
La Charrette Bio
Alternative aux fastfoods et autres lieux de restauration rapide à tomber malade, voici voilà Equi'Wok, un nouveau lieu où l'on mange vite... mais bien ! Equi'Wok, vous avez dit une cuisine équilibrée au wok ? Mesdames et messieurs les gourmets, vous ne rêvez pas ! C'est bien d'un nouveau concept de restauration rapide qu'il s'agit ; mais qui dit rapide ne dit pas forcément gras et dur pour l'estomac ! La preuve, plusieurs chefs ont déjà planché sur des restaus chic, gastro et à prix abordable !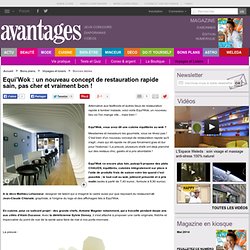 Equi'Wok : un nouveau concept de restauration rapide sain, pas cher et vraiment bon ! - Magazine Avantages 11 74 149