Crafty stuff
Get flash to fully experience Pearltrees
A few days ago, I spent more than two hours dismantling and reassembling the guts of a toilet tank. There were some issues with flushing, and I wanted to see if I could diagnose it myself (I did, actually; there was a small broken part that was simple to replace). A plumber could have done it in ten minutes and probably would have charged me $25 or $50 for the service (in our area, anyway; it would likely be more in other areas). On another recent day, I spent about four hours building a small electronic spider that could walk under its own power.
Things break down, whether due to accidents, negligence, or just plain wear and tear. Instead of shelling out for an expensive repair or replacement, though, you can often fix the problem yourself for much less. Here are 10 repairs you should never pay for. Image from Refat/ Shutterstock 10.
Vital Instructions Candle Making Safety Instructions Do not make candles without reading and understanding these rules. Introduction To Candle Making This interactive on-line course teaches the basics of paraffin candle making. The course is 100% free, however you must register to use it. Candle Makers Troubleshooting Guide Just answer the questions for diagnosis and solutions to most candle making problems.
Thank you for visiting Little House in the Suburbs. Please subscribe and you'll get great simple living tips and how-to articles delivered to your inbox, for free! I made famous soap today. Well, my soap isn't famous, but the recipe is. Sort of. In a soapy kind of way.
After searching FAR AND WIDE for an awesome Christmas gift for my girlfriends this year... I finally landed on the best gift project I'm made thus far. I mean, this is way better than painted frames, decorated mugs and puff painted totes. Introducing the gift that's inexpensive, fun to make, and is actually useful in real life! WOAH!
Whether you're new to knitting or just need a refresher on some of the basics, here's all you need to know to get started. Knitting Skills: There are several basic skills involved in learning to knit, such as: making a slip knot and casting on forming the knit stitch forming the purl stitch binding off , sometimes also referred to as casting off You'll also need a few basic knitting tools to get started. Picking a Pattern: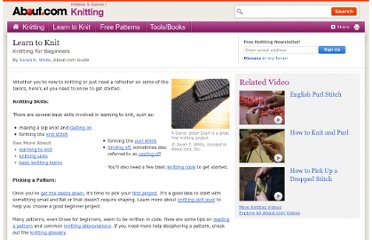 Just take your time and let me know if I can help. by karenbrown Dec 17
Thanks Karen. I'll probably need lots of help. I have some friends that knit and they're always telling me how relaxing it is. I'll have to wait and see though. by nordicgirl_2 Dec 17
I'm sure you will like it. Knittinghelp.com will show you how to do anything. After all, knitting is just variations of knit and purl. Let me know if you have any questions. by karenbrown Dec 16
I've never tried it before. Thought I'd give it a go over Christmas and see if I think I'd like it. by nordicgirl_2 Dec 16
If you have interest in knitting, go to ravelry.com. by karenbrown Dec 8