Yahoo Pipes
Earlier this year http://babelfish.yahoo.com was shut down. The Pipes translate module relied on this service and has also been deprecated.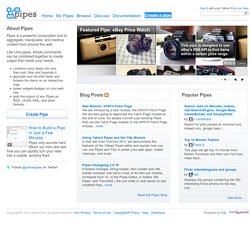 Pipes Blog
Yahoo! Pipes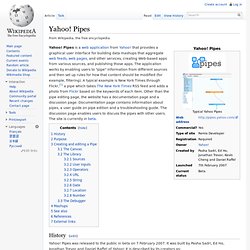 Yahoo!
Meta Search Alerts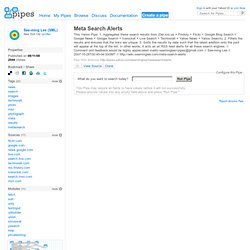 This Yahoo Pipe: 1. Aggregates these search results from (Del.icio.us + Findory + Flickr + Google Blog Search + Google News + Google Search + Icerocket + Live Search + Technorati + Yahoo News + Yahoo Search); 2.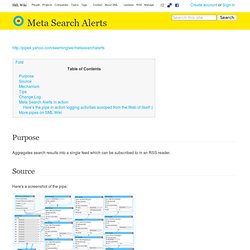 Aggregates search results into a single feed which can be subscribed to in an RSS reader.
Meta Search Alerts - SML Wiki
Yahoo! Pipes is one of the coolest ways to mashup the RSS feeds of various sites and sources to get the data you want. Since our coverage of Yahoo! Pipes , thousands of creations are now available. However, finding the best picks can be tough. ReadWriteWeb has done the hardest part and comprised a list of some of the best Yahoo Pipes created by users.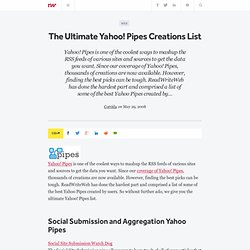 Geek to Live: Create your master feed with Yahoo! Pipes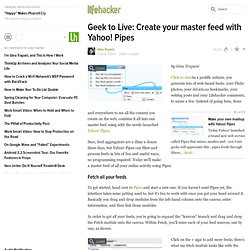 by Gina Trapani Click to view As a prolific netizen, you generate lots of web-based feeds: your Flickr photos, your del.icio.us bookmarks, your weblog posts and your Lifehacker comments, to name a few. Instead of going here, there and everywhere to see all the content you create on the web, combine it all into one master feed using with the newly-launched Yahoo!
Pipes and Filters for the Internet
Mon flux de veille Yahoo Pipes sur l'Intelligence Economique
Vu que ça a intéressé les quelques personnes a qui je l'ai montré.
Yahoo Pipes is a powerful composition tool to aggregate, manipulate, and mashup content from around the web.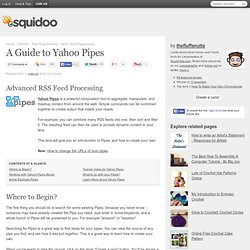 A Guide to Yahoo Pipes
Tracking online conversations with Yahoo Pipes
Mashup your life with Yahoo Pipes
5 Useful Yahoo! Pipes to Monitor Your Brand
After Yahoo! SiteExplorer and Flickr, Yahoo! Pipes is the third reason why I love Yahoo!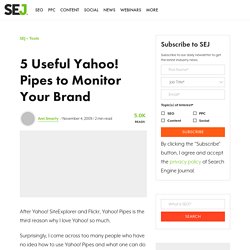 Intelligence Economique - powered by FeedBurner
Intelligence Economique
Sign In with your Yahoo!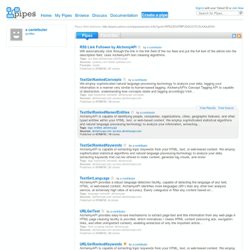 Pipes from AlchemyAPI
Voici l'article que j'ai publié dans l'ebook « Regards croisés sur la veille » .
Outils Knowledge Worker - Outils Rss - Outils Veille
Yahoo Pipes, un puissant service pour la veille (entre autres choses)
Yahoo! recently released 1 a new Fetch Page module which dramatically increases the number of useful things that Pipes can do. With this new "pipe input" module we're no longer restricted to working with well-organised data sets in supported formats such as CSV, RSS, Atom, XML, JSON, iCal or KML.
Yahoo! Pipes - Create a web scrapper
Watch Yahoo Pipes, An Introduction by Dawn Foster | CyborgCamp Episodes
Discover Your Blip . What do you want to watch? Love Blip? Make it yours. Animation Comedy Drama Food Music Tech & Gadgets Video Games
Pipes - Module Reference
The modules in the Pipes Editor have been grouped into categories based on their functionality.
Yahoo Pipes Tutorial : Un tutoriel pour maîtriser Yahoo! pipes « Le Référencement
Yahoo! Pipes: Deconstructing a Pipe
Pipe.Yahoo tutorial pour créer de la veille techno personnalisée