Yahoo Pipes
Rewire the web. Pipes Blog. Yahoo! Pipes. Yahoo!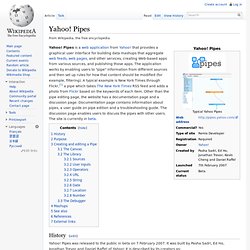 Pipes is a web application from Yahoo! That provides a graphical user interface for building data mashups that aggregate web feeds, web pages, and other services, creating Web-based apps from various sources, and publishing those apps. The application works by enabling users to "pipe" information from different sources and then set up rules for how that content should be modified (for example, filtering). A typical example is New York Times through Flickr,[1] a pipe which takes The New York Times RSS feed and adds a photo from Flickr based on the keywords of each item. Meta Search Alerts. This Yahoo Pipe: 1.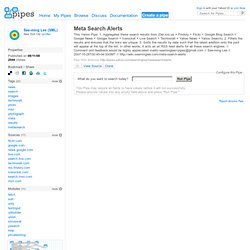 Aggregates these search results from (Del.icio.us + Findory + Flickr + Google Blog Search + Google News + Google Search + Icerocket + Live Search + Technorati + Yahoo News + Yahoo Search); 2. Filters the results and ensures that the links are unique; 3. Sorts the results by date such that the latest addition onto the pool will appear at the top of the list; In other words, it acts as an RSS feed alerts for all these search engines. // Comment and feedback would be highly appreciated mailto:seeminglee+pipes@gmail.com // See-ming Lee // 2007-10-28T00:45-04:00GMT // Meta Search Alerts - SML Wiki. Aggregates search results into a single feed which can be subscribed to in an RSS reader.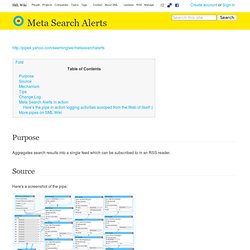 In other words, it acts as an RSS feed alerts for all these search engines. Flickr Flickr Social is a Yahoo Pipe created by See-ming Lee to deal with his frustration on having to get onto Flickr everyday to track his friends' comments... Friendfeed Truncate I use FriendFeed to feed some of my Twitter feeds. The Ultimate Yahoo! Pipes Creations List.
Yahoo!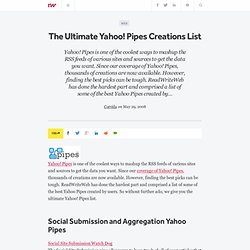 Pipes is one of the coolest ways to mashup the RSS feeds of various sites and sources to get the data you want. Since our coverage of Yahoo! Yahoo Pipes Tutorial | Learn How To Use Yahoo Pipes. Geek to Live: Create your master feed with Yahoo! Pipes. Mon flux de veille Yahoo Pipes sur l'Intelligence Economique. Vu que ça a intéressé les quelques personnes a qui je l'ai montré.
Je mets à disposition: - le flux RSS qui me sert à veiller sur l'actualité de l'intelligence économique francophone, de façon plutôt large (235 sources dont une alerte Google); - et pour ceux qui connaissent Yahoo Pipes, le « tuyau » qui sert à le générer. Vu que j'ai rendu ce dernier public (capture d'image ci-dessous), vous pouvez vous l'accaparer et le modifier à votre guise pour enlever ou ajouter de nouvelles sources. A Guide to Yahoo Pipes. The default URLs for pipes are pretty unwieldy, but Yahoo has provided the ability for you to change them into something more manageable.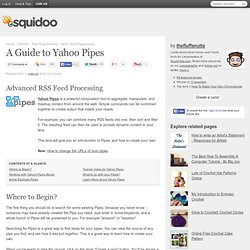 Here's how: The first step is to customise the URL of your profile. Start by going to the "My Pipes" page (assuming you're logged in), and look for your profile URL near the top. Tracking online conversations with Yahoo Pipes. Mashup your life with Yahoo Pipes. 5 Useful Yahoo! Pipes to Monitor Your Brand. After Yahoo!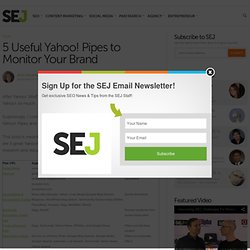 SiteExplorer and Flickr, Yahoo! Pipes is the third reason why I love Yahoo! So much. Surprisingly, I come across too many people who have no idea how to use Yahoo! Pipes and what one can do with them. Intelligence Economique - powered by FeedBurner. Intelligence Economique. Pipes from AlchemyAPI. Sign In with your Yahoo!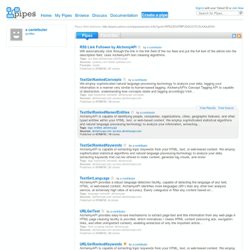 ID or Join Now Home My Pipes Browse. Yahoo Pipes: Colonne vertébrale d'une plateforme de veille multilingue, performante et gratuite. Voici l'article que j'ai publié dans l'ebook « Regards croisés sur la veille ».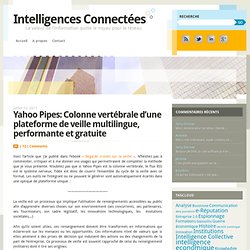 N'hésitez pas à commenter, critiquer et à me donner vos usages qui permettraient de compléter la méthode que je vous présente. N'oubliez pas que si Yahoo Pipes est la colonne vertébrale, le flux RSS est le système nerveux, l'idée est donc de couvrir l'ensemble du cycle de la veille avec ce format. Les outils ne l'intégrant ou ne pouvant le générer sont automatiquement écartés dans une optique de plateforme unique : La veille est un processus qui implique l'utilisation de renseignements accessibles au public afin d'apprendre diverses choses sur son environnement (ses concurrents, ses partenaires, ses fournisseurs, son cadre législatif, les innovations technologiques, les évolutions sociétales,…) Yahoo Pipes, un puissant service pour la veille (entre autres choses) Outils Knowledge Worker - Outils Rss - Outils Veille Yahoo vient semble t-il de lancer "the next big thing" sur le web ou, comme le dit Tim O'Reilly (qui n'est pas le premier venu) "a milestone in the history of the internet".C'est à ce moment là que je vous explique ce que c'est exactement, que je vous dis comment ça fonctionne et à quoi cela peut bien être utile.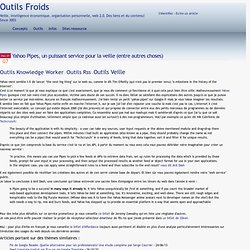 Malheureusement Yahoo Pipes (puisque c'est son nom) n'est plus accessible, victime sans doute de son succès. Il va donc falloir se satisfaire des explications des autres jusqu'à ce que je puisse tester ce service par moi-même. Yahoo! Pipes - Create a web scrapper. Yahoo! Recently released1 a new Fetch Page module which dramatically increases the number of useful things that Pipes can do.
With this new "pipe input" module we're no longer restricted to working with well-organised data sets in supported formats such as CSV, RSS, Atom, XML, JSON, iCal or KML. Watch Yahoo Pipes, An Introduction by Dawn Foster | CyborgCamp Episodes. Pipes - Module Reference. The modules in the Pipes Editor have been grouped into categories based on their functionality. To learn more about the modules, and to see them used in example Pipes, click on the categories below: Sources Most Pipes begin with a data source. These modules grab data from somewhere on the internet and bring it into your Pipe for processing. User Inputs These modules let you define parameters for your Pipe. Yahoo Pipes Tutorial : Un tutoriel pour maîtriser Yahoo! pipes « Le Référencement.
1 avril, 2009 par Référencement Plusieurs internautes ont parcouru ce Blog en cherchant un tutoriel pour Yahoo! Pipes :-) Liste des tutoriels Yahoo Pipes. Query Language. What is YQL? The Yahoo Query Language is an expressive SQL-like language that lets you query, filter, and join data across Web services.
With YQL, apps run faster with fewer lines of code and a smaller network footprint. Yahoo and other websites across the Internet make much of their structured data available to developers, primarily through Web services. To access and query these services, developers traditionally endure the pain of locating the right URLs and documentation to access and query each Web service. With YQL, developers can access and shape data across the Internet through one simple language, eliminating the need to learn how to call different APIs.
Pipe.Yahoo tutorial pour créer de la veille techno personnalisée. J'ai écrit récemment un article sur "Astuce précieuse pour devenir un crack de n'importe quel sujet " Cet asctuce est certes précieuse, mais si on veut changer de mot pour sa veille technique, il faut se retaper un à un les mots dans chaque lien RSS. Pour ceux qui n'ont pas lu l'astuce, je conseille d'aller y faire un tour. Dans cet article il s'agissait de faire une veille techno sur le microblogging et j'avais listé une série de lien RSS à taper dans un agrégateur de flux x ou y.
---