Yahoo Pipes
Pipes Blog
Yahoo! Pipes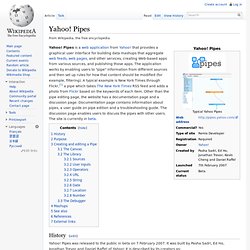 Yahoo!
Meta Search Alerts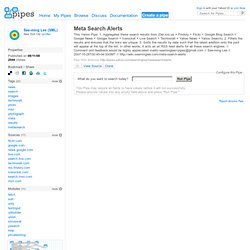 This Yahoo Pipe: 1. Aggregates these search results from (Del.icio.us + Findory + Flickr + Google Blog Search + Google News + Google Search + Icerocket + Live Search + Technorati + Yahoo News + Yahoo Search); 2.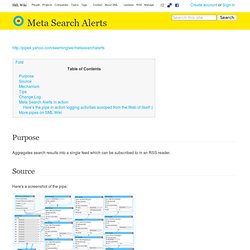 Aggregates search results into a single feed which can be subscribed to in an RSS reader.
Meta Search Alerts - SML Wiki
Yahoo! Pipes is one of the coolest ways to mashup the RSS feeds of various sites and sources to get the data you want. Since our coverage of Yahoo! Pipes, thousands of creations are now available.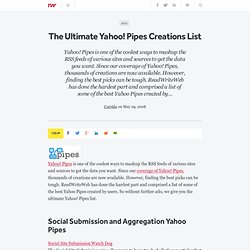 Geek to Live: Create your master feed with Yahoo! Pipes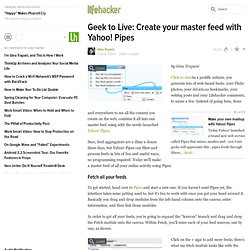 SExpand by Gina Trapani Click to viewAs a prolific netizen, you generate lots of web-based feeds: your Flickr photos, your del.icio.us bookmarks, your weblog posts and your Lifehacker comments, to name a few.
Mon flux de veille Yahoo Pipes sur l'Intelligence Economique
Vu que ça a intéressé les quelques personnes a qui je l'ai montré.
The default URLs for pipes are pretty unwieldy, but Yahoo has provided the ability for you to change them into something more manageable.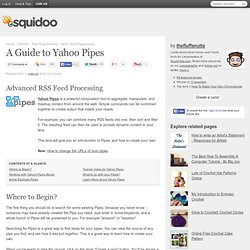 A Guide to Yahoo Pipes
Tracking online conversations with Yahoo Pipes
Mashup your life with Yahoo Pipes
5 Useful Yahoo! Pipes to Monitor Your Brand
inShare1 After Yahoo!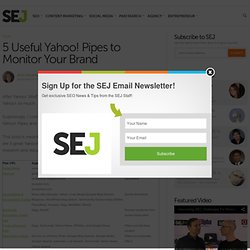 Intelligence Economique - powered by FeedBurner
Intelligence Economique
Sign In with your Yahoo!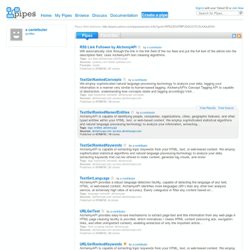 Pipes from AlchemyAPI
Voici l'article que j'ai publié dans l'ebook « Regards croisés sur la veille ».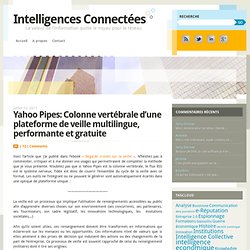 Outils Knowledge Worker - Outils Rss - Outils Veille
Yahoo Pipes, un puissant service pour la veille (entre autres choses)
Yahoo! recently released1 a new Fetch Page module which dramatically increases the number of useful things that Pipes can do. With this new "pipe input" module we're no longer restricted to working with well-organised data sets in supported formats such as CSV, RSS, Atom, XML, JSON, iCal or KML.
Yahoo! Pipes - Create a web scrapper
Pipes - Module Reference
The modules in the Pipes Editor have been grouped into categories based on their functionality.
1 avril, 2009 par Référencement Plusieurs internautes ont parcouru ce Blog en cherchant un tutoriel pour Yahoo! Pipes
Yahoo Pipes Tutorial : Un tutoriel pour maîtriser Yahoo! pipes « Le Référencement
What is YQL? The Yahoo Query Language is an expressive SQL-like language that lets you query, filter, and join data across Web services. With YQL, apps run faster with fewer lines of code and a smaller network footprint.
Pipe.Yahoo tutorial pour créer de la veille techno personnalisée