Words & tags cloud tools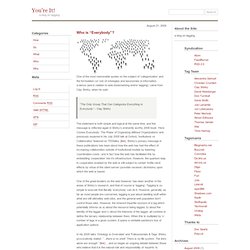 You're It!
August 21, 2009 One of the most memorable quotes on the subject of 'categorization' and the formulation (or not) of ontologies and taxonomies in information-science (and in relation to web-bookmarking and/or tagging), came from Clay Shirky, when he said: "The Only Group That Can Categorize Everything Is Everybody" – Clay Shirky
What's a Yippy Cloud? A Yippy Cloud is a tool that webmasters or bloggers can use to instantly visualize a topic using the familiar tag cloud display. What makes the Yippy Cloud unique is that you can create a cloud based on any topic or query - you don't need tags or months of content on a subject to create an interesting cloud. Yippy Clouds are generated using our search results for the topic you enter.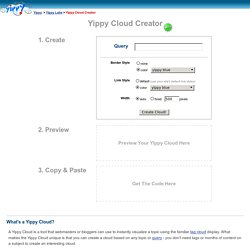 tag cloud generator
Wordle is a toy for generating "word clouds" from text that you provide. The clouds give greater prominence to words that appear more frequently in the source text. You can tweak your clouds with different fonts, layouts, and color schemes. The images you create with Wordle are yours to use however you like.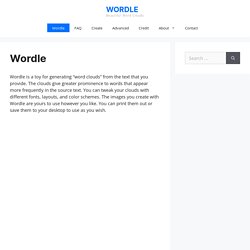 This website helps you to generate tree clouds from a text, that is word clouds where the words are arranged on a tree which reflects their semantic proximity inside the text. The first tree cloud appeared on Jean Véronis's blog in December 2007, you can now create your own with this website, or with the TreeCloud software. Create your own tree cloud online! Steal this server! Grab this entire site as a free, self-contained, ready-to-run VM - Never worry about the provider going offline, or charging once you're hooked.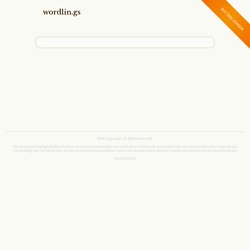 Click where you would like the new target to go The following words could not fit in the word cloud: Tips: try increasing the size of the word cloud or decreasing the size of the text. Size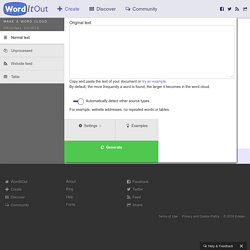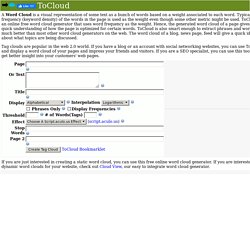 If you are just interested in creating a static word cloud, you can use this free online word cloud generator. If you are interested in dynamic word clouds for your website, check out Cloud View, our easy to integrate word cloud generator. URL of the page for which the cloud has to be generated. Or simply paste a bunch of text in this field and cloud it. The cloud can be displayed alphabetically, by frequency or by first occurance.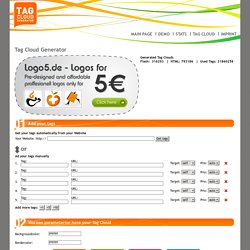 Generated Tag CloudsFlash: 288063 | HTML: 706786 | Used Tags: 19641840 The Tagcloud Generator is the most famous generator for Tagclouds. Over 1 Millionen Tag Clouds generated in the last years. You can use the Tagcloud Generator also with you iPhone or Android Handy. History: What to hell are tag clouds or popular tags?
Vous vous souvenez peut-être de mes nuages en forme d'arbre (je crois que le premier que j'ai publié était celui de la rumeur autour de Laurence Ferrari en décembre 2007, suivie de près par le buzz Laure Manaudou nue un peu plus tard). Philippe Gambette, étudiant au LIRMM, a développé un outil Open Source qui permet à tout un chacun de générer de tels nuages. C'est ici :Voici par exemple le nuage de l'ensemble des discours de campagne de Barack Obama.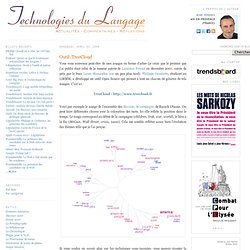 Technologies du Langage: Outil: TreeCloud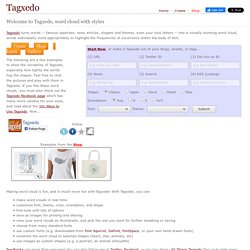 Tagxedo turns words -- famous speeches, news articles, slogans and themes, even your love letters -- into a visually stunning word cloud, words individually sized appropriately to highlight the frequencies of occurrence within the body of text. Create Shop Learn Gallery The following are a few examples to show the versatility of Tagxedo, especially how tightly the words hug the shapes. Feel free to click the pictures and play with them in Tagxedo. If you like these word clouds, you must also check out the Tagxedo Facebook page which has many more candies for your eyes, and read about the 101 Ways to Use Tagxedo. Now...
Vous avez vu le concept apparaître sur le blog de Jean, et quelques exemples sur ce blog, mais ça fait quelque temps que je n'en ai pas parlé ici, des nuages arborés de mots. Après quelques semaines de test d'une interface web de construction de ces outils de visualisation, il est temps de dévoiler le nouveau site web de TreeCloud : treecloud.org ! Alors quelle utilité pour ces nuages de mots grimpés aux arbres ?
Nuages arborés en ligne
See also: World's First Review of Streamy - The AJAX-based Digg Rival Tags - for some, one of the best ideas on the web, for others, merely a visual distraction. Yes, we're talking about those loosely defined categories which are usually organized into cute little clouds. Looking for tag-related resources can be tough, so we've dug up 30 tools and resources that every seasoned tagger should check out.
The Tagging Toolbox: 30+ Tagging Tools