Wikis...
List of largest wikis
Wikipedia's distinction shown on the table between a "conservative" and an "inclusive" number of pages originated in 2002 with the replacement of UseModWiki's spontaneous wiki modes with MediaWiki's embedded namespaces. For Wikimedia projects: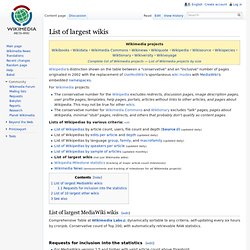 WikiMapia
WikiMapia or Wikimapia[4] is an open-content collaborative mapping project that aims to mark and describe all geographical objects in the world.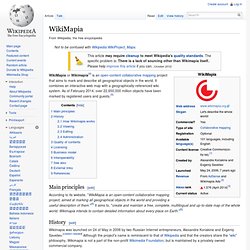 Truth In Numbers
Wiki software
Wiki software (also known as a wiki engine or wiki application[citation needed]) is collaborative software that runs a wiki, i.e., a website that allows users to create and collaboratively edit web pages via a web browser.
Prior to wiki farms, someone who wanted to operate a wiki had to install the software and manage the server(s) themselves.
Wiki hosting service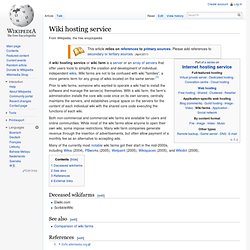 @Wiki FREE Wiki Hosting Service
Free and easy wiki hosting on wikihost.org
Comparison of wiki farms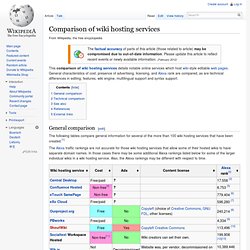 This comparison of wiki hosting services details notable online services which host wiki-style editable web pages. General characteristics of cost, presence of advertising, licensing, and Alexa rank are compared, as are technical differences in editing, features, wiki engine, multilingual support and syntax support. General comparison[edit]
Wiki: Welcome Visitors
Computers: Software: Groupware: Wiki: Wiki Farms
Comparison of Wiki Software
Private Business Wikis | Sign in