Wikis...
List of largest wikis
Wikipedia 's distinction shown on the table between a "conservative" and an "inclusive" number of pages originated in 2002 with the replacement of UseModWiki 's spontaneous wiki modes with MediaWiki 's embedded namespaces . For Wikimedia projects: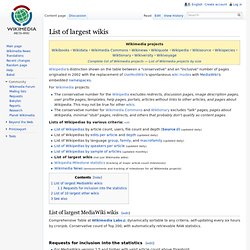 List of MediaWiki websites
WikiMapia
( If you are seeking information on how to contribute or request maps for an article in Wikipedia , you are looking for WikiProject_Maps . )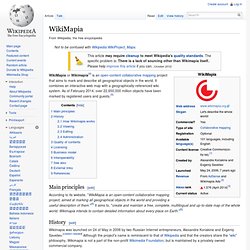 Truth In Numbers
Wiki software
Wiki software (also known as a wiki engine or wiki application [ citation needed ] ) is collaborative software that runs a wiki , i.e., a website that allows users to create and collaboratively edit web pages via a web browser .
A wiki hosting service or wiki farm is a server or an array of servers that offer users tools to simplify the creation and development of individual, independent wikis .
Wiki hosting service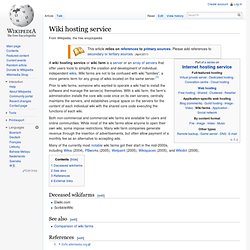 @Wiki FREE Wiki Hosting Service
Free and easy wiki hosting on wikihost.org
Comparison of wiki farms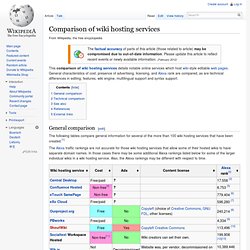 This comparison of wiki hosting services details notable online services which host wiki -style editable web pages . General characteristics of cost, presence of advertising, licensing, and Alexa rank are compared, as are technical differences in editing, features, wiki engine, multilingual support and syntax support. [ edit ] General comparison
Wiki: Welcome Visitors
Computers: Software: Groupware: Wiki: Wiki Farms
Comparison of Wiki Software
Private Business Wikis | Sign in