...
Agenda 21. Agenda 21 is Sustainable Development, and was created through the United Nations.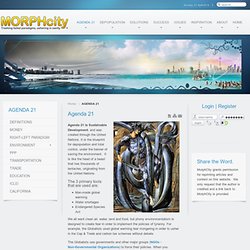 It is the blueprint for depopulation and total control, under the banner of saving the environment. It is like the head of a beast that has thousands of tentacles, originating from the United Nations. The 3 primary tools that are used are: Secret Arcana. The Hermetic Order of the Golden Dawn ® (H.O.G.D.) Central on-line resources for the Golden Dawn System of Magic. We must know. Conspiracy Reality TV - Truth Documentaries, Videos and Movies. A 21-Truth Salute to Activists and the Alternative Media: The Journey From Conspiracy Theory to Conspiracy Fact. A salute to Activists & the Alternative Media / People can make a difference!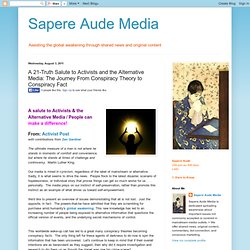 From: Activist Postwith contributions from Zen Gardner The ultimate measure of a man is not where he stands in moments of comfort and convenience, but where he stands at times of challenge and controversy. Martin Luther King, Illuminati Conspiracy Archive: ConspiracyArchive.com.
---