Scripts & bricks
Webmaster Scripts Directory
Tracking Over 2 Million Categorized Messages from Internet Top Forums, Newsgroups & Mailing Lists related to web programming. Messages are indexed by humans not robots for content validity. On average, 1500 Messages are indexed per day by staff of 8 professionals ... Learn More
BigResource: Webmaster Scripts & Tutorials Directory
Freebies for Web authors, free stuff for webmasters and Web page authors and HTML freeware and software
JavaScript and Java Diagram Library Components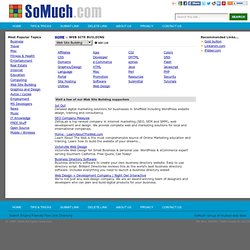 Visit a few of our Web Site Building supporters Jut OutDetailed digital marketing solutions for businesses in Sheffield including WordPress website design, training and consultancy. SEO Company MalaysiaZettaLab is top ranked company in internet marketing (SEO, SEM and SMM), web development and design. We provide complete web and marketing solutions for local and international companies. Home - LearnAboutTheWeb.comLearn About The Web is the most comprehensive source of Online Marketing education and training. Learn how to build the website of your dreams...
Site Building Link Directory
Userscripts.org: Power-ups for your browser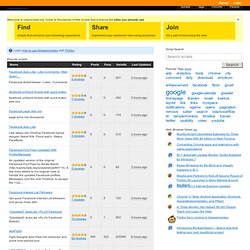 Userscripts.org Welcome to Userscripts.org, home to thousands of free scripts that enhance the sites you already use Findscripts that enhance your browsing experienceShareimplement your awesome idea using javascriptJoinbe a part of improving the web Learn how to use Greasemonkey with Firefox. Popular scripts
Hot Scripts - The net's largest PHP, CGI, Perl, JavaScript and ASP script collection and resource web portal.
Greasespot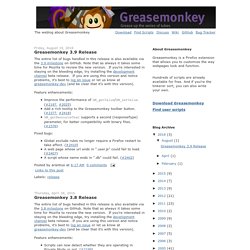 Greasemonkey version 1.13 is in the works, with Sync support for installed user scripts. Support is currently very basic, but we'd love to hear feedback! It's suggested that before you try Sync, you take a backup of your scripts directory. Then open the Greasemonkey options dialog and enable the experimental feature, which is currently disabled by default: For now you'll need to install version 1.13beta1 to have access to this feature.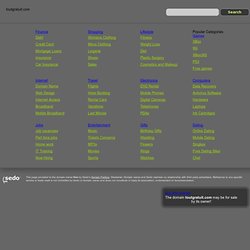 Tout Gratuit .com : Tout pour votre site
toutgratuit.com Popular Categories Finance Shopping Lifestyle Games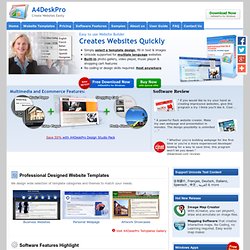 A4DeskPro Flash Website Builder - Create your own website and host anywhere. Website builder, build website, flash creator, make a website
Professional Designed Website Templates We design wide selection of template categories and themes to match your needs. Visit A4DeskPro Templates Gallery Software Features Highlight Build web sites, portfolio or CDROM presentations for royalty free usage & resale Wide selection of professional design flash templates for different types of business Customizable color theme, background image, and music settings Built-in Photo Gallery, Video Player & Music Player to easily add streaming video and multimedia to websites Multiple language / Unicode support, including English, Chinese, European, Japanese and more .... View and edit template from your local desktop, make & publish web site on any hosting.
Is The Death Of JavaScript Upon Us, Or Is A Universal Language Transformation Underway?
Editor's note: Péter Halácsy is co-founder and CTO of Prezi. Follow him on Twitter @halacsy. Startups identify with JavaScript. When you're just starting out, you need to be dynamic.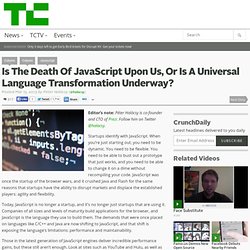 The Language Guide
gratuit : Gratissimo : Outils pour Webmasters
The Freebie Directory: Webmaster_Freebies
Scripts Directory of PHP, ASP, ASP.NET, Java, Javascript, Perl and more! - Scripts
JavaScript Made Easy: Free JavaScripts Tutorials Example Code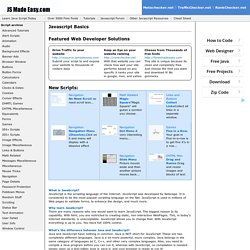 JavaScript is a scripting language designed for adding interactivity to HTML pages. The language was first implemented by Netscape Communications in Netscape Navigator 2 beta (1995). JavaScript is different from the Java language (developed at Sun Microsystems). However, the two languages can interoperate well. JavaScript programs, or scripts, are usually embedded directly in HTML files. The script executes when the user's browser opens the HTML file.
JavaScript Kit- Your comprehensive JavaScript, DHTML, CSS, and Ajax stop
Welcome to JavaScript Kit, a comprehensive resource for JavaScript tutorials, scripts, and more. Manipulating CSS3 transitions using jQuery In this tutorial we look at how to use jQuery to dynamically modify CSS3 properties and react to when a transition has completed. It's the key to injecting logic to your transitions!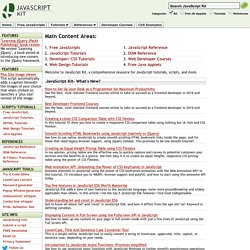 Ajax, JavaScript, CSS, HTML 5 et interfaces graphiques
Dynamic Drive DHTML(dynamic html) & JavaScript code library
CSS Drive- Categorized CSS gallery and examples.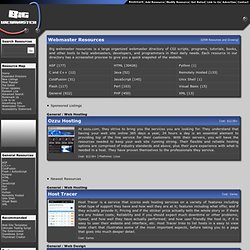 Volusion Cost: Varies Volusion is a fully hosted, all-in-one shopping cart software that's designed to help you build, manage and grow a successful online business. Trusted by over 30, 000 merchants, they provide you with your own website, tons of money-making tools and award-winning 24x7 customer support. Their shopping cart solution comes packed with features including marketing tools such as a coupon and discount system, e-mail marketing, campaign tracking, gift certificate and credit system, search engine optimized, and affiliate management. This solution includes merchandising tools to make your products look great which include category management, home page merchandising, product page merchandising, customer reviews, built in social media tools, and facebook integration.
Big Webmaster Resources : CGI Scripts, Books, Tutorials, Programming, and webmaster tools
Web Scripts Directory - PHP, CGI, Perl, JavaScript, and ASP scripts and programs
Search Scripts - PHP, Perl, AJAX, JavaScript, ASP Scripts Portal