Scripts & bricks
Webmaster Scripts Directory
BigResource: Webmaster Scripts & Tutorials Directory
Freebies for Web authors, free stuff for webmasters and Web page authors and HTML freeware and software
JavaScript and Java Diagram Library Components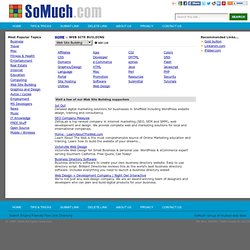 Visit a few of our Site Building supporters Lead Dog Graphic Studio Services provided: WordPress, website, graphics design and redesign.
Site Building Link Directory
Userscripts.org: Power-ups for your browser
Hot Scripts - The net's largest PHP, CGI, Perl, JavaScript and ASP script collection and resource web portal.
Greasespot
Tout Gratuit .com : Tout pour votre site
A4DeskPro Flash Website Builder - Create your own website and host anywhere. Website builder, build website, flash creator, make a website
Is The Death Of JavaScript Upon Us, Or Is A Universal Language Transformation Underway?
Editor's note: Péter Halácsy is co-founder and CTO of Prezi .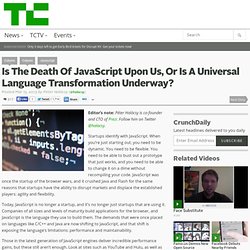 The Language Guide
gratuit : Gratissimo : Outils pour Webmasters
The Freebie Directory: Webmaster_Freebies
Scripts Directory of PHP, ASP, ASP.NET, Java, Javascript, Perl and more! - Scripts
JavaScript Made Easy: Free JavaScripts Tutorials Example Code
JavaScript Kit- Your comprehensive JavaScript, DHTML, CSS, and Ajax stop
Ajax, JavaScript, CSS, HTML 5 et interfaces graphiques
Dynamic Drive DHTML(dynamic html) & JavaScript code library
CSS Drive- Categorized CSS gallery and examples.
Big Webmaster Resources : CGI Scripts, Books, Tutorials, Programming, and webmaster tools
Introduction to Computers - Scripts & Macros
Web Scripts Directory - PHP, CGI, Perl, JavaScript, and ASP scripts and programs
Search Scripts - PHP, Perl, AJAX, JavaScript, ASP Scripts Portal