Quotes & images
Buddha_1024x768. Perspective-astronauts-have-it. If you can't explain it simply, you don't understand it well enough. Life,quote,pic,beautiful,quotes,sayings-74145630f76b62f391c4c81b5a3c0a61_h.jpg (Image JPEG, 500x375 pixels) TheThingsWeSay - Love Quotes, Quotes on Life, Facebook, Relatable, Funny Quotes. Asshole-funny-illustration-quote-sarcasm-Favim.com-117011.jpg (Image JPEG, 400x363 pixels)
259458056_2f5181c715.jpg (Image JPEG, 500x375 pixels) Yesterday is history... Mandela1.jpg (Image JPEG, 550x713 pixels) Success. A picture is worth a thousand words. The expression "Use a picture.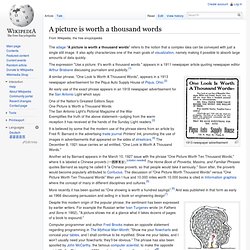 It's worth a thousand words. " appears in a 1911 newspaper article quoting newspaper editor Arthur Brisbane discussing journalism and publicity.[1] 1913 newspaper advertisement. John-lennon-quote-happy.jpg (Image JPEG, 720x618 pixels) Be-the-change.jpg (1418x1425) 21590_540.jpg (JPEG Image, 540x293 pixels) 33-three-word-quotes-mindmap.jpg (Image JPEG, 1100x939 pixels) - Redimensionnée (84%)
Resources.jpg (Image JPEG, 638x600 pixels) 1150167_678612978833600_382419846_n.jpg (Image JPEG, 712x364 pixels) Out of clutter, find simplicity. From discorde, find harmony. The Best Things. Reminder. Wake Up! | Utopian Formula. Life-quotes-life-quotes1.jpg (Image JPEG, 1200x800 pixels) 2wolves.jpg. Rudeness & strenght... Certainty & doubt... 4ccd3be377a5d.png (Image PNG, 500x375 pixels) 5jt65.jpg (Image JPEG, 2628x2628 pixels) - Redimensionnée (30%)
Author Albert Einstein Quote Fish Need To Swim. We declare the world as our canvas14 Great Banksy Street Art Photos and Quotes! "There are four basic human needs; food, sleep, sex and revenge." - Banksy "Nothing in the world is more common than unsuccessful people with talent, leave the house before you find something worth staying in for. " - Banksy "Think outside the box, collapse the box, and take a fucking sharp knife to it." - Banksy "You're mind is working at its best when you're being paranoid.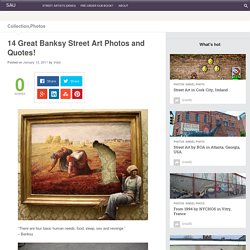 You explore every avenue and possibility of your situation at high speed with total clarity." - Banksy (Banging Your Head Against a Brick Wall) The Reason for Many Things.
"Some people feel the rain Others just get wet" Quotes with Pictures - Find tumblr Quote and photo. Photo Quoto: Sayings and Quotations. Wisdom through Nature;  A River's Knowledge. Chaos. Remember & forget...
---